Winter Adventures
Apr 12, 2017
I've advocated a few times now for getting out more, especially in less than perfect conditions, to get photos that are more interesting. The photo above is a great example. I'm starting to feel that I should addend that with some caution as well, especially when it comes to heading up into the mountains in the winter.
Winter can be a special time to get out into the mountains and explore. We're solidly into the shoulder season now as well, as spring temperatures are warming things up. This is also the time of year where weather on the Front Range can deliver 70 degress one day and a blizzard the next. Sometimes conditions in the mountains can change even faster. High winds can turn a sunny day into a whiteout, and you can start your hike with clear skies and end up getting snowed on before you're done. Trails easily disappear beneath the drifting snow, and you can't always count on having solid tracks to follow from those who came before. Even if they are there, the navigation errors of others can lead you astray. The payoffs for dealing with these challenges can make it worthwhile however. There are a lot less people out there than in the crowded summer months.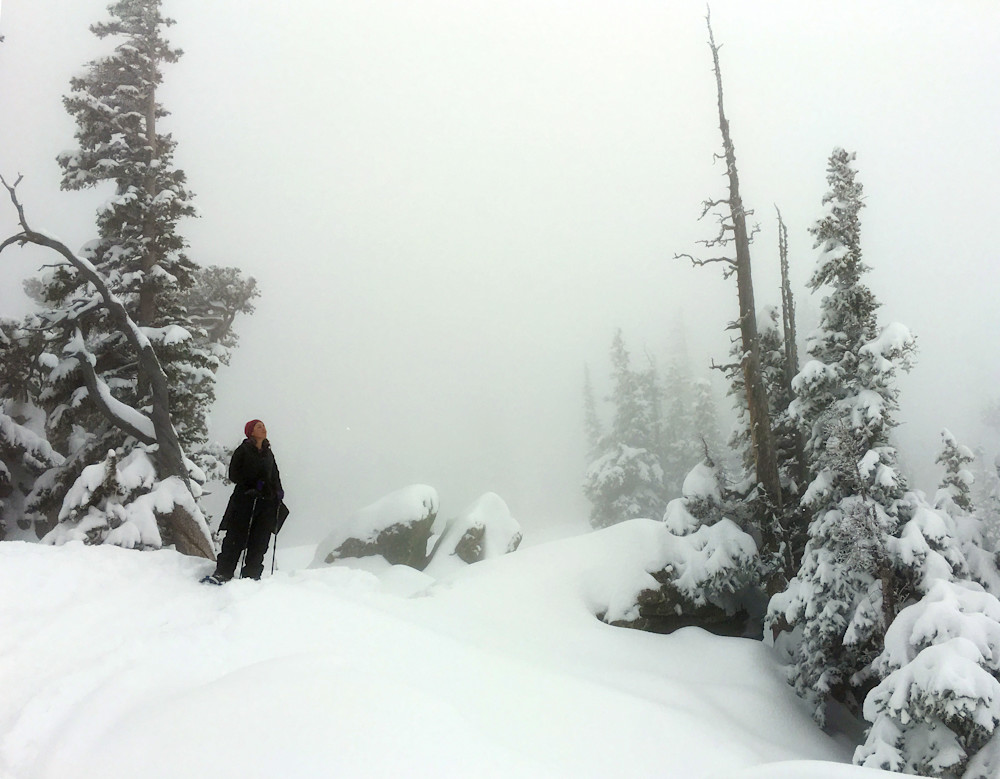 Avoiding the most popular trails means a lot of peace & quiet. It might sound crazy, but sometimes the forest will be so quiet you can hear the snow falling. It's quite the experience. Most hiking trails in the Rocky Mountains are, well, rocky. Put a few feet of snow on top of that, and it smooths things out nicely. Your body can end up taking a lot less abuse from the terrain. The landscape takes on a whole different look in the winter as well, you'll see things in an entirely different way than in the summer.
So how do you deal with the challenges of winter exploring? The right equipment is key. Dress warm, in layers, and have something that will block the wind. The wind is almost always blowing in the mountains in winter. On hard packed trails, traction devices like microspikes will give you the traction you need, but after a fresh snowfall you'll want skies or snowshoes. If you're not ready to commit to buying your own, you can often rent them in a local gear shop for the day pretty inexpensively. Always know the weather forecast, while understanding that changes can happen quickly in the mountains. Learn to know your avalanche risk, and take the necessary steps to mitigate it. The most important tool you can have when hiking in the mountains, especially in winter, is risk assessment. Understand your capabilities, and the capabilities of your equipment, and don't get summit fever. Whatever goal it is you're trying to reach will still be there another day. Make your own decision about when it's time to turn back, one person's adventure is another person's too much risk. I've turned back on quite a few hikes without reaching my goal, try again another day. If you want to get out, but don't feel comfortable on your own, go with someone more experienced or join a guided hike. You'll start to learn the skills you need, and they will help make the important decisions on safety. Why am I writing this now, you might be asking? isn't winter hiking season over? Not here in Colorado. In the shoulder season like this, the hazards can be less obvious as well. Keep in mind that both of the photos in this post were taken in Rocky Mountain National Park in May! Have fun out there, and make it home safe.
If you're enjoying following my posts here on my blog, don't forget to follow me on Facebook & Instagram as well. You'll often see my latest photos there first! If you want to subscribe to my newsletter, just enter your email on the form to the left. You'll get all my latest news and updates. If you'd like to order a print of this image, just click on it above and you'll be taken to my art store where you can place your order. Thanks for following along!