Wildlife Encounters in the Backcountry
Aug 13, 2017
We've all been there haven't we? You're driving along in a National Park, and you come upon the wildlife jam. Cars stopped in the road, lined up along the side whether there's room or not. Most likely there's a ranger or two trying to supervise the scene and keep it under control. Off in the field is some kind of wildlife: deer, elk, bison, bear, etc. It's a special moment no doubt, for some in the crowd it might be their only opportunity to see these animals in the wild, even if the atmosphere does become a bit zoo-like. It seems like there's always that person that's getting way to close too. I think we've all made that mistake at one point or another, getting way to close to a wild animal that if it turned on us we would have no chance. Hopefully it's a mistake you only make once. But how can you have a better wildlife experience, and one that's more enjoyable for all involved?
The first step is often to get there early or stay late. A lot of wildlife tends to more active at the edges of the day, and often finds cooler places to hide from the midday sun. Being out first thing in the morning will always get you ahead of the crowds as well, and by dusk most of the tourists have headed back towards their campgrounds and hotels. Secondly, and it's something I often advocate, is to get out on the trails and into the backcountry. The same rule applies here, you're more likely to encounter wildlife out and about on the edges of the day and there will be even fewer people on the trails first thing in the morning. I shared a story a few weeks back about encountering bears on the trail that made for a more nervous experience, but most encounters will likely be positive as mine have been. Not all are so fortunate, but I choose to take all the precautions and appropriate steps I can and try not to focus on the what ifs unless they're right there stairing me in the face. I had just such an experience this last week while hiking in Rocky Mountain National Park.
The trail to Mount Ida is not marked on park maps, so the tourist from out of town probably doesn't even know it's there. This give you a leg up to start out, and I arrived at the trailhead at Milner Pass on Trail Ridge Road before dawn. After waiting for the sunrise light on nearby Poudre Lake, I started up the trail. As I neared treeline almost a mile in, I came upon what turned out to be 4 bull elk of varying ages grazing right on the trail in the early morning calm.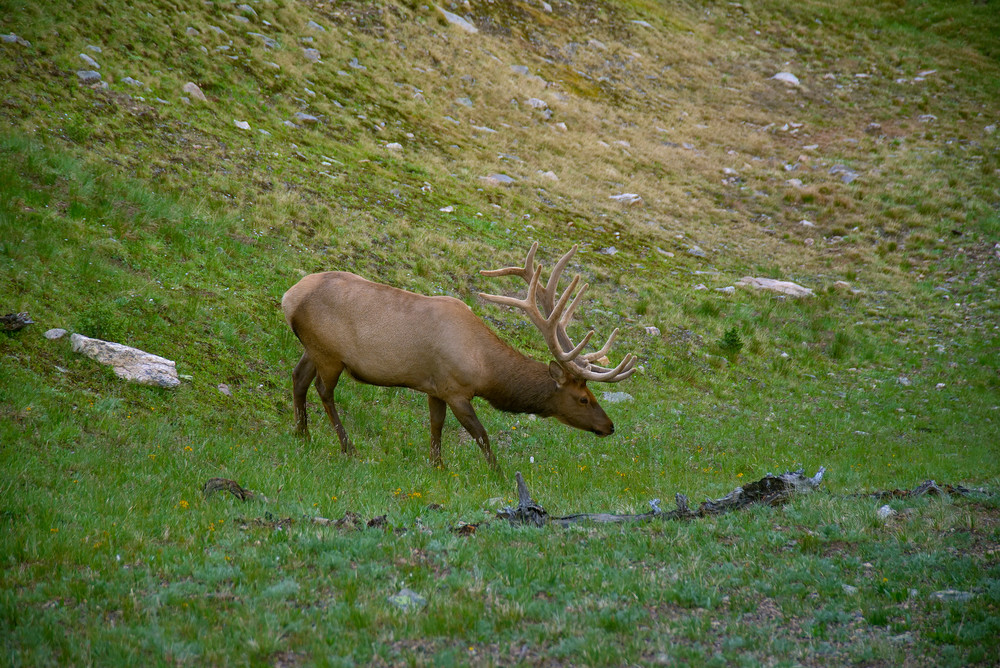 I stopped and waited, snapping pictures and doing my best not to disturb them. One of them wasn't more than a year or two old, his antlers were still more spikes than a full rack, and sometimes the younger ones like an opportunity to show their stuff in front of the bigger boys. So even though he was the smallest he was the one I was watching the closest. They all looked quite healthy, although in another month or so instead of hanging out together they'll be fighting one another instead. After about 15 minutes or so, they had moved far enough up the hillside that I felt comfortable continuing on. These would be only the first wildlife I would see on the day, out on the tundra I came upon families of marmots and some ptarmigans as well.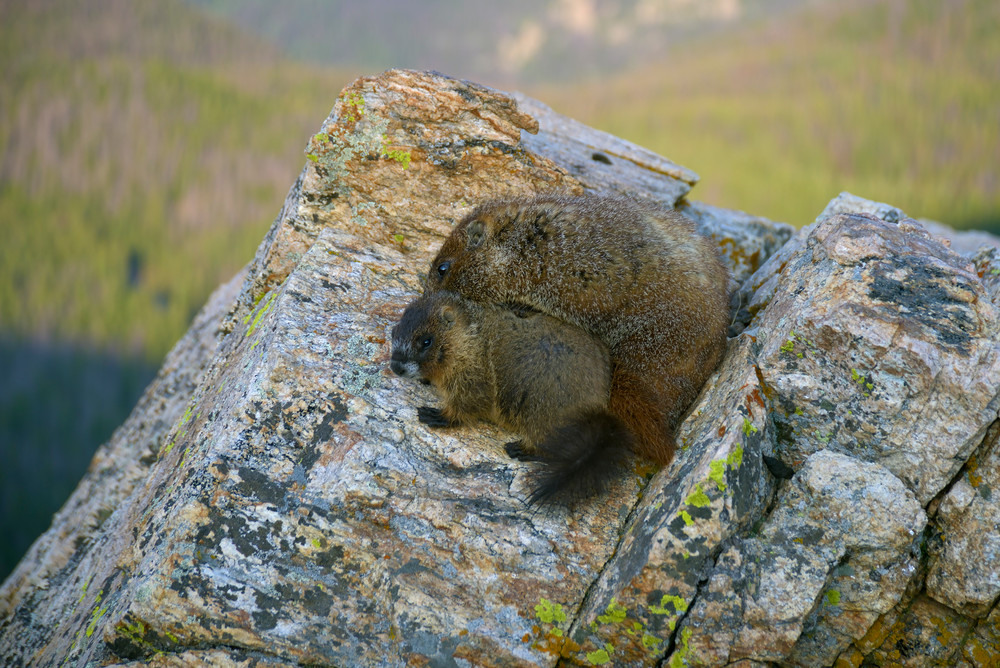 Almost all that I saw were on my way out to Mount Ida in the early morning hours when there was only one other person ahead of me on the trail. On the way back there were more people and all the creatures that I had seen on the way out had moved on or found a quiet place to hide from the other people coming up the trail.
This isn't the only time I've had these kind of experiences. Back in Tennessee I did a springtime overnight in the Smokies to see the wildflowers in bloom, and on this occasion I was hurrying up the trail to my campsite in the late afternoon, the last person going up the trail for the day. Along the way I came upon some deer munching on flowers for their dinner, and they paid me only a little attention as I went by.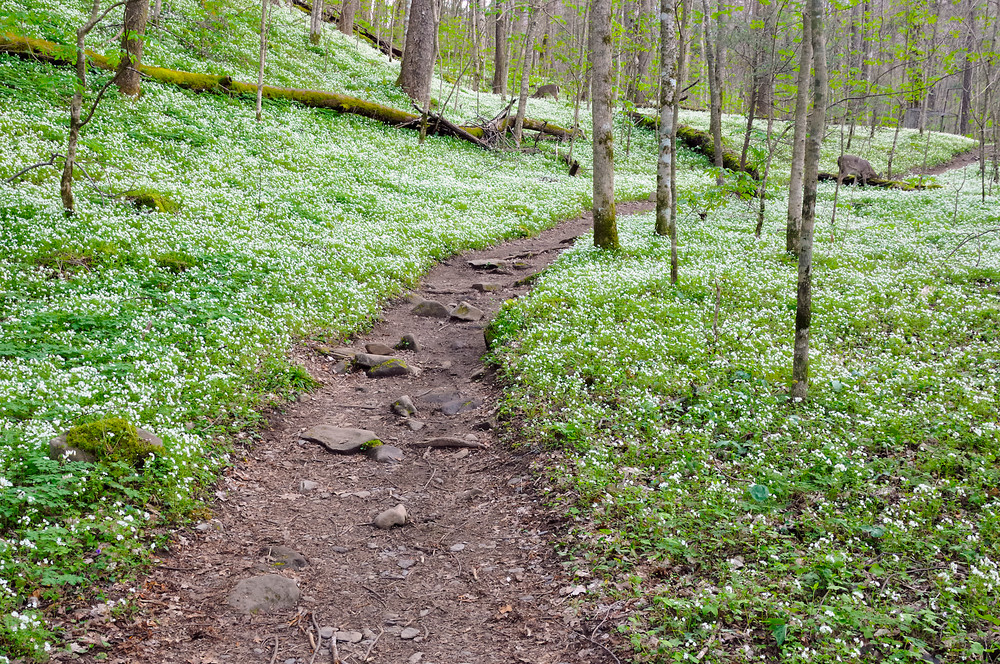 You can see them in the photo eating in the white flowers by the trail. In my experience, when I'm traveling alone it almost seems like the animals understand that I'm visiting their home, and as long as I act in a way that doesn't disturb them they continue on with their activities and pay me little attention. It becomes a much more natural experience, and more fulfilling than the crowded roadside encounters. Hopefully I've inspired you to get out on some early morning hikes to have some of these kinds of experiences for your own!
If you're enjoying following my posts here on my blog, don't forget to follow me on Facebook & Instagram as well. You'll often see my newest photos there first. And if you're in the area don't forget to come see me at Arts on the River on August 27 as well! It will be a special opportunity to purchase art pieces tax free, and I'll be doing a special giveaway as well. Thanks for following along!