What's In My Camera Bag In 2022
May 22, 2022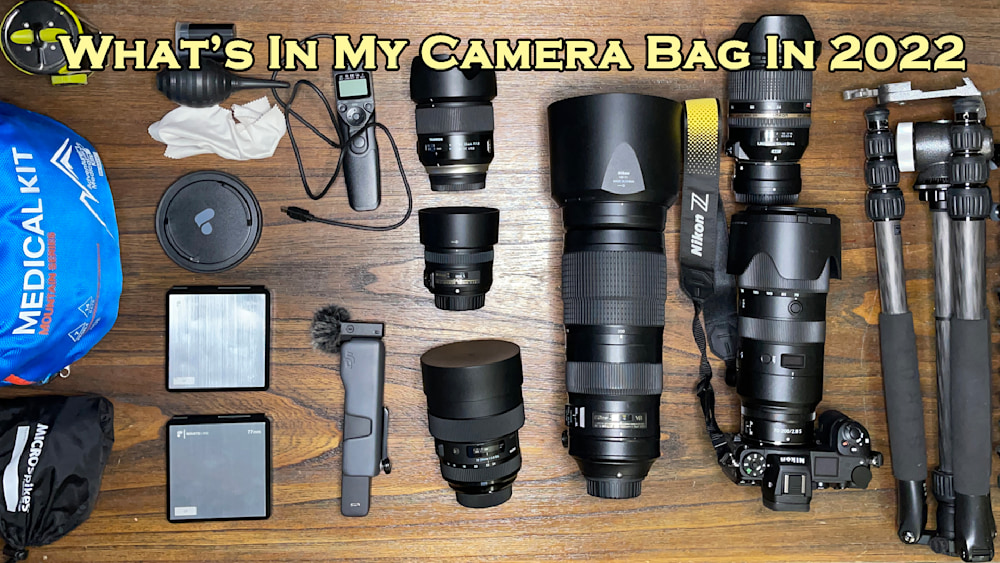 For a long time in my photography career, I was using mostly the same equipment with just a few changes here and there. But over the last couple of years a lot of that gear started to fail or reach the end of its useful life, and so I have been changing out nearly all of my equipment. With that being the case, I've decided to do a review of all the gear that's currently in my camera bag. What I have, why I chose it, and what are the scenarios I use it for. While it's a bit of a YouTube cliche, I've also done a video rundown as well to accompany this for my YouTube channel.
Camera: Nikon Z 6II
While shopping for some other gear back in January, I got some quotes for my trusty Nikon D750 to get a sense of what kind of value it had. When I had bought this camera body back in April of 2017, I had had my previous Nikon D300 so long that it had almost no value left. With the announcement of the Nikon Z9 last October, combined with the ongoing discontinuation of Nikon F mount lenses & bodies, it was becoming clear that Nikon was fully committing to the mirrorless Z mount as the future and the days of all F mount gear were numbered. That included my D750. I made the decision to pull the trigger on a new Z 6II as its replacement while I could still get decent value for the D750, and Nikon was even generous enough to throw in a $100 payout for my old Nikon D300 that had been mostly collecting dust for the last 4 1/2 years.
Why the Z 6II? It is a very comparable camera to my old D750, just in the newer mirrorless style, so it does a lot of the same things well and has a lot of familiarity for me. I can even use my old batteries in it! It's brilliant for night photography, as well as high speed shooting when I'm out photographing moments like the peak of a fight during the elk rut. Although I haven't used it for this yet, it's also very good for video which is becoming an ever bigger part of my workflow. And having the second generation gives me features missing from the first like focus peaking, dual memory card slots, and built in exposure times out to 15 minutes in manual mode. There's much more I could say, but to put it succinctly I don't regret my decision. With all the money I have invested in the Nikon system I wasn't going to switch brands, which makes this camera body the best fit for me. Of course since I'll be using a lot of F mount glass for the foreseeable future, I also purchased the FTZ II adapter to continue using my current lens lineup.
Ultrawide Zoom Lens: Sigma 14-24mm f/2.8 DG HSM Art
This lens is also a recent purchase, due to a lens that failed. I purchased the Tokina AT-X 16-28mm f/2.8 Pro FX in Nikon mount at the same time I bought my Nikon D750 back in April of 2017, with the intention of it being my main lens for astrophotography. While it had its flaws, it would spend the next 3 1/2 years being virtually the only lens I used for that purpose, learning ways to work around its weaknesses and make it perform its best. However, in late 2020 I began to notice that the point on the focusing scale where it was focusing to infinity was starting to shift. Odd for sure, but for awhile it just meant I had to really check my focus to make sure everything was right. But then on my Moab trip last fall, I noticed in the photo that I used it for that the stars in the upper 1/3 of the frame were really stretched out. Something more serious was going wrong in the optics. So, I sent it in to Tokina, and the repair quote I got back was more than it cost me to buy the lens brand new in the first place. Time to go shopping for something else.
After reviewing a lot of data, I settled on the Sigma 14-24 Art lens. It's optical performance looked fantastic, and I found a really good deal on a used copy that was really barely used at all. I've used it on a couple of night photography shoots so far, and have been very impressed with the results. Very good detail when shot with my new Z 6II, works very well through the FTZ adapter, and very little distortion. And since the Z body has in-body stabilization the lens gains it by default as well. So far this lens has been a win-win!
Wide Angle Prime Lens: Tamron SP 35mm f/1.8 Di VC USD
The longer I got into doing astrophotography, the more I found I enjoyed the perspective of the longer focal lengths of my 16-28 zoom lens I was using. I started looking around for something even a little bit longer, but also with a wider aperture than the f/2.8 so it would let in more light to compensate for the shorter shutter speeds I would have to use. It wasn't long before the opportunity presented itself to purchase a used copy of this lens at a very reasonable price and I jumped at it. I'm so glad I did.
Since I purchased it in March of 2021, it has become my favorite lens for photographing the Milky Way. I love its perspective and the way it really shows the detail in our galaxy. Although it has lost autofocus now that I'm forced to use it with the FTZ adapter, I only use it for night photography which is all done with manual focus anyway. It is so lightweight and small, but is such a big performer that it has paid for itself many times over already. Here's just one example of the great photos I have captured with it.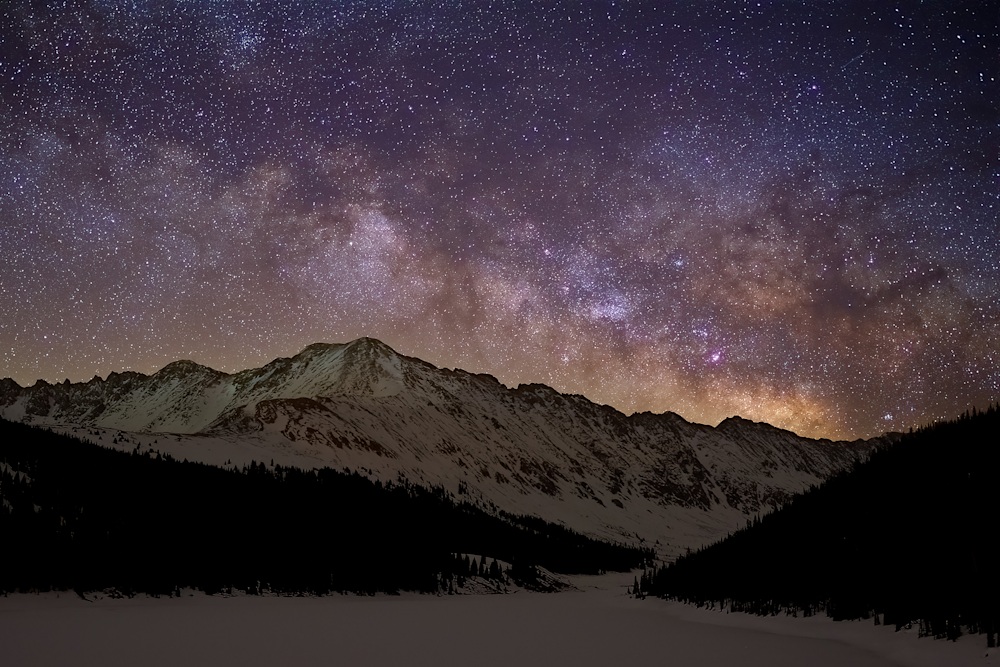 Normal Zoom Lens: Tamron SP 24-70mm Di VC USD (G1)
For a long time I had a Nikon 24-120 lens that was the main lens I had on my camera most of the time, especially when hiking. But it had a slower maximum aperture, and eventually I found myself longing for an f/2.8 lens in this range for many of the same reasons I bought the 35mm prime lens. I wanted to be able to do night & low light photography at the focal lengths in between my 16-28 & 70-200 lenses. It just so happened I had a friend who had made the decision to switch brands on their camera gear and was willing to give me a steal of a deal to buy this lens off of them. A year and a half later I'm definitely very happy with that decision. This lens is still the lens I have on my camera a lot of the time, the same as the 24-120 used to be, and of course it's pleasing for the detail person in me that it now fits perfectly between the 14-24 & 70-200 in my lineup. The detail it captures at night is impressive, and this range is a perfect fit for general landscape photography. Here's just one example of the great photos I've captured with it.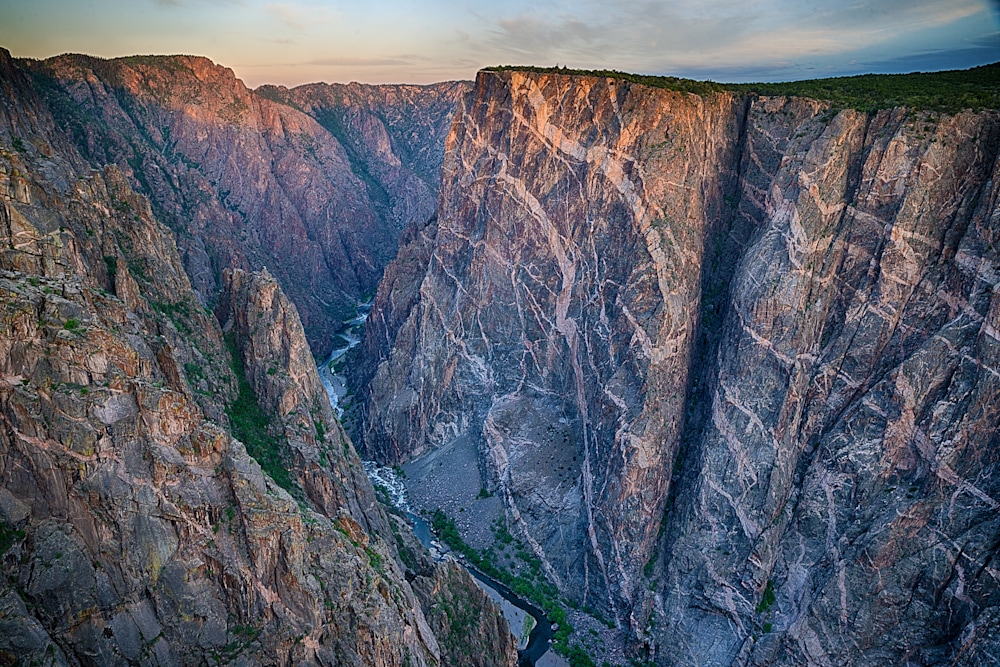 Normal Prime Lens: Nikon AF-S NIKKOR 50mm f/1.8G
After last falls Moab trip, and trying to shoot the Milky Way at around 50mm with my 24-70 zoom but just not quite having enough light, I though it might finally be time to pick up a "nifty fifty" after all. It just so happened that in November Nikon was running a sale on their website for refurbished gear that included this lens for just $150! I couldn't miss out on that opportunity to add it to my collection for so cheap. While I've experimented with it a couple of times over the months since then, I haven't quite had the opportunity to make it shine yet. But like the 35mm prime it is so small and light that it's no problem to have it with me all the time. I'm sure I'll find the right moment for it before too much longer, and I'm glad I have it with me now.
Telephoto Zoom Lens: Nikon NIKKOR Z 70-200mm f/2.8 VR S
This lens is the most recent addition to my camera bag, another one that has replaced an older model. Way back in 2009, I had purchased the Tamron 70-200 f/2.8 lens, and it had been a strong performer for me for many years. It was my first high quality telephoto lens, with image quality that at the time was better than the equivalent Nikon model. Yes it focused a bit slower, but that was rarely an issue for what I was doing. But after 13 years it was starting to become less competitive, and after switching to the Z mount the autofocus got even slower through the FTZ adapter. In lower light it was struggling to find focus at all. Again I started looking for a replacement.
It didn't take long to figure out that despite its rather high price the new Z mount Nikon 70-200 was really the only way to go for a long term replacement. So a couple of months ago I made this my first Z mount lens purchase, and I must say its performance with the Z 6II lives up to the price tag. I just used it to photograph the total lunar eclipse, and it did a great job. Between the quality of capture and the advance planning I did to set the shot up, this photo became the post with the highest organic engagement I've ever had on my Facebook page.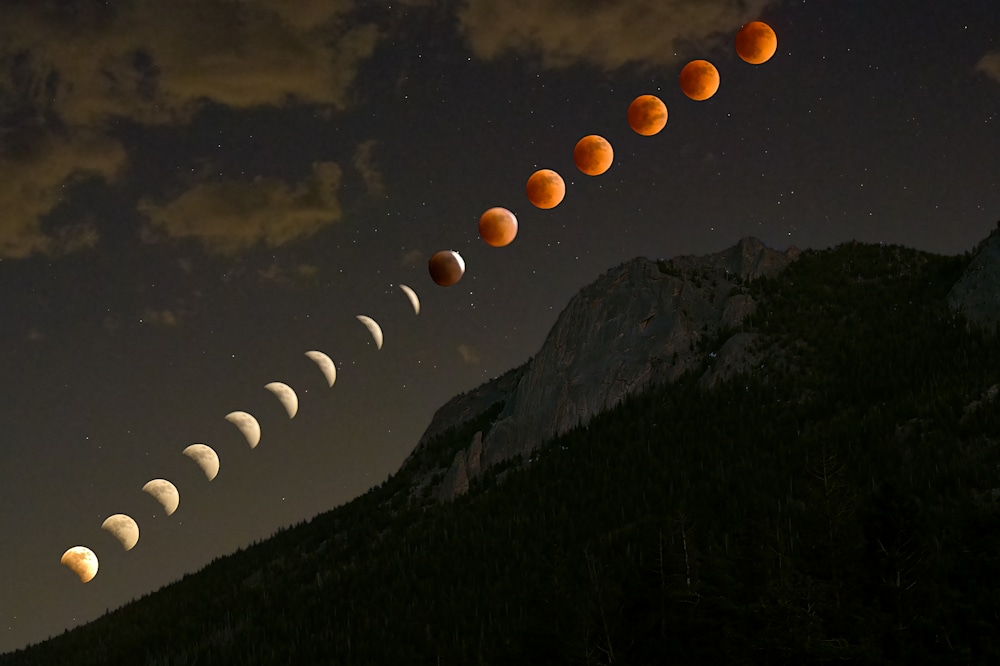 Super Telephoto Zoom Lens: Nikon AF-S NIKKOR 200-500mm f/5.6E ED VR
For over a decade, I went without a lens longer than 200mm in my camera bag. While that usually wasn't a problem, there were always situations where it would have been really nice to have a longer reach. Sometimes I just needed something longer, and I would rent or borrow this lens for that purpose. Photographing the sandhill crane migration, photographing the elk rut, photographing lunar eclipses, these were all situations where I needed that extra reach. I always thought that when I was ready to buy that longer lens, this would be the one I was going to get. It seems this lens was always in short supply though, both for buying new as well as in the used market. This spring I finally found the right opportunity on a used copy in great condition, and I went for it. It's performance through the FTZ adapter seems no less great to me than using it on my old D750. The photo below is an example I captured one time borrowing the lens, but it continues to serve me well now. That being said, I fully expect this to be the last Nikon F mount lens I will ever buy. As I continue to replace things in my collection going forward, I expect to replace them with Z mount lenses.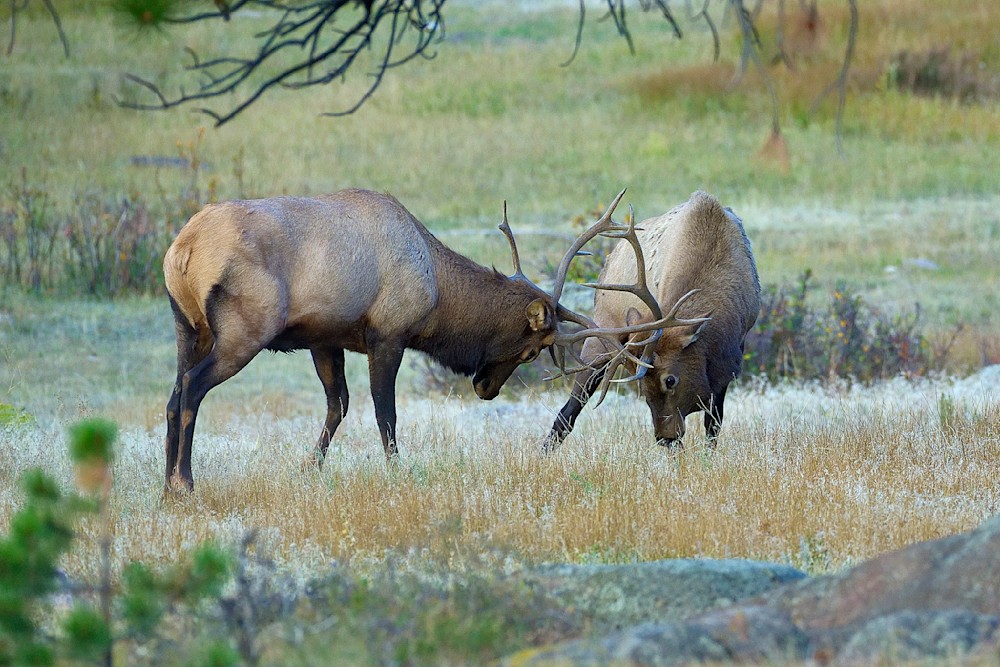 Tripod Legs: Sirui N-1204SK N-S Series
Tripod Head : Gitzo G1276M
In 2019 & 2020, the old Manfrotto tripod & head I had been using since 2005 both reached the end of their life. The pistol grip ball head snapped off in my hand one night, and the tripod legs got blown off a cliff in Rocky Mountain National Park damaging the leg locks and cracking the carbon fiber (fortunately my camera wasn't attached!). I found this ball head and then the tripod legs from the used inventory at B&H Photo, and have been very satisfied with both. The Gitzo is a panoramic ball head, making it really easy to use for panos while still having all the versatility I love about a ball head. The Sirui legs have proven to be very sturdy while lightweight, with the folding legs design giving them a smaller footprint when strapping to my camera backpack for hiking. While both have now been replaced with newer models, they are still solid performers for me that I see lasting a long time as well.
Vlogging Camera: DJI Pocket 2
This is the camera I'm currently recording about 90% of my video content with. It's small size makes it ideal in almost every situation, it's 4K video capture has given me great video quality, and the accessories that came with the Creator Combo (including the wireless microphone) have made it so convenient to use in almost every situation. If you're looking for something small and easy to use to record video content on-the-go, I can't recommend it highly enough. The fact that I can also control it from a distance with my iPhone, or use my iPhone as a monitor when recording myself with it, is just a bonus that I have only begun to take advantage of. If you're watching my YouTube channel, you're watching content I've filmed with this little camera.
There's also other various accessories I have in my camera bag all the time. Extra batteries, extra memory cards, a Joby Gorillapod, a Lumecube Panel Mini, a Goal Zero Lighthouse Mini LED lantern, and an LedLenser headlamp. And for safety I always have my first aid kit and Kahtoola Microspikes with me.
Camera Backpack: f-stop Tilopa 50L
A post of what's in my camera bag wouldn't be complete without including the camera bag itself. Just a year ago I replaced my longtime camera bag, the LowePro Dryzone 200, with the f-stop Tilopa 50 liter. I was looking for something a bit bigger that would carry all my gear much more comfortably & safely. A year later I have to say I am very happy with the result. This camera backpack has been everything I wanted it to be and more. As my collection of gear has grown, it has become a bit more complicated to fit everything in and I've had to make some priorities about what needs to be in there all the time and what doesn't. But it is so much more comfortable to hike with than the old Lowepro, and the extra space above the camera compartment for my other gear and snacks keeps everything so much more safely stored and easily accessible. Since I got mine they have updated to the newer DuraDiamond fabric and adjusted what's included in the bundles on Amazon a little bit, but if you're looking for something new to meet your needs for a hiking camera backpack I highly recommend the f-stop line.
I think I'll wrap things up here, but you can also check out the accompanying video for this post on my YouTube channel below. If you have any questions about any of the gear I'm using, don't hesitate to ask. I've given Amazon links to just about everything as well. If you're thinking about purchasing one of these items yourself, if you use one of my links I get a very small percentage from your sale to support my small business at no extra cost to you. As an Amazon Associate I earn from qualifying purchases. Thank you for continuing to follow along with me on my photography journey, and I hope you enjoyed this post and found it informative. Thank you for reading & watching!