Under the Night Sky in Rocky Mountain National Park
Jul 02, 2020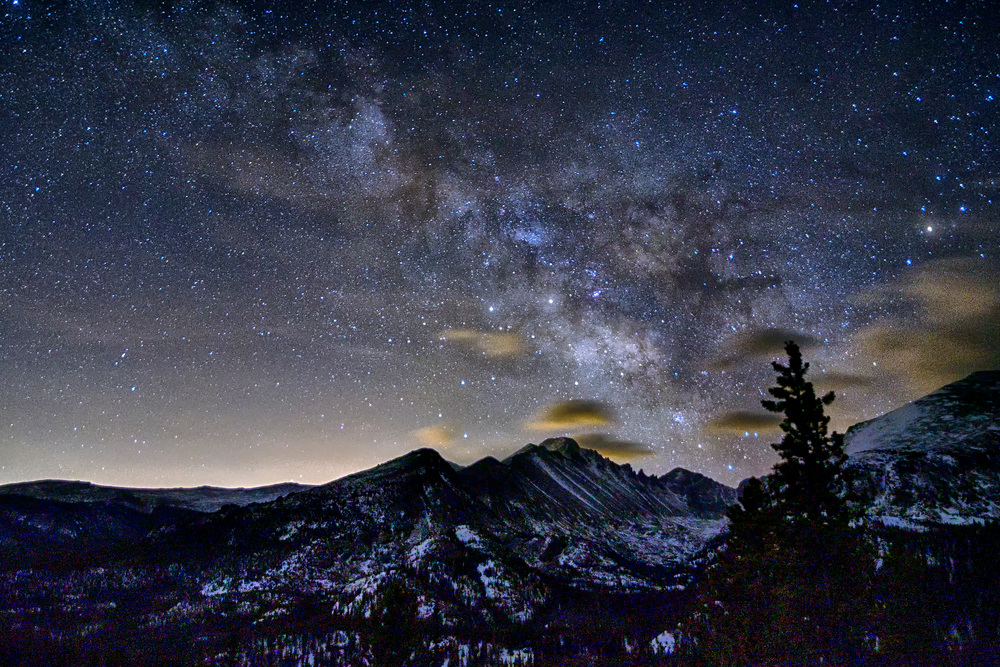 When I first captured this photo in March of 2018, I was certainly happy with the result. I had been working to find early season locations to photograph the Milky Way over Longs Peak, and identified this spot as one that had a lot of potential. I had even tried it in February, but a large cloud bank had perfectly blocked out the section of the sky where the galaxy was rising. I came back to it in March and conditions were much more favorable. Since that time this has become a popular spot in the local astrophotography community.
While it got solid engagement when I initially shared it out on my social media and put it on my website, it barely made it in to my year end top 10 list at #9. But then the engagement on that post started to take off. Then I got a message from Nikon USA asking if they could share it on their Instagram account.
Then the traffic really started to flow, people started buying prints, and it became the most popular photo in my collection. It still remains my number 1 image, even as time has gone on and other popular photos have risen to challenge it. It was only when I decided to do another print giveaway featuring it this July that I realized I had never written a blog post about it to tell the story behind this image.
As I mentioned above, the night I captured this photo was actually my second visit to photograph the Milky Way at this spot, and I returned to it again in the spring of 2019. This viewpoint is on a rock outcropping on the trail to Dream Lake in Rocky Mountain National Park. If you've hiked this trail, you've probably taken a moment to look down on Nymph Lake and across the valley at Longs Peak rising up above Glacier Gorge. That trail is loaded with great views, but this is one of the best spots. It's also fairly easy to find in the dark, which is handy when you're out here in the early morning hours in the cold. This photo is actually an exposure blend due to the large amount of light behind the peaks coming from Denver. Blending multiple shots together allowed me to not completely blow out the horizon but still capture detail of the Milky Way and the stars in the sky above. While there were still a few clouds on this night, they do nothing to mar the quality of the composition, even adding a bit of interest.
Many of the National Parks now have the slogan that Half the Park is After Dark, and in Rocky there are certainly many good locations to view the night sky. While views looking back towards the cities of the Front Range can be somewhat marred by their lights, views looking more south and west into the wilderness areas of the mountains can have some very dark skies that show even more stars and more detail in our galaxy. But while I've captured many more night sky photos in the park, this one still remains the most popular image in my collection. Perhaps its the fact that many others have seen this view, perhaps its the recognizable summit of Longs Peak that all of us that live on the Front Range see regularly. Whatever the reasons, I'm glad people have been able to connect with this image in such a meaningful way. After all, that's my goal as a nature photographer. I'm happy to share this experience with all of you out there through this photo.
Fine art prints of this photo are available just by clicking on it above. You will be taken to the shopping section of my website where you can make your purchase. You can also enter to win a fine art print of this photo during July by entering to win here. At this time, I am continuing to make a donation from each purchase to support the Rocky Mountain Conservancy until the visitor centers reopen in Rocky Mountain National Park. If you enjoy hearing about my experiences, I hope you'll sign up for my email newsletter. You can subscribe right here on this blog post, or click my newsletter signup link at the top. New subscribers get a new customer discount coupon as a thank you for signing up. Don't forget to follow me on Facebook & Instagram too. Thanks for checking out what I do, and I hope you'll keep following along!