Shooting the Super Blue Blood Moon of 2018
Feb 04, 2018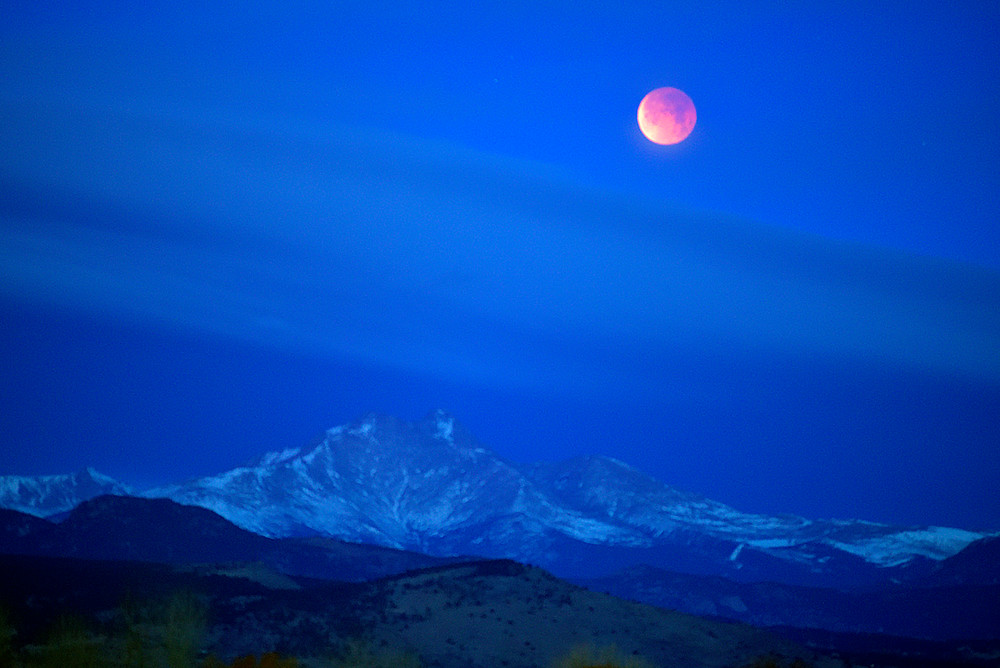 Many of you are probably familiar with a photograph of the full moon setting behind the mountains that I captured a couple of years ago. It's been one of the favorites of all the photos I've captured since moving here to Colorado, but ever since that morning I've been looking for an opportunity to do it even better, even more unique. That's a big part of what drives me in my work, to find unique moments and capture them, or show the well known in a special way. In the days before last week's Lunar Eclipse, I started to think I might have just such an oppotunity.
If you were paying attention to the news at all during the month of January, it was hard not to be aware of the upcoming lunar eclipse. The Super Blue Blood Moon of 2018! Yet that in itself wasn't enough to get me excited about the event. I don't have a super long telephoto in my camera bag right now, so there would be no frame filling image of the moon to be captured for me. And even if I did, that photo isn't all that special anymore, you'll see lots of those after every eclipse. It wasn't until I realized that the eclipse would be happening here in Colorado in the final hour before the moon set behind the mountains that I started to get interested. This could be an opportunity to improve upon my already popular photo, and a way to capture a more interesting image of the eclipse as well. It was time to do some planning, so I could be in the right place at the right time. I've mentioned before using the app The Photographer's Ephemeris (or TPE for short), and this was my main planning tool in this case as well. While the moon was going to be a little higher in the sky than I would have liked, I still wanted to line it up so it would positioned over the twin peaks that are visible from my home in Longmont, Mount Meeker & Longs Peak. What I found was that the best place to be would be not far from where I had captured my previous moon photo, at Golden Ponds park. While I would shoot from a different spot in the park, the location would be quite similar. The last variable would be the weather. The forecast for the morning of the 31st wavered between partly cloudy and mostly cloudy for the critical hour. This was going to be another one of those times where the best plan would be to just show up and see what happens. The afternoon before, I cast out a few invites to some of the other local nature photographers I'm in contact with, and planned to rise early and meet at the park at 5:30 AM.
When I got up and looked outside that morning, the overhead sky was fairly clear, but there was a large cloudbank looming just above the mountains. Again, the best way forward was just to go out and see what the opportunity was going to be. It turned out that 3 others joined me at the park, and at the appointed time we headed out to find the right spot and set up. I had a composition in mind, so the key part of the plan for me was to get to the right spot, get my camera set up and the composition dialed in, and wait for the moon to come into it. Shortly after we arrived, the moon entered the phase of being totally eclipsed by the earth's shadow, and turned to that distinctive red color. It took us a little while to find the right spot with the best view, and a little longer to establish the correct composition in the dark, but eventually I got it dialed in and then waited. When the moon slipped behind some clouds, we feared that we might get shut out, but soon it emerged again and we started snapping away. For about 15 minutes, the moon moved in and out of the clouds, allowing us windows of opportunity to capture some photos. Shortly after capturing this photo, it dropped behind the thick cloud bank and it was gone for good. I would have liked to have captured it closer to the horizon as well, but I'm pretty happy with how this one turned out. For purposes of comparison, I'll include my moon photo from 2 years ago at the bottom of the page. Which one do you like better? Let me know in the comments!
If you haven't signed up for my email list yet, you can do that by entering your email address in the subscribe box right here. You'll receive a new customer discount code as a thank you for signing up. If email isn't your thing, you can also sign up to receive my updates via Facebook Messenger. Just click that link, and you'll get the same benefit there as well. If you're enjoying following my posts here on my blog, don't forget to follow me on Facebook & Instagram as well. You'll often see my newest photos there first. Thanks for following along!