Return to Mayflower Gulch
Aug 15, 2021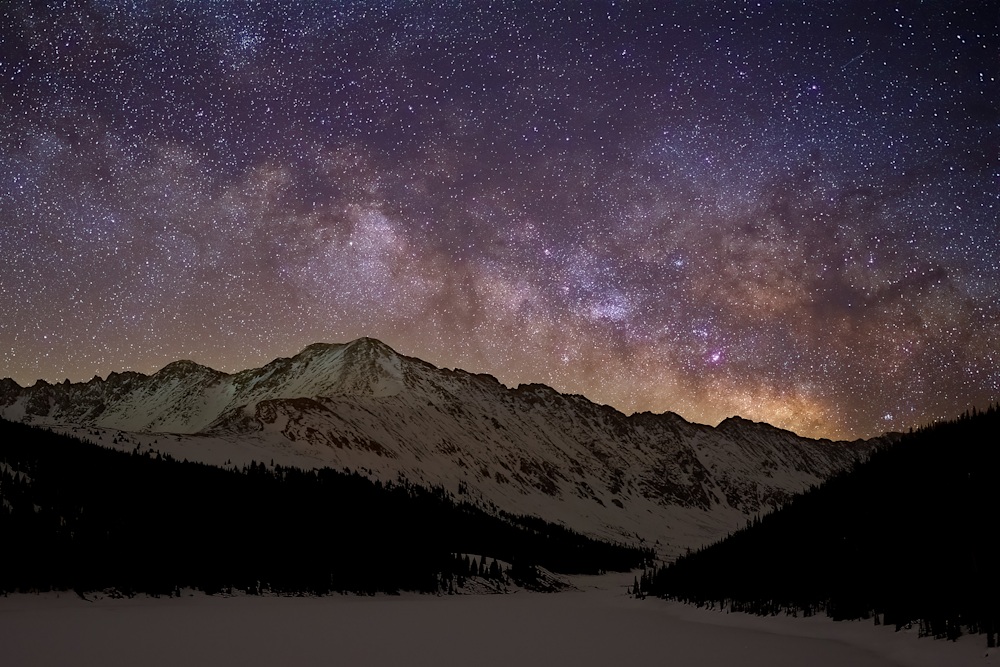 Two years ago in May of 2019 I made my first visit to Mayflower Gulch, hiking in early one morning to photograph the Milky Way on what was supposed to be a night with clear skies. Unfortunately, as can happen sometimes in the mountains, the weather that night had its own ideas and covered me up with clouds. A frustrating result, especially since the time of year to get the shot that I wanted there with snow on the ground is limited. The spring of 2020 of course brought the pandemic and staying close to home all through the spring. But this year the weekend of the April New Moon rolled in with clear skies all across the state of Colorado. It was the perfect opportunity to return again, but a Colorado astrophotography group that I am a part of was also planning a meetup at nearby Clinton Gulch Reservoir, and I knew that was a location with a lot of potential as well. What to do, what to do....
With the fact that it's a 2 hour drive to get up there, and the fact that I really wanted to do both, I decided to get a hotel in Silverthorne for the night with my family, drive up after a bit of a nap, and try and squeeze them both in. 2021 had been a year of redeeming past opportunities that didn't quite work out, and I had high hopes that this would continue here. This time, the weather did not disappoint.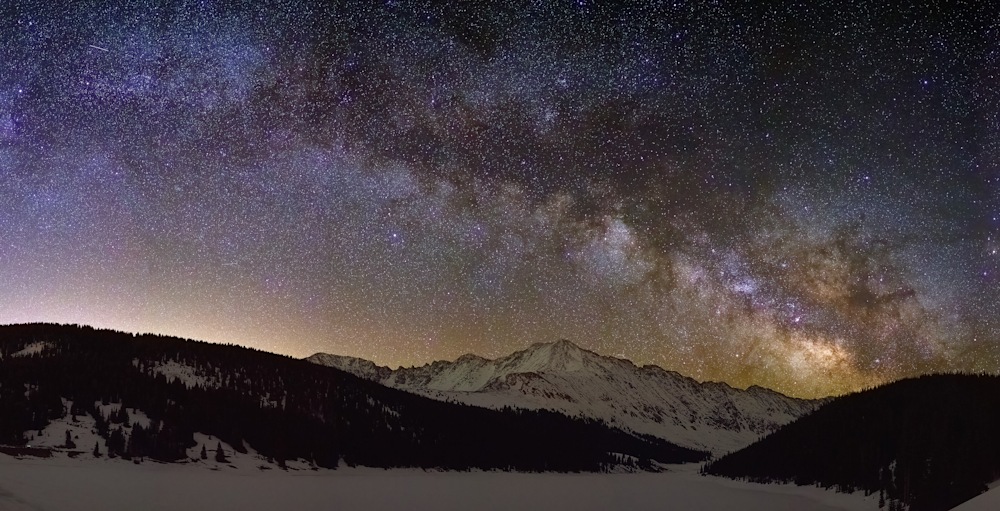 After spending a little time getting settled on the right spot to set up, the views of the Milky Way over the snow-covered mountains were amazing. Both the photo at this top of this post and this panorama were captured there. I spent probably a little more time than I should have, but the photos were great. Soon it was time to get back in the car and drive the mile back down the road to the Mayflower Gulch trailhead.
While I had had the place all to myself on my visit 2 years ago, there were a few other cars in the parking lot this time, and I did come upon some people leaving on my hike in who mentioned there were more still up there. Carrying a camera bag full of equipment at over 11,000 feet of elevation made the hike a bit tiring, but I did arrive in time to get a shot in before blue hour arrived. With others already there, I just found a spot by the old barn and starting shooting while recording some video as well. The photo below was the result.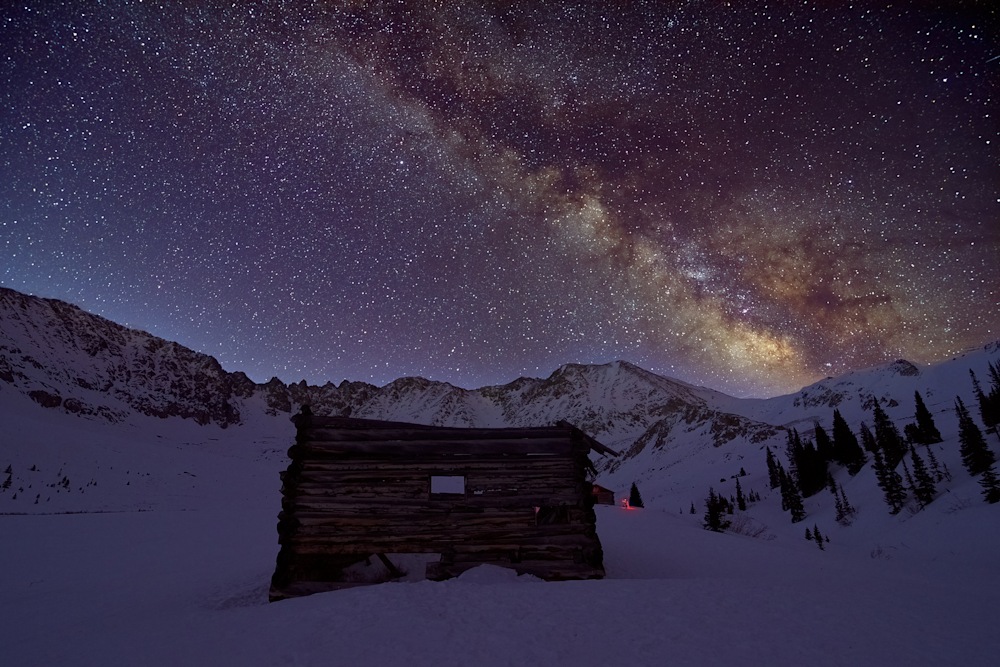 The fact that some of my fellow photographers show up in the photo along with their red lights means I won't make this one available for prints, but it is proof that the location works well just as I had visualized it 2 years before. Unfortunately this was the only one I was able to squeeze in before daylight started to light things up over the mountains, even in this photo the blue hour is already creeping in. But it is proof that it will be worthwhile to return to this location again, maybe next year, to dedicate some more time to it.
In the winter the gate to the 4x4 road that accesses the mountain amphitheater which holds the old mining camp is closed and the road is not maintained, necessitating hiking in with snowshoes, skis, spikes, or whatever method of winter hiking you prefer. But after the snow melts the gate is opened up and you can drive your street legal vehicle up the road if you feel good about it. Over 4th of July weekend I returned with friends to drive back up into the Gulch with friends and family who had never been there before, also giving me my first daytime visit. The place is just as impressive even not covered in snow, and the wildflowers were out to carpet the alpine environment. I captured these columbines on that visit.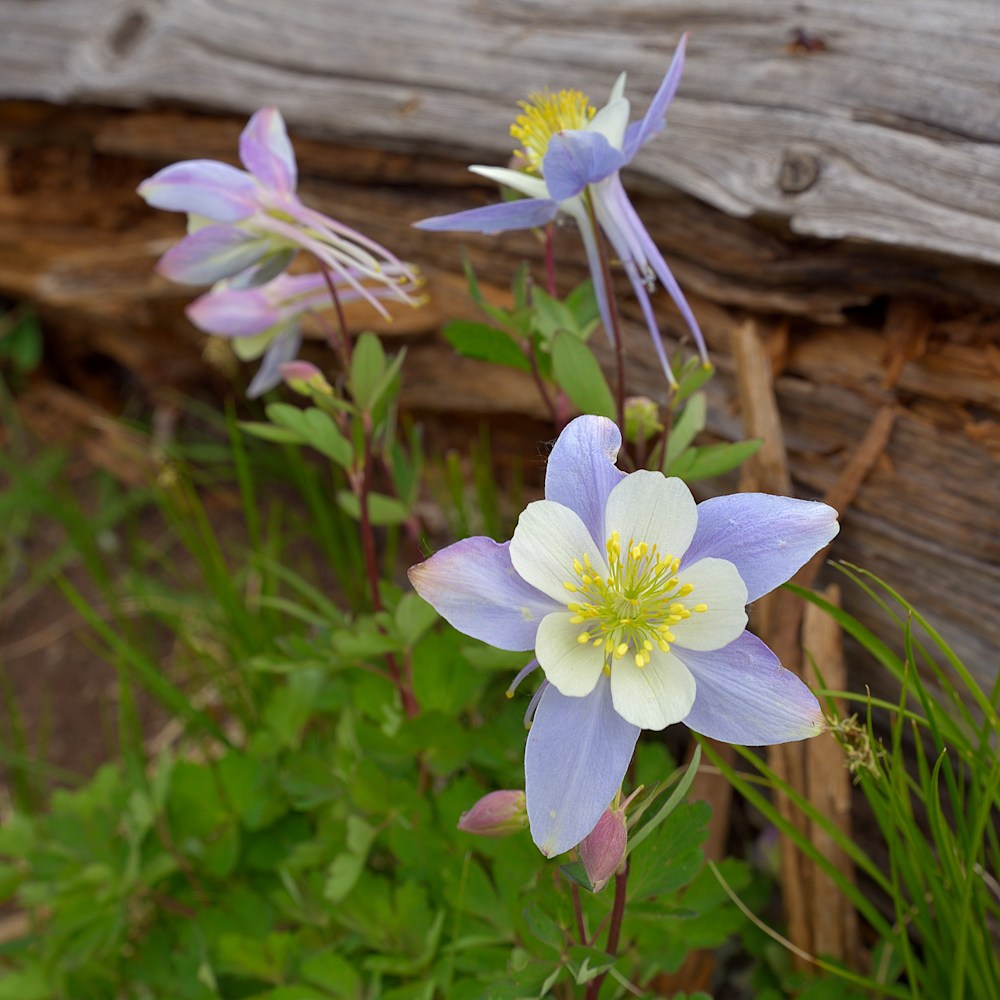 My latest YouTube video shares in the "in the field" experience of this adventure, I'll embed it at the bottom of this post so you can share the experience that way as well. If you enjoy watching it I hope you'll subscribe to my channel so you don't miss all the great experiences I have coming up to share soon. If you enjoy sharing in the experiences of adventures like these, I hope you'll sign up for my email newsletter if you haven't already. You can subscribe right here on this blog post, or click my newsletter signup link at the top. New subscribers get a new customer discount coupon as a thank you for signing up. Don't forget to follow me on Facebook & Instagram too. Thanks for checking out what I do, and I hope you'll keep following along!