A Waterfall, a Rainbow, and a Black Bear
Jun 20, 2017
Sometimes as a photographer when you're reviewing your images after an adventure there are pictures you dismiss, and then when you come back to them later they jump out at you and make you reevaluate them. This week's photo is one of those. I took this photo five years ago in Great Smoky Mountains National Park on a hike up to Ramsey Cascades, the tallest waterfall in the park. At the time, it wasn't one of my favorites from the trip, so I set it aside. About three weeks ago, scrambling for a photo to share on my social media accounts, I pulled this one back out and posted it for my followers to see. The response was simply overwhelming. Two weeks ago here on my blog, I shared the story of my Rocky Mountain Sunrise image, which at the time was my most engaging photo on social media and on my website. Over the last couple of weeks, this image surpassed that one on my social media and I was convinced to add it to my website since it hadn't been there before! Another photo from that hike had been there for awhile, and I'll share it below as well, but this will be an example of being humbled by the people that follow me online and their response to my work driving me to reevaluate how I feel about it.
The story of this particular hike is one I've told many times in person, so I'll share it now that I'm adding this photo to my online collection as well. Ramsey Cascades is in the Greenbrier area of the Smokies, a less-traveled but no less beautiful area of the park. It lies at the end of the 4 mile long Ramsey Cascades Trail, making for an 8 mile round trip. Along the way you will pass through one of the few old-growth forest areas of the Smokies, with some really large tuliptrees to be found right along the trail. I planned my hike for later in the day, hoping to have the waterfall all to myself after others had come and gone again, to facilitate the photography process. Waterfalls can be popular spots in the summertime, making getting crowd-free shots a testing of one's patience.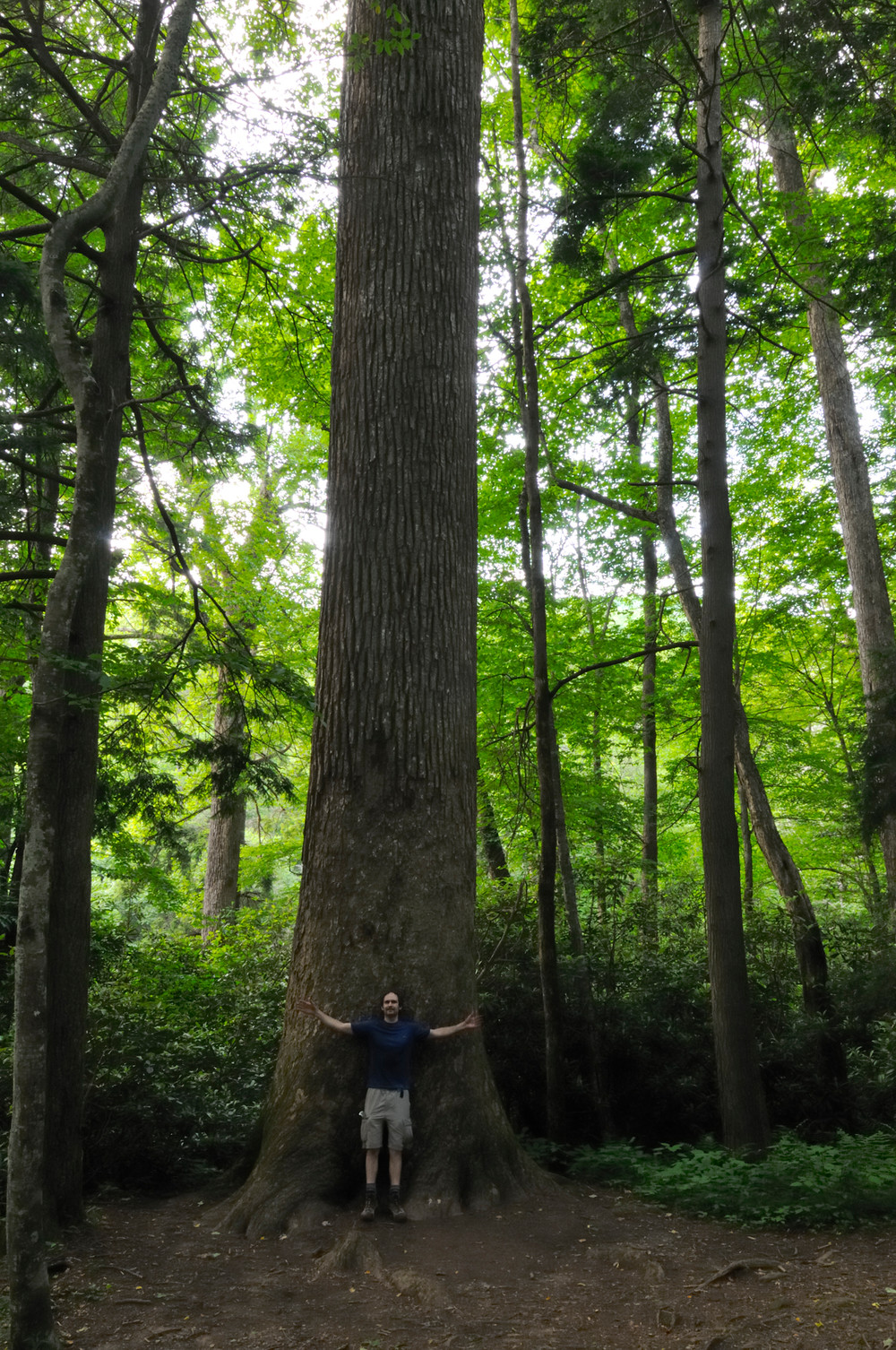 I don't remember now what time I arrived at the trailhead and started off, but it was well into the afternoon. Along the way, I came upon one of the Smokies' well known black bears some distance ahead of me by the trail. It came out of the woods, walked a short distance along the trail, and then headed up into the woods on the other side again. I stayed at a safe distance, and was somewhat excited by the experience as it was the first time I had come upon a bear in the backcountry. I always find meeting wildlife along the trails a more authentic experience than seeing them along the roads, as I've usually been by myself and they usually act more like themselves instead of being accustomed to seeing people. That assumes those experiences ending safely of course, which mine always have to this point. Eventually I arrived at the waterfall, and it turned out everything was working out according to plan. There wasn't another hiker in sight, I would have the waterfall all to myself. The way the sunlight was coming down through the forest canopy made for some challenging light, so I shot a range of exposures of the waterfall for a potential HDR shot, including the nearby rhododendreons in bloom, which is the photo I've made available online ever since. I also tried a few different other compositions, including the photo above which is the main subject for this week's post. The sunlight coming through was creating this nice little rainbow in the mist of this section of the cascade, and I tried to capture it in an artful way. I also spent some time just sitting and taking in the scene, the rush of the water, the peacefullness of a forest I had all to myself. Eventually though, it was starting to get late and it was time to pack up and head back down the trail. I had planned to be hiking back in the dark, and having done this alone a number of times before in the Smokies I was comfortable with that. This day had not been an ordinary hike though, and unbeknownst to me that was going to continue.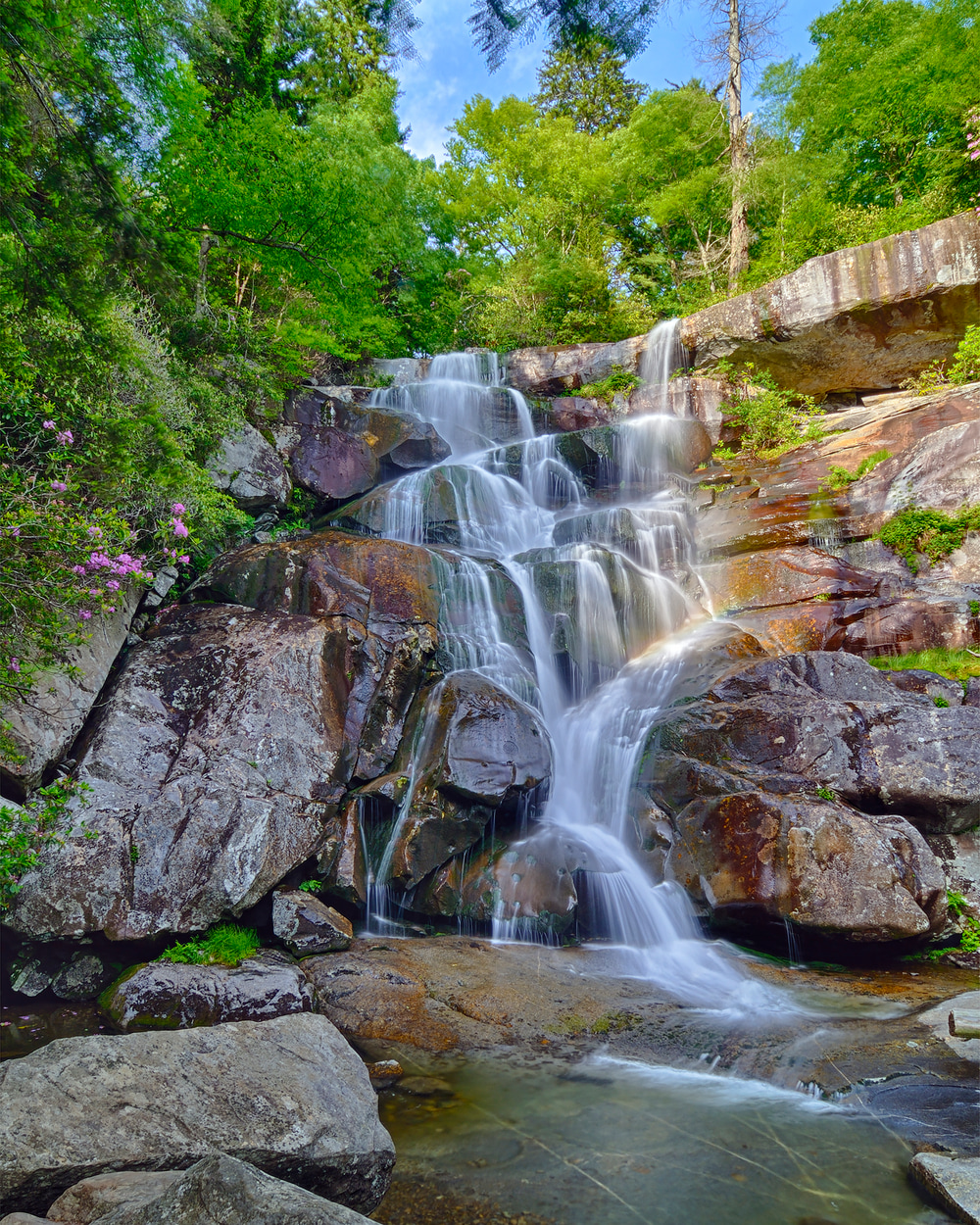 It's easier when hiking in complete darkness to kind of lose track of where you are along the trail, and as I mentioned last week my vision at night is somewhat compromised, especially in a deep forest like this area. I have a headlamp that is fairly bright though, so I've never had any problems finding my way on the trails after dark. At the moment I'm about to describe, I knew I had been hiking for some time, but I thought I still had a little ways to go to reach the trailhead. Suddenly, I saw two lights out through the trees, fairly close together. Close enough together, in fact, that at first I thought to myself, "Am I really that close to the parking area that I can see somebody's headlights?" Then I heard the noise of something very large crashing through the brush of the forest, and I realized those were no headlights. I realized that what I saw was the light of my headlamp reflecting in the eyes of a creature in the woods. I quickly turned off my light with thoughts racing through my mind. Something big enough to make that much noise, with eyes that would reflect that close together making them likely forward facing. I also started to realize that I was probably near the area where I had seen the bear that afternoon on the way up. To this day I believe what I saw and heard was a bear, maybe two of them. Needless to say I was very nervous. My choice to be the last person up and down the trail that day meant that there would be nobody coming through here again until morning, I was on my own. I froze where I stood, offered up a prayer for my safety, and waited. I could still hear the noise moving through the trees, for what was probably only a couple minutes but at the time seemed like an eternity. Eventually I could start to tell that it was moving away from me, and soon it was gone. I waited a few more moments, then turned my headlamp back on and hurried down the trail. I arrived back at the parking area, loaded my gear back into the car, and took a few deep breaths before making the two and a half hour drive back home. Truly an unforgettable day.
As my featured photo this week, I'm offering this image at 20% off, through next Sunday night (6/25). Take advantage of this special opportunity to make this photo a featured art piece in your home. Just click on the photo at the top and you'll be taken to my art store where you can complete your purchase. You'll also find the photo of the full waterfall in the same album, and you can click on that one here to quickly find it as well. If you're enjoying following my posts here on my blog, don't forget to follow me on Facebook & Instagram as well. You'll often see my newest photos there first, and you may influence again what photo I'll feature next or add to my website. Thanks for following along!