Photographing the Milky Way at a Little Church on the Prairie
Jun 28, 2022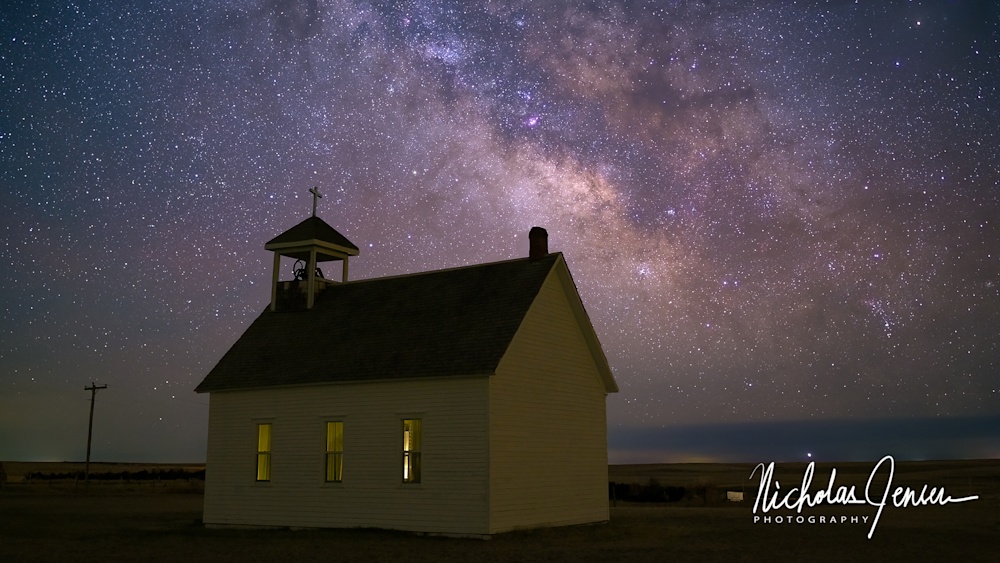 As I've mentioned quite a few times before, 2021 was a year where so many things worked out well for my photography adventures, especially for favorable weather to capture great images. So far, 2022 has not been that. I've had a lot of plans and multiple workshops get scrapped now because of heavy cloud cover, especially for my night sky photography. In the first 6 months of the year, I've been out to photograph the Milky Way only 3 times, and only once have I come away with images that I'm really happy with. This is the story of that night back in April.
On the second weekend of April I had actually been planning to go out to this same location, only to be stymied at literally the last minute by the clouds rolling in. But two weeks later a shift in the forecast showed an opening in the clouds out on the plains right in this spot. Desperate to get out I decided to go for it, although the last minute nature of it meant this would be the rare time I would be heading out alone. And on arrival at this little church on the plains I found that the clouds all around had kept all others at home as well. While there were clouds to the north & west of my location, the area of the sky that I was photographing to the southeast was almost completely wide open. This first composition I set up with my Tamron 35mm f/1.8 prime lens mounted to my Nikon Z 6II turned out beautifully.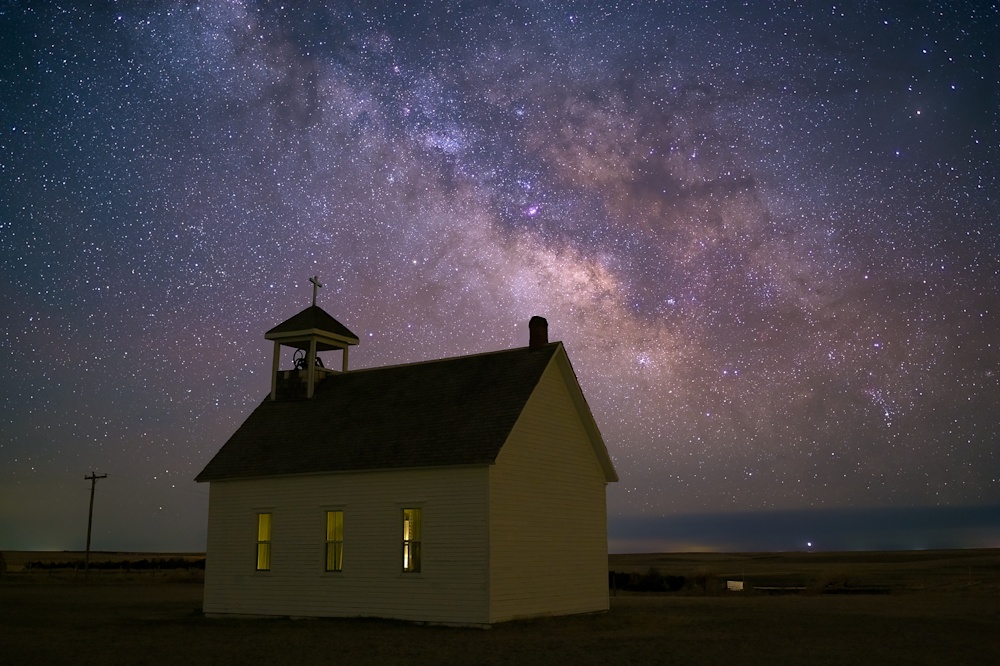 I had arrived on the location a little bit later than I had wanted to, so while I was trying to also film the experience for a YouTube video I was also rushing through it a bit as well. I did set up my Goal Zero LED lantern just inside the door of the church to cast a little light from the inside to make it look a little less abandoned. This church, despite the fact that it is nearly 110 years old, is still maintained and cared for even now.
After finishing up the horizontal composition with my 35mm, I pulled out my Sigma 14-24 f/2.8 Art lens to really put it through its paces for night photography for the first time. I decided to flip it to a vertical composition to capture more of the galaxy, while photographing all the way in at the 24mm end of the zoom range. I ended up having to tilt my setup upwards a fair amount to minimize dead space in the foreground, which meant I had to do some work with the perspective correction tools in Photoshop to straighten those lines of the building back up. About halfway through shooting the photos for this second composition, the moon rose up above the horizon to the east. While this normally would wash out quite a bit of detail in the sky, the relative weakness of the 40% moon meant that while it did brighten things up just a bit, it mostly just added a warm glow to the scene that ended up being quite pleasing. It's hard to choose which photo from this night I like better because they both came out really nicely, but if I had to I'd probably lean a little in the direction of this vertical composition and its warmer feel from the moonlight.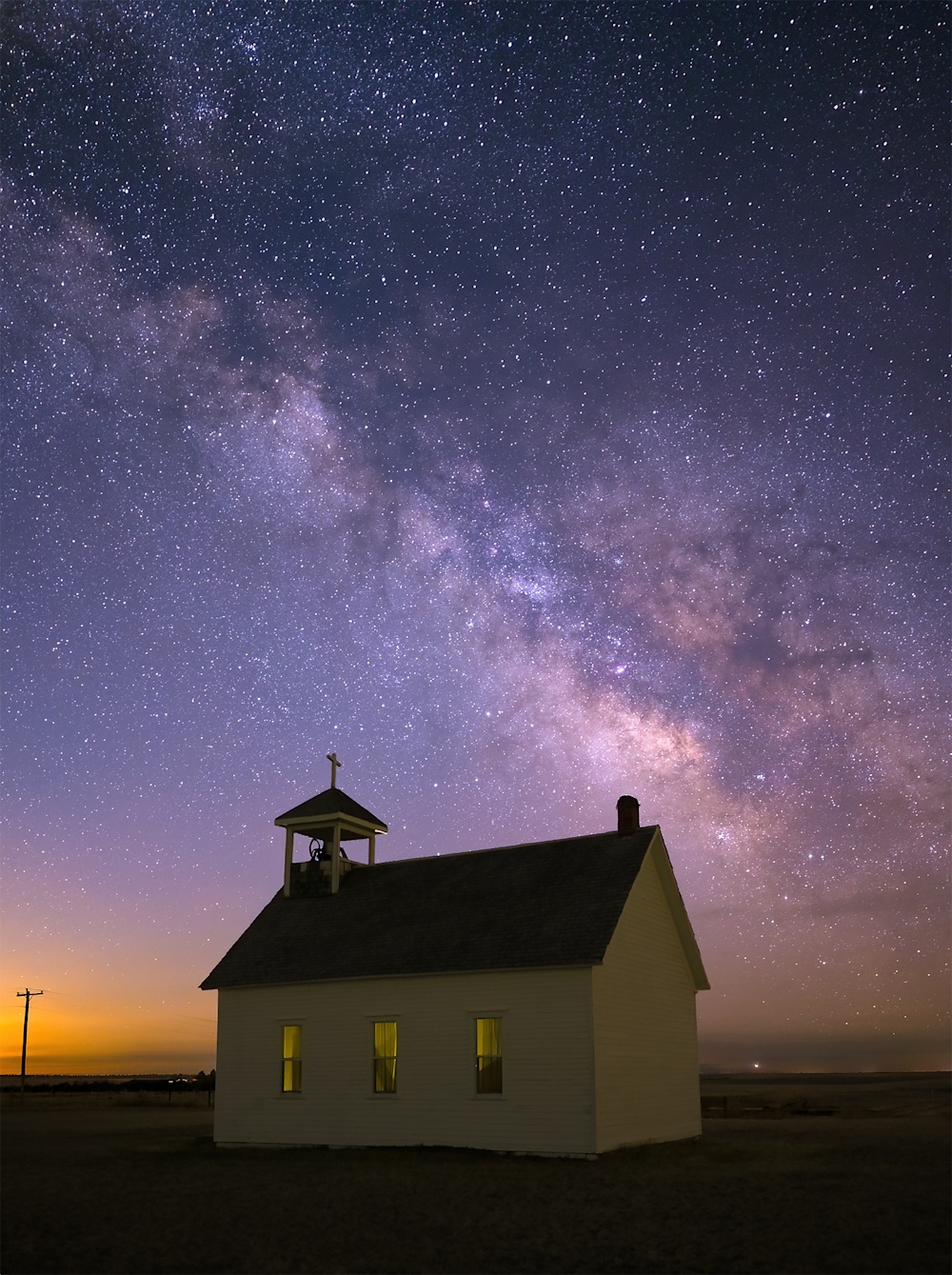 After some experimentation with my iPhone 12 Pro Max to wrap things up, I spent the rest of this all-nighter heading back home with a successful night of photography in the bag. While the spring and early summer has continued to be a challenge with the weather, I'm hopeful that things will turn around here soon. In the meantime I've spent some time photographing things that show well under more cloudy skies, like wildlife, waterfalls, and wildflowers. It's always good to maintain some diversity.
If you'd like to watch the video of this adventure, click the video below to watch on my YouTube channel. And don't forget to subscribe while you're there, I've got more great videos coming up including my night out photographing the lunar eclipse! If you enjoy sharing in the experiences of adventures like these, I hope you'll sign up for my email newsletter if you haven't already. You can subscribe right here on this blog post, or click my newsletter signup link at the top. New subscribers get a new customer discount coupon as a thank you for signing up. Don't forget to follow me on Facebook & Instagram too. Thanks for checking out what I do, and I hope you'll keep following along!