Photographing the Elk Rut
Nov 04, 2020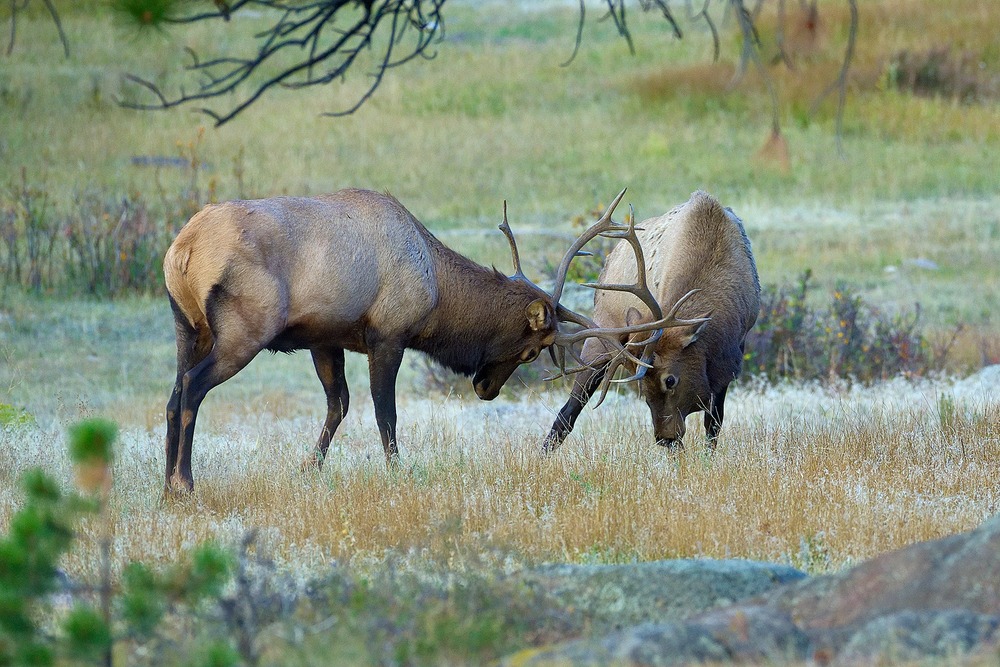 In years past I have made a few trips with the goal of viewing the elk during the elk rut, both in Rocky Mountain National Park since I've lived in Colorado as well as to Great Smoky Mountains National Park when I lived in Tennessee. The competition, the preening bulls, and the sound of the elk bugling is always an interesting sight to watch. In the last few years though, I have spent more time chasing fall color and the Milky Way during September & October, and watching the elk had been less of a priority. In 2020, with fall color in my area of Colorado being more sporadic and muted and being less inclined to travel greater distances to chase it, I decided to instead make multiple trips up to Rocky Mountain National Park to photograph the elk, as well as video them for my new YouTube channel.
Throughout the summer & fall of 2020, Rocky Mountain National Park implemented a reservation system to enter the park between 6 AM - 5 PM due to the coronavirus pandemic. Those reservations became harder and harder to come by as the summer went on, so I decided in order to beat the system I would arrive in the park before 6 AM, set up to photograph the sunrise around the Moraine Park area where the elk are prevalent, and then spend some time on those mornings observing the elk when they are typically more active anyway.

My first visit on Sunday, September 13, was moderately successful. I captured this sunrise panorama with pink light touching the tops of the peaks surrounding the valley, including Rocky's highest mountain Longs Peak on the left. I spent some time after that watching a bull out in the field near the Big Thompson river with a large group of females. I found that with patience and time they eventually came close enough for some decent photos, but there was decidedly little action as no bull came to challenge him. This was still admittedly a bit early in the rut, but the visit did give me valuable insights for what was to come.
The following week, September 20, I returned again with some friends from my local photography group. The sky was mostly clear, but unfortunately a few clouds in the eastern sky blocked out our sunrise light. There were a few bulls in the valley that were active, but they mostly stayed far out in the field for most of the morning. However, again some patience paid off and eventually one bull came up into the aspen grove near the road and was well within range for some good photos. He had some cows with him that he wanted to get to know better, but they resisted his advances, leaving him to take out his frustrations on one of the aspen trees.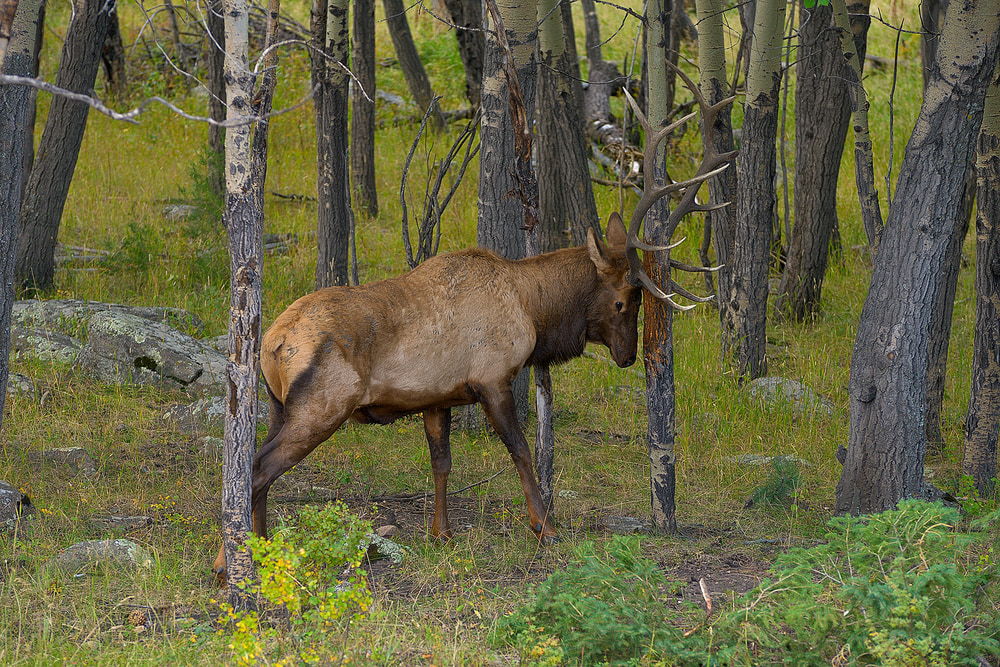 Week 3 was definitely the peak of the season, returning to the park on September 27, the final Sunday of the month. Arriving early once again, we could hear bulls bugling all around us in the predawn darkness. On this morning there were quite a few more clouds, so we transitioned pretty quickly into watching the bulls around us who were trying to establish their territory. There were a group of about three of them hanging out near an aspen grove, and before long two of them started to eye each other. Soon the tussle began. At first they seemed to be just testing their skill more than anything else, but eventually they became quite serious about it. It was then that I captured the photo at the top of the page. I'd been hoping for a long time to capture a good fight during the elk rut, and this was definitely far and away the most serious confrontation I had ever seen. Shortly after that was over, we started to head back towards our cars to regroup, satisfied that nothing could really top that. Then a large bull stepped out of the trees and stood majestically in dramatic light as the sun broke through the clouds, with Longs Peak as the backdrop. Working quickly, I captured photos at both ends of the range of my 70-200 lens, both close up as he bugled at a nearby competitor, as well as wider to include the majestic mountain in the background. This was almost as good as the fight! Which one do you like better?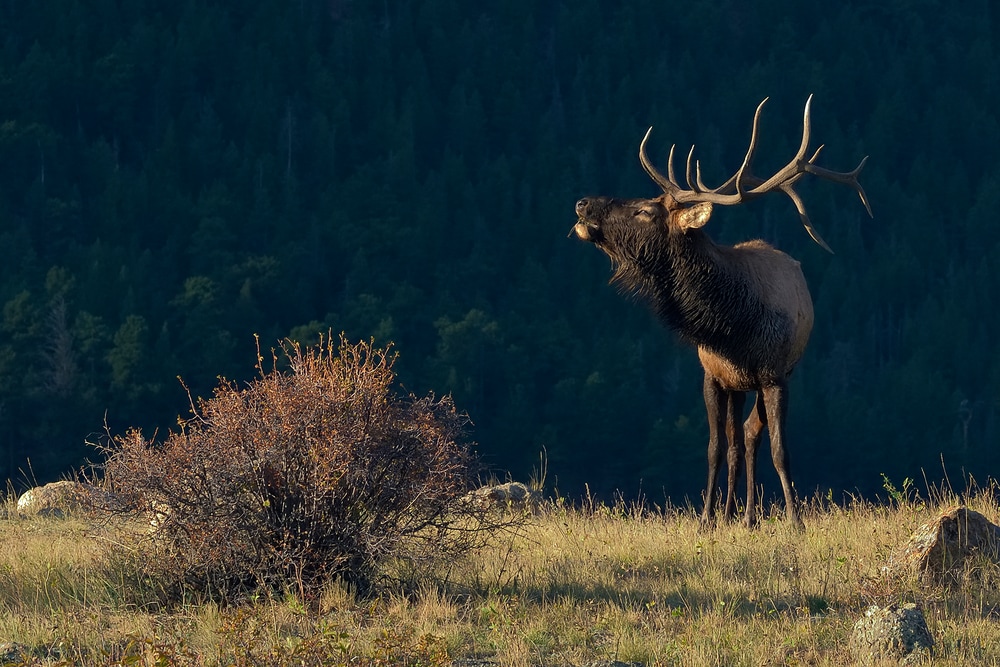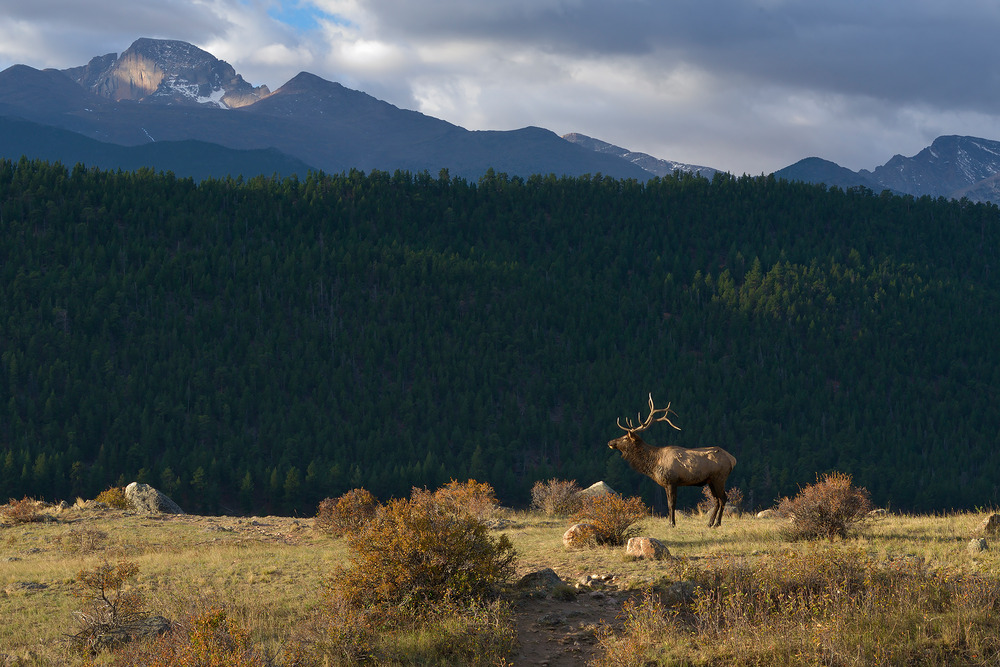 Soon he sauntered off into the meadow to his large group of cows. While I stuck around for awhile after that to capture more video clips, those two experiences were definitely the highlight of the day. The sun moving in and out of the clouds would offer beams of dramatic light followed by moments of soft diffused light. There seemed to be options all around to photograph. Eventually the elk started to settle down and make their mid-day retreat into the woods, so it was time to move on.
The following Sunday, the first weekend of October, they had definitely settled down, as it seemed most had firmly established their territories and their groups of females. There was much less inclination for challenges. We did get some interesting sunrise light as the sun rose on that clear morning however, and that was when I captured this bull resting in the field beneath Longs Peak.
While I had intended that fourth week to be the last one anyway, the fires had firmly started threatening by the following week and it was the better choice to stay home. Over the days of October 21-24, the East Troublesome Fire swept across Rocky Mountain National Park from west to east, burning an estimated 29,000 acres inside the park, as well as 160,000 acres outside the park to the west. It is the largest fire event in the park since it was established. Rocky remains closed even now as I write this, but I'm looking forward to getting back up there when the time is right.
If you enjoy reading about my experiences, I hope you'll sign up for my email newsletter if you haven't already. You can subscribe right here on this blog post, or click my newsletter signup link at the top. New subscribers get a new customer discount coupon as a thank you for signing up. Don't forget to follow me on Facebook & Instagram too. If behind the scenes content like this is something you want even more of, you'll want to subscribe to my brand new YouTube channel too. I'd love your support as I work hard to get my channel up and running. I've embedded the video I created from these experiences right here to help get you started. Thanks for checking out what I do, and I hope you'll keep following along!