Out Under the Stars
Dec 20, 2018
As long as I've been doing photography, taking pictures at night has always been something I enjoyed. Because of my poor night vision, even in the era of film and the early days of digital photography my photos could show more of the scenes I was photographing than I could see myself. As digital photography advanced and cameras could perform better and better at higher ISO sensitivities, shooting at night opened up new worlds, and photography of the Milky Way and those skies full of stars became possible with somewhat affordable equipment. It was in early 2017 that I made the upgrades to my own equipment to make the jump into this new realm myself. I wrote a couple of blog posts last year on my experiences, but this year has been busier for me and I haven't been able to write as much. So, as we near the end the year, I"m going to share a recap on my experiences and all the new things I've learned in developing this part of the craft.
The first important thing that I did was extended my season. In 2017, it wasn't until the end of April that I purchased the new equipment necessary to open up this new realm. While I had rented some for a February trip to Moab, and tried it out there doing some night sky shooting at Arches National Park, my season didn't really begin until I had my own equipment. Thus my night sky photography got started in May, and it ended somewhat prematurely in September. While opportunities in October & November are limited, I unnecessarily ended my season early because I wasn't fully aware of that. In January of this year, I sat down with my iPhone one night. Using the app The Photographer's Ephemeris, (or TPE for short), I put on my calendar the Milky Way galactic center visibility ranges in my local area for every weekend all through the year. Because of that, I started my night sky shooting in February, and carried it through all the way to the last weekend of October. Instead of only 4 months like in 2017, I was out shooting the galaxy for 8 months in 2018. I'll soon be doing the same thing for 2019.
A really important part of night photography, in my opinion, is planning. Knowing the times you can see the brightest part of the Milky Way is just the beginning. If you've ever been to a really dark place at night, you know how amazing the night sky can be. Photographing it well, creating a true "nightscape", usually means doing it in a way that uses the night sky elements to accentuate the landscape in front of you. That means not just planning the when, but where in the sky that band of the Milky Way will be, at a particular time and from a particular location. This is where apps like TPE & PhotoPills become indispensable. My own personal process has become to use TPE, together with its new partner TPE 3D, to do my at-home planning ahead of time. For this use, I like the way those apps work better than PhotoPills. Once I'm in the field though, I like the way the augmented reality features work in PhotoPills better, so that's what I use more on location. If you've got a favorite composition at a particular spot you want to add the Milky Way to, it's probably best at a certain angle and at a certain time of year. Use these apps to figure that out.
Another really important part of planning is the weather. For night photography, the most important element of the weather is cloudiness. How cloudy is it going to be? At what times? How will your location effect that? To really get the detailed information that will make your life outside at night more enjoyable, you'll need to learn how to find the detailed point forecasts that the National Weather Service provides. On their website, you can click on your planned location on a map and get all the details you need. Besides the general weather forecast you can get from anywhere, you can dive into their hourly forecast charts to get forecasts for temperature, % cloud cover, wind, chances of precipitation, thunder, wind chill, etc. This detailed data can be invaluable in the planning decisions you make. Others who don't seek out this data might get frustrated and go home, while you can wait it out with some degree of certainty of what you can expect to happen. Learn how to find and interpret these forecasts, and you'll enjoy your time outside more.
Having used these tools to make a plan, the next most important things I was taught over and over again this year was trust and patience. You spent valuable time making a good plan based off of good data, right? Trust it. Yes there was a time or two this year where things didn't work out, but there were so many times where trusting my plan and being patient waiting for the weather to go my way as predicted really paid off. Being persistent and patiently waiting for that window of time meant that I got photos like this when almost everyone else went home.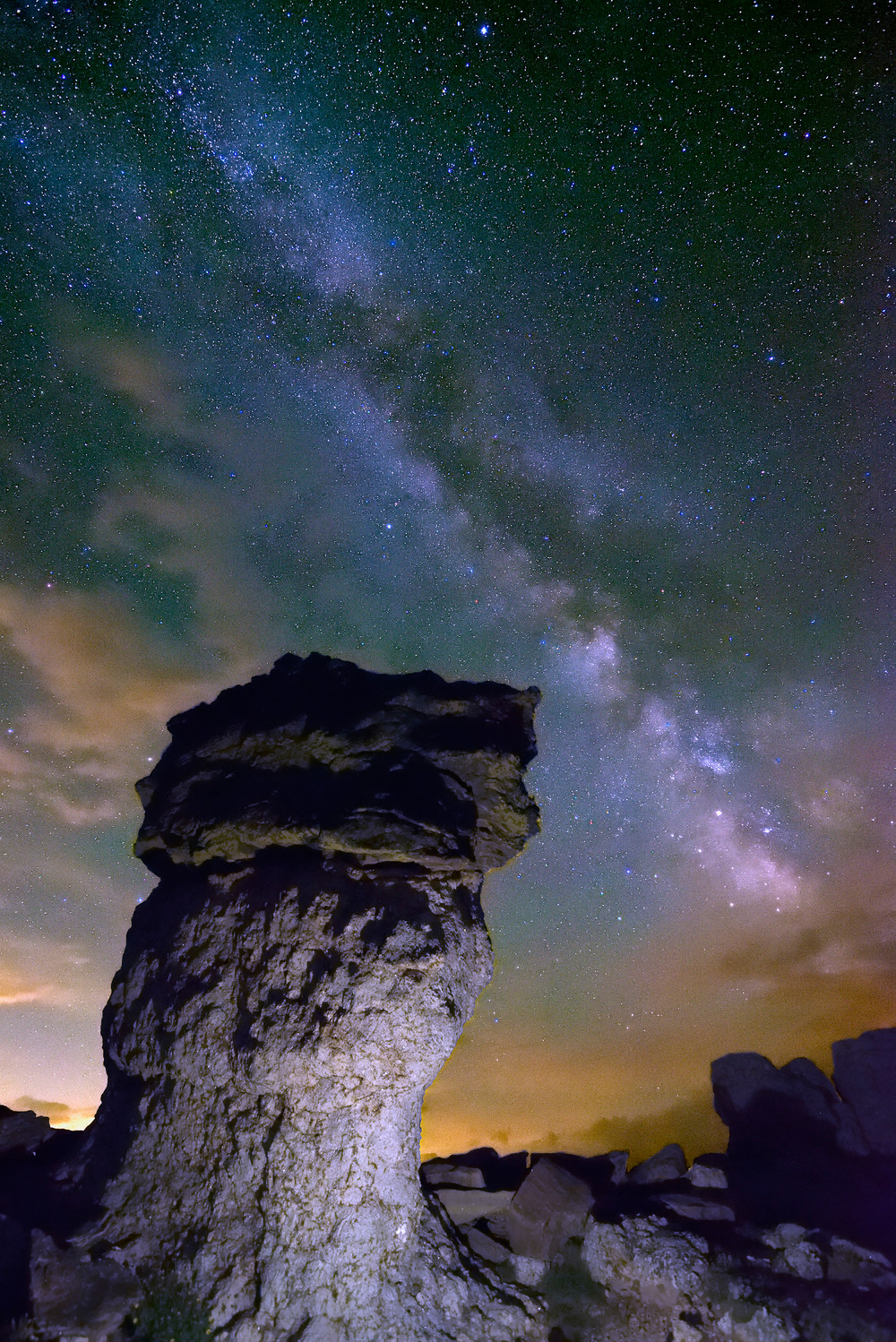 I also added some new tools to my night sky photography this year. It was after a failed night sky session in early June that I finally broke down and bought the app TPE 3D. It quickly became an essential part of my advance planning. TPE will tell you the time the Milky Way (or the sun, or the moon), will be visible from a certain spot, and even what angle of view these will be at from that spot. With TPE 3D, you get a visual representation, in a topographical way, of how everything will look from the specific spot & time you choose. What that means is you can see where the light will fall on the landscape at that time, and where the Milky Way and stars will be in the sky and where they will be in comparison to that landscape, as if you were standing right there in that spot. The one main limitation this has is that it's purely topographical, it can't show you if trees or buildings will block your view. Even with this limitation, it is a very powerful planning tool that I wish I had started using sooner. Another tool I purchased in May was a small Goal Zero LED lantern. In winter scenes, at least here in Colorado, you'll often have snow that will reflect the starlight and thus add detail to your foreground. Once that snow is gone though, you can be left with really dark foregrounds. In some situations, you can silhouette your foreground against the night sky effectively, but often adding a bit of light can add so much more. With long exposures and high ISO's, you often don't need much, so having a light source you can adjust really low is important. There's some trial & error involved, especially in the beginning, but once you've started to learn how to use it you'll come to enjoy its advantages. In the photo above, I used my lantern to light the nearby rock formations in the foreground, giving them some detail to balance out with the night sky. If you're out on a night where the moon will rise or set during Milky Way visibility, you can also use the edges of that moonlight to splash some light on your scene as well. In the photo below, the rising moon behind me begins to light the mountain peaks, but it's still dark enough that the galaxy & stars are still visible.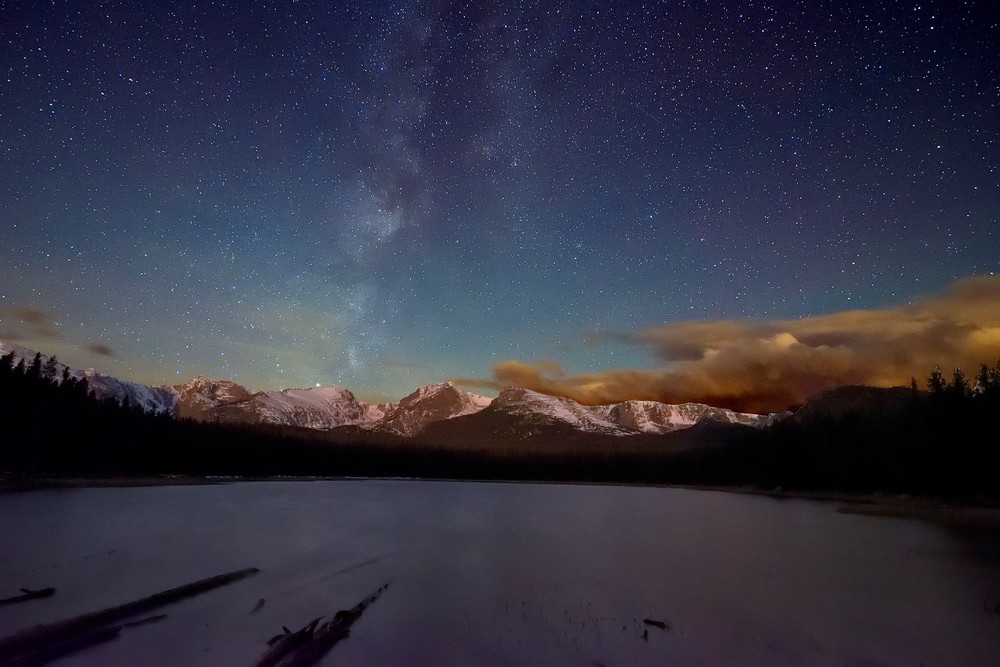 In my opinion, the way I advanced my night photography the most in 2018 was in learning how to use my equipment, both from a hardware and processing standpoint. Learning more about my camera helped me really dial in what ISO's I wanted to shoot at to get the best image quality. Early in the season I discovered on close inspection of my images that my lens had some problems with coma in the corners when shooting wide open. I worked around this by stopping down a bit, or by shooting panoramas where the corners would be overlapped and only the parts of the images closer to the center would be used. Finally, I really advanced my techniques of processing these images to make them look their best. Every photo I take is done in RAW format, and exposed in a way to capture as much detail as possible. This makes processing your image to make it look its best so much easier. In night sky photography, this often leaves you shortening your exposures to limit star trails (unless you're using a tracker, which I don't have). A temptation is to counter this by pushing your ISO way up, but that makes your images noisier. You can counter this somewhat by stacking exposures, but I've found my experience with that to be a mixed bag. In some situations it can save your image, in others it's just not the best tool. Another tool in Photoshop I've started using this year is masking, which allows me to adjust my night skies separately from the foreground of my image. I've found this to be a really satisfying way to bring out more detail to my photos while still striving to maintain a realistic look & feel.
Finally, night sky photography is a fun experience and I think can be learned more quickly in the company of others. If you don't know anybody who does it, start looking around in some Facebook groups like Milky Way Chasers or NightScaper to find some people in your area. It's a great way to share tips, locations, and experiences with people who enjoy it just as much as you do. If you're here on the Front Range of Colorado, get in touch and join me on some of my adventures next year.
If you're interested in browsing my gallery of night sky images, you can find it here.Have you purchased a calendar for 2019 yet? If not, find your way to my 2019 calendar and place your order now. By the time you're reading this, it will probably be too late to get one by Christmas, but there's still time to have one before the new year begins. I only have a few left, so don't wait. If you're interested in downloading some of the apps I talked about, I'll leave links to them here at the bottom. If you haven't signed up for my email list yet, you can do that by entering your email address in the subscribe box right here. You'll receive a new customer discount code as a thank you for signing up. If email isn't your thing, you can also sign up to receive my updates via Facebook Messenger. Just click that link, and you'll get a discount offer there as well. If you're enjoying following my posts here on my blog, don't forget to follow me on Facebook & Instagram too. You'll often see my newest photos there first. Thanks for following along!
The Photographer's Ephemeris (TPE): iPhone, Android
TPE 3D: iPhone