On a cold Christmas Eve morning
Jan 15, 2018
Welcome to 2018 everyone! it's taken me a little while to get back to the blog, but I've got some new images added to the website and I'm ready to share. I hope the start to the new year is treating you well so far.
Winter snow here in Colorado came early in late September, but then we went into a dry period where even in the mountains the snow was pretty light. Then in mid December the snows finally came, even down here on the plains. I tried to get out and take advantage of the fresh snow to get some new winter photos. On the night of December 23 about 4 inches of new snow fell here in Longmont, but checking the forecast that evening I saw that by morning it was actually supposed to be clear. I decided to head down to Boulder and try and catch some sunrise light on the iconic Flatirons.
Sunrise photography in winter has the advantage of not having to get up at quite so obscene of an hour in the morning. Sunrise on Christmas Eve was about 7:20, so the wake up time for this one was only 6:00. My favorite up close view of the Flatirons in Boulder in from the Chautauqua Trail, which starts at a trailhead just off of Baseline Road.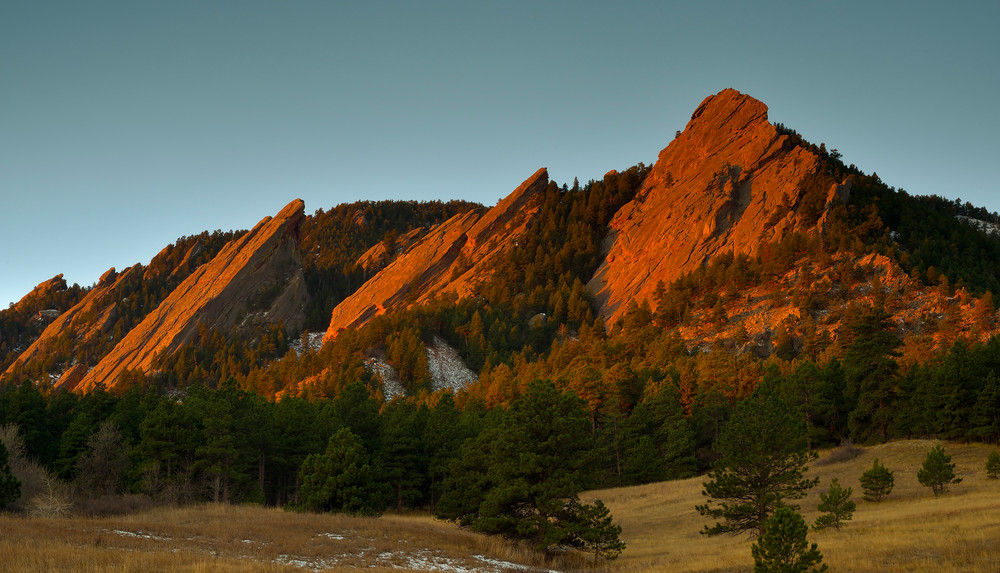 I captured a nice sunrise here in November as well, but the fresh snow would give it a whole new look that I hoped would catch the sunrise light well. When I started up the trail to set up, the temperature was down near 0° Fahrenheit. Fortunately while there was some wind blowing snow off the rocks above it was fairly calm down in the meadow where I was set up with some other photographers. When the moment came, while not quite as dramatic, the Flatirons were bathed in a beautiful pink light reflecting on the freshly fallen snow still clinging to the steep rock walls. What looks like bits of clouds in the photo is actually snow blowing off of the rocks. It's easy to see why the Flatirons are a popular destination for Boulder's rock climbers. There's also a hiking trail that threads its way up between the 1st & 2nd Flatirons and tops out just below the top of the 1st Flatiron with excellent views to the northwest. While only a mile and a half long, it gains 1500 feet and is an unrelenting climb. You'll find out just how strong your legs are if you make it to the top!
Share your comments below by logging in with your Facebook account. This helps us prevent trolls and scammers. If you haven't yet signed up for my email newsletter, now is a great time! As well as receiving a new customer discount coupon, you'll also be entered to win one of my 2018 calendars. Sign up before the end of the month to be entered. If you're enjoying following my posts here on my blog, don't forget to follow me on Facebook & Instagram as well. You'll often see my newest photos there first. Thanks for following along!