The Mysterious Mountains of Rocky Mountain National Park
Jan 27, 2019
As many of you know, the recent government shutdown closed many of our National Parks, and Rocky Mountain National Park was no exception. Many successive snowstorms left the roads covered in snow, and the plows weren't running due to the funding situation, so for most of the shutdown the gates were closed at the entrance stations. Those who were ambitious were still allowed to enter, albeit on their own 2 feet or maybe with the assistance of a bicycle. However you felt about the shutdown, or the situation that caused it, this was unfortunate. However, 3 weeks in the administration at Rocky decided to use other funding sources at their disposal to plow out the roads and restore normal winter access to the park, with very limited staffing as well. At that point I was more than ready to get back up there, and when offered the opportunity to join a couple of friends for a snowshoe hike I didn't miss it. On the morning of January 20, off we went to hike up from Bear Lake all the way up to Emerald Lake in the Tyndall Gorge.
While the temperature wasn't cold for a January morning (in the 30's), wind gusts up to 40 mph or more would give a chill and whip the snow up into a frenzy. This can be typical up there this time of year, but there were also low hanging clouds shrouding the peaks, adding a new element of moodiness to the views and making this day something different. Usually these trails are well-traveled even in winter, but the 3 weeks they were left undisturbed meant they had drifted back in and were a bit more powdery than usual. All these elements joined together to make it a great adventure. We safely made the journey up past Nymph Lake, to the now well-known Dream Lake, and then continued on to trail's end at Emerald Lake. The mountains would peak in and out of the clouds throughout the morning, and every now and again bits of sunlight would break through and cast a spotlight on parts of the scene. It had been nearly 3 years since I had been all the way to Emerald Lake, and it can be easy to forget just how dramatic this spot is after that much time. High up in Tyndall Gorge at over 10,000 feet, you have an in your face view of Hallett Peak on the south side and Flattop Mountain on the north. Jagged cliffs rise nearly straight up on either side, and you are positioned right at the base of them seemingly boxed in on 3 sides. This panoramic view is really special, and being a not too difficult trail it is one of the more popular spots in the park all year long. Don't let this keep you from making the journey here, it is definitely worth your time.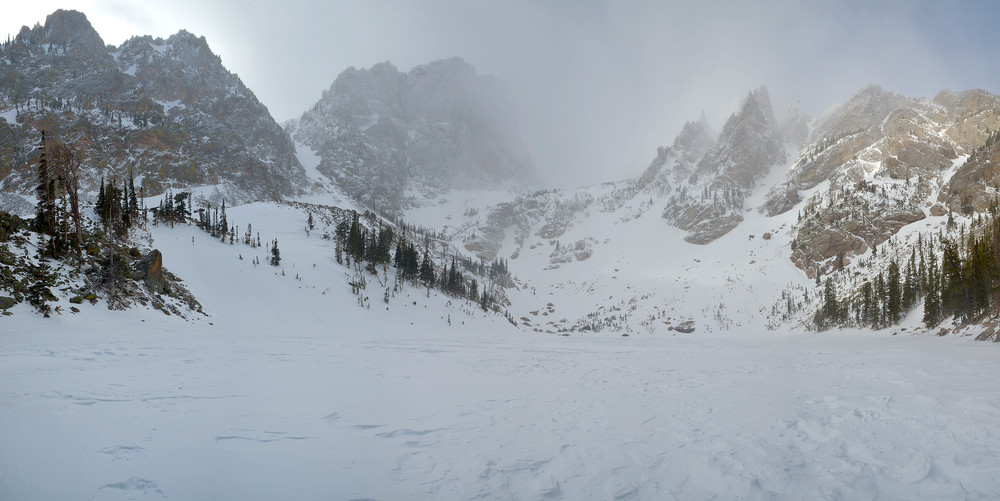 Some of my favorite moments of this hike were along the way though, both going to the lake & returning. It is one of those moments that is represented in my featured image at the top of this post. While the top of Flattop Mountain is very flat, its south side drops into Tyndall Gorge very steeply with many jagged spires jutting out of those cliffs. These spires come into and out of view many times as you are making your way through the woods between the lakes, and this was one of those moments. In this image the combination of the low hanging clouds, the wind-whipped snow further shrouding the peaks, and a hint of sunlight shining through highlighting just the right spot, all works together to give it an ethereal feel. When I posted this to my social media many responded that they thought it was a painting at first instead of a photograph. The view of the jagged spires rising up out of the fog definitely inspires the imagination, when I first looked at the photo I thought of a fierce beast rising up out of its smoky lair. Here's some other imaginative comments this photo got on Instagram & Facebook.
"I see hope. The jagged cliffs & blowing snow show great contrast & texture. The small bit of sun... shows light amidst the chaos. I see hope in that bit of sun."
"Almost looks like a mythical painting"
"It looks like a beautiful painting by a western landscape painter from the 19th century"
"I can feel the cold as I stand gazing up into such perfect majesty... but the mountain demands respect... calm where I stand but just beyond a vertigo of snow and emotion... do I dare venture? This is home."
"Perfect for the cover of a horror movie"
"Something out of Shangri-La"
"Reminds me of... the Hobbit"
"Stairway to the Heavens"
"Mordor"
"I see hobbits going into high, inhospitable, and dangerous adventure"
"It looks like God's cathedral"
What does the photo inspire in your imagination? Tell me about it in the comments below!
Interested in purchasing this image as a piece of artwork? Just click on it at the top of the post, and you'll be taken to my store where you can buy it in one of the formats I have available. It's painting-like feel may especially lend itself to a canvas print. If you haven't signed up for my email list yet, you can do that by entering your email address in the subscribe box right here. You'll receive a new customer discount code as a thank you for signing up. If email isn't your thing, you can also sign up to receive my updates via Facebook Messenger. Just click that link, and you'll get a discount offer there as well. If you're enjoying following my posts here on my blog, don't forget to follow me on Facebook & Instagram too. You'll often see my newest photos there first. Thanks for following along!