Looking for Hidden Gems during Stay-At-Home
May 17, 2020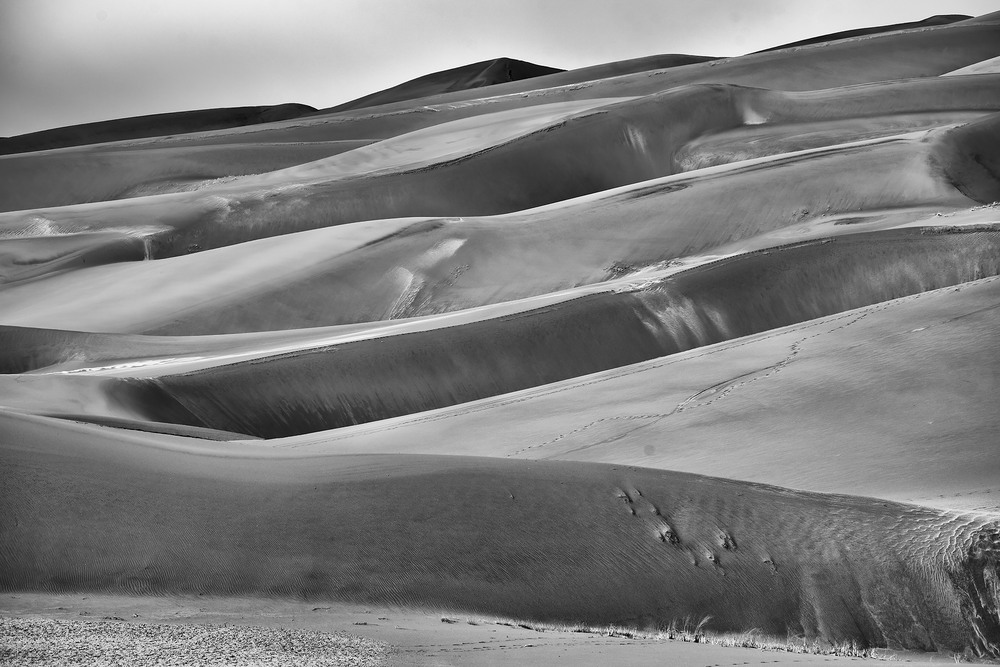 The year 2020 has gotten of to a challenging start, and I was feeling that even before all this coronavirus drama got going in full force a couple of months ago. Weather and other circumstances beyond my control was already leading to a shortage of new photos that I liked, and then all this social distancing and closures and staying at home put the squeeze on even tighter. So here I sit in the middle of May with only a couple of photos that I've captured in 2020 that I've felt were strong enough to add here on my website. So what have I been doing to keep my catalog from going stagnant? Well, it's something I've done in the past in similar situations, although usually not for this long a time period. I've been spending time looking back through photos from the past, looking for hidden gems. Perhaps some images that would benefit from improved processing to make them look better, or perhaps a conversion to black & white to really make them shine. It's also been pleasant to remember those experiences from the past as I've been revisiting them. Here's some examples below.
I started back in February with this night sky photo of Balanced Rock in Arches National Park. This was one of my earliest successful night sky images, taken in February of 2017. However, my processing skills at the time with this kind of imagery were not well developed and the fact I had shot these images at a very high ISO meant they were a bit noisy. Testing out some new noise control software led me back to some of the images from this night, and I found that a reprocessing with much less noise really made this photo shine. I quickly updated it on my website with this new version.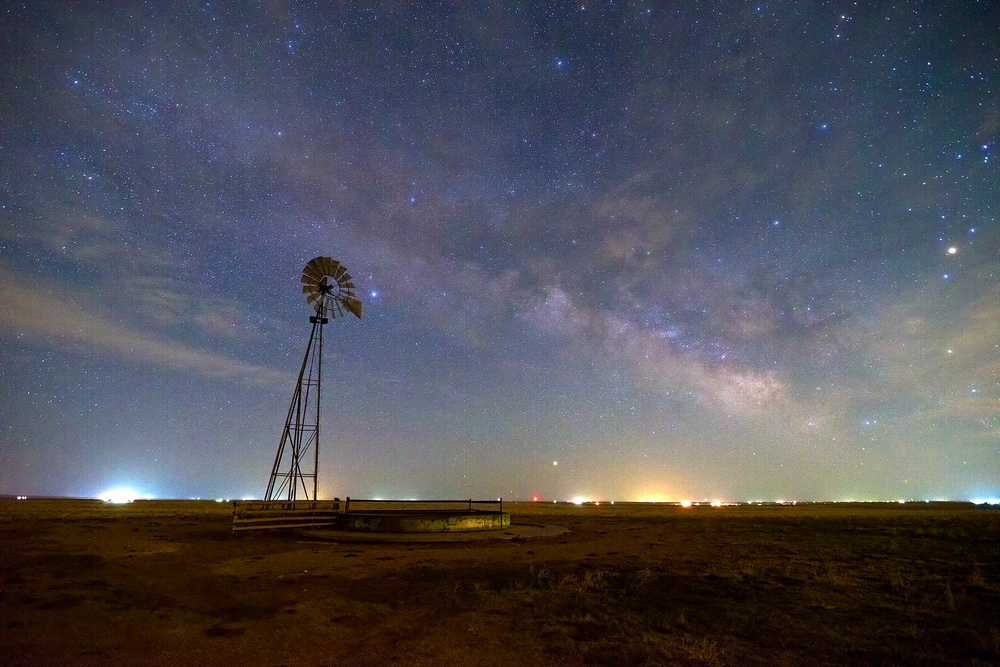 In the early morning hours of the last day of March, with the coronavirus pandemic now in full swing, I ventured out alone to the Pawnee National Grassland to try and capture the night sky. 2020 had the potential to be a big year for photographing the night sky, with Milky Way core visibility starting in late January and extending all the way into November. However, the weather has not cooperated. I have cancelled plan after plan due to a truly bad stretch of weather around the weekends of the calendar with darker phases of the moon. I had even been out to this spot on the grassland in early February, only to be completely clouded out. On this night in March, I saw an opening of possibly good weather in the forecast and decided to go for it. After 2 months of frustration at that time, my happiness at finally getting to see the stars and the galaxy can not be understated. I was almost jumping up and down all alone out in this quiet place. True to form though it only lasted for about 45 minutes before the clouds moved in, but I did come away with this photo I was happy with. Another month and a half of unfortunate weather and travel restrictions have followed, but I was finally able to get out and see the stars again this morning....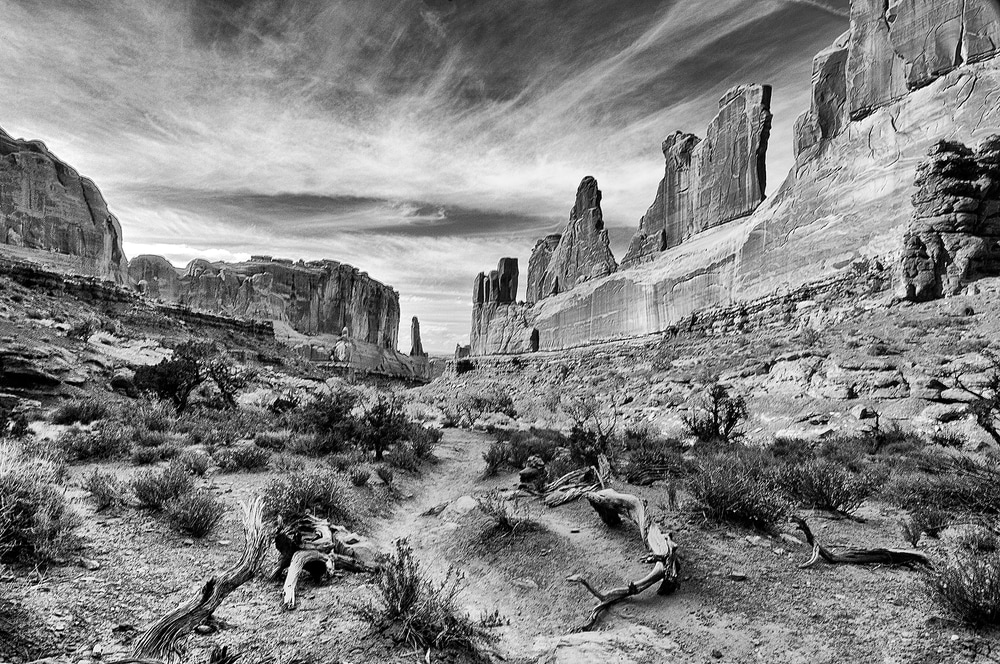 This photo of Park Avenue in Arches National Park was originally captured all the way back in May of 2010, as part of a 2 week adventure all around the Moab area. It stood out as one of my favorites from the trip, and I've even had a color version of it on my website up until now, with the late afternoon sun hitting those red rock walls. Looking back now, in comparison to some of my other photos from the area, I was finding that it hadn't been all that popular over the years and it wasn't as striking as it could be. I decided to try a black & white conversion on it, and wow what a difference. The textures of the rocks and wood, the drama in the clouds, it all just pops in a new way. I shared it out on my Instagram & Facebook, and the response was strong. This monochrome version has now replaced the old color version of this photo going forward.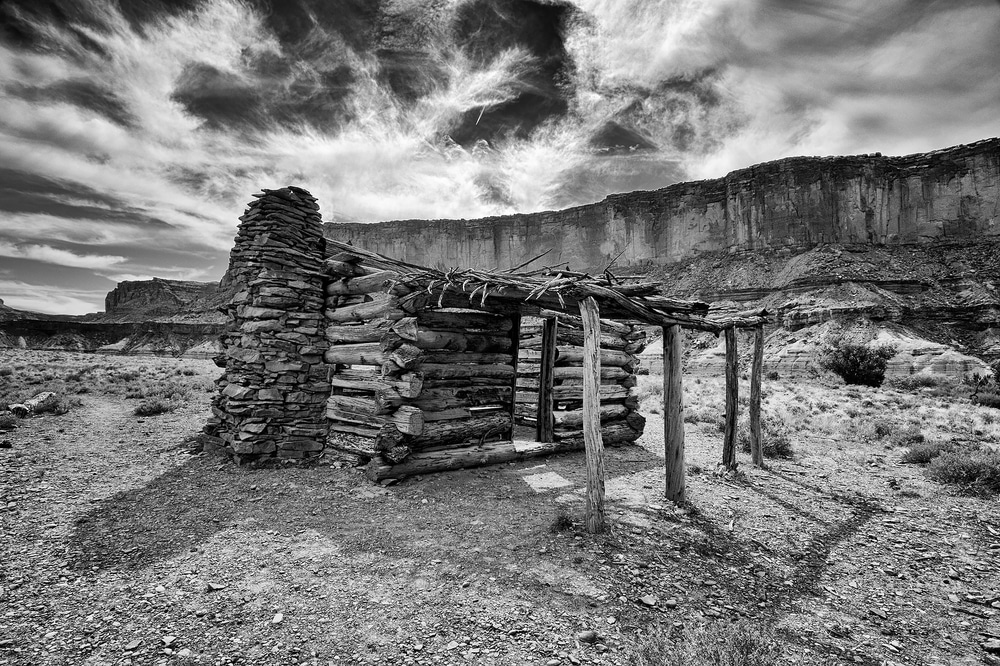 This is another photo captured on that Moab trip back in May of 2010. This old cabin sits on a lonely place along the Green River in Canyonlands National Park. While I had shared the color version of this photo on my social media once or twice, I never found it striking enough to add it to my collection on my website. As I looked back through these old photos, with looking for good candidates for black & white specifically on my mind, I thought this one had good potential. The historical feel the monochrome brings, with the textures of rock & wood and the tones of the canyon and sky, really turns this photo into something special. You can imagine that not much has changed in this spot from the time it was built until the time I captured it on camera, and perhaps not much has changed in the 10 years since I saw it either. If you find your way to this quiet place in the canyons, please respect it as I did and leave it the same for those that follow.
Even as the world slowly reopens and things start to trend back towards "normal", I'm still continuing to spend time looking for more hidden gems such as these. I'll put them out on my social media first, so don't forget to follow me on Facebook & Instagram. You'll get the chance to see my newest work there too as I start to venture back out into my some of my favorite quiet places in nature. Please leave your questions or comments below and I'll be happy to respond. To order prints of the photos above, just click on them and you'll be taken to my art shop here on my website where you can place your order. Thanks for following along!