From South Park to Moraine Park: The Milky Way season of 2019
Dec 16, 2019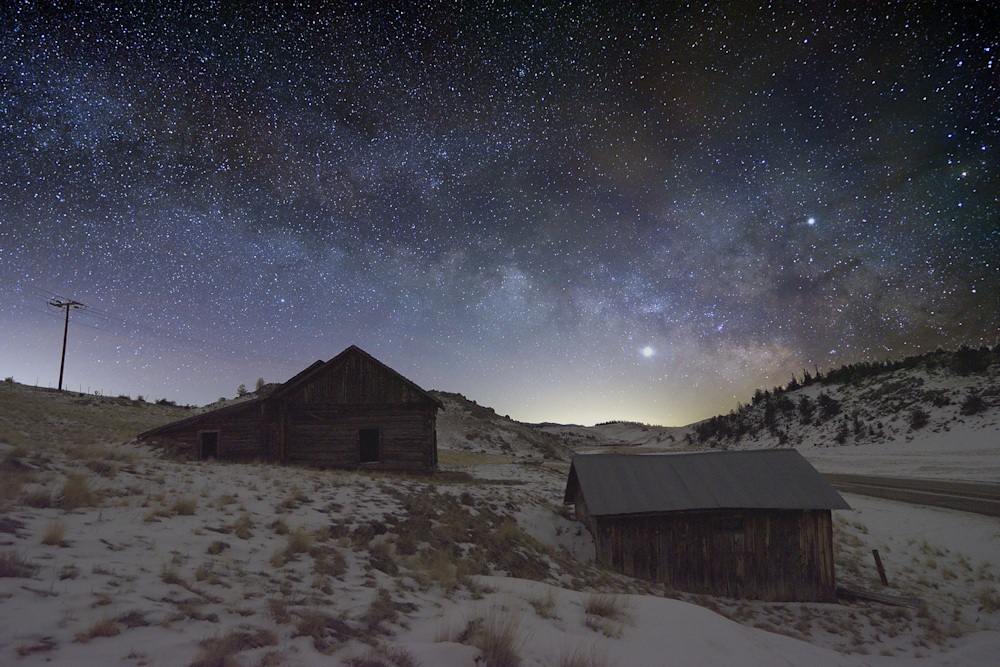 As another year draws to a close, it's becoming somewhat of a tradition for me to share a blog post looking back on my year shooting the night sky, which has become a central part of my nature photography. This was a year where duels with the weather played a large role in the photos I was able to capture and the places I visited. It still turned out to be a very good year, with many memorable experiences and great photos captured.
While I didn't get my first look at the Milky Way until February, I did make my first journey out into the night in the early morning hours of my birthday in January. I intended to shoot the stars over Longs Peak & Mount Meeker, and try and capture some star trails. I even experimented with using my 70-200 f/2.8 telephoto. The temperature was near 0 degrees as I set up my camera at 2 AM, and after setting my long exposure to try for the star trails I retreated back inside the truck to get warm. When I reemerged to check on my camera, I found it covered with frost making the photo unusable. I did capture some interesting images that night however.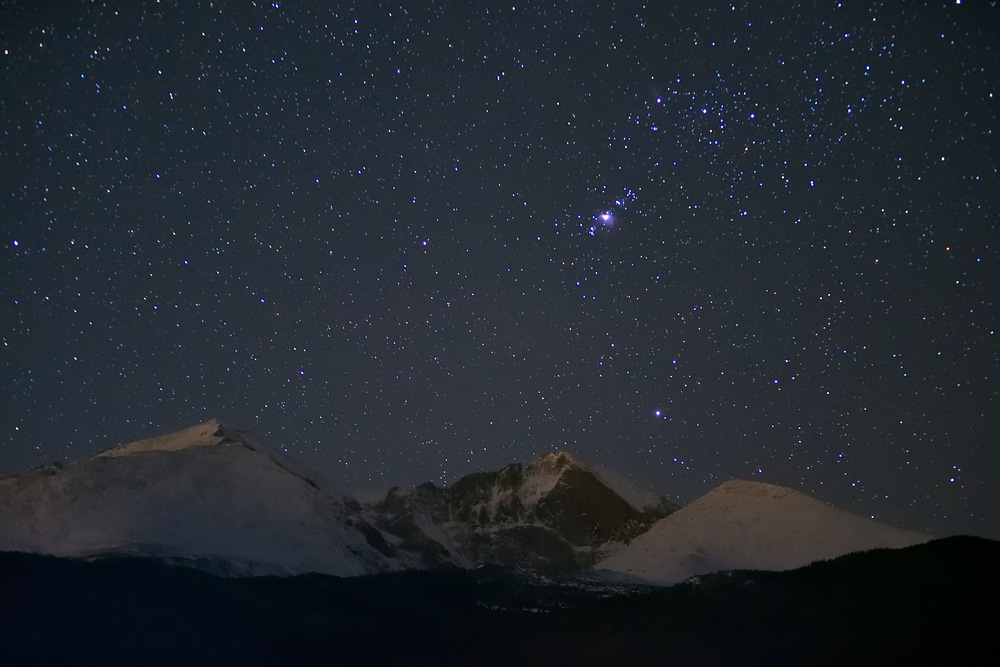 As the Milky Way's galactic center reappeared in the night sky in February, I made plans to head out on the second weekend to capture it for the first time. In looking for a place I hadn't been before, but that was also not to far away as our window of opportunity would be less than an hour, I focused my attention on Loveland Pass. However, as the night approached a winter storm was moving into the Colorado mountains, bringing clouds, dangerous winds, and freezing temperatures. The risk was not worth the opportunity, so I searched about for a place where the skies might not be covered. After much search, I settled on the Tarryall Road corridor in South Park, looking to photograph at a couple of old homesteads from the 1870's. The sky that night was clear, and the winds were fairly calm at that location, but it was frigid as temperatures dropped below 0 in the early morning hours. The payoff was capturing the photo at the top of this post, which quickly became very popular and found it's way into my 2020 calendar.
While visiting the San Luis Valley in early March for the Monte Vista Crane Festival, I attempted to shoot the Milky Way in this very dark area, but unfortunately while most of the sky was clear that night clouds blocked our view in the very spot where the galaxy's core was rising. Another weather complication.....
After visiting the ghost town of Independence to photograph the night sky during the Perseid meteor shower in 2018, I had wanted to focus on doing more night sky photography of old or abandoned places this year. Another location I had been monitoring, which a friend of mine had acquired our blessing to photograph at, was an old abandoned church on Colorado's eastern plains south of Fort Morgan. On the last weekend of March, we made the call to visit this spot. Far out from the cities of the Front Range, and generally facing away from them, this was a very dark location with only a few lights from nearby farms on the horizon. The amount of detail you can capture in the night sky in a place like this is really astounding. It was another cool night, but not quite so frigid.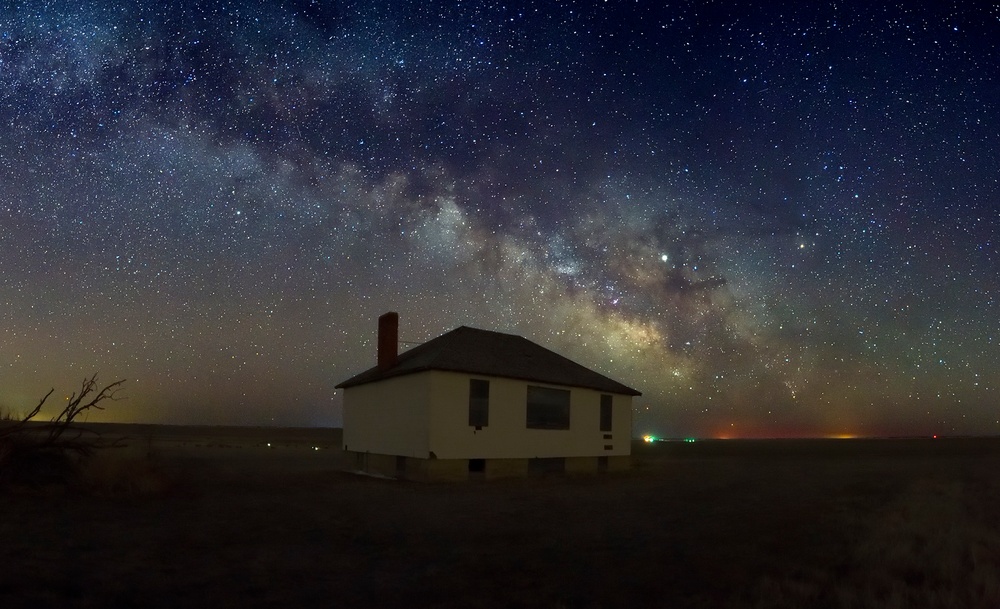 I hadn't forgotten about the goal of shooting the night sky at Loveland Pass from earlier in the year, and as the last weekend of April neared I set my sights on this location again. Spring in the mountains can be tricky, with wild swings in the weather from day to day. Heavy snows in the spring of 2019 brought severe avalanche danger to many locations in the mountains. The weather forecast for the night looked promising, but I determined to arrive at the pass while it was still daylight to have time to evaluate the risks and the locations I wanted to shoot from. A trail leads up from the pass to a ridge line between Mount Sniktau & Cupid. Climbing the trail I found it to be safe as long as I stayed close to the route, but straying very far away from the path would bring you near cornices that could potentially be unstable. We must be cautious.... Clouds filled most of the sky, but these were forecast to break up after dark so I wasn't too concerned. Upon reaching the location on the ridge line I wanted to photograph from however, I found the winds howling from the other side, making this spot at nearly 13,000 feet to be untenable to to exposed to for any length of time. Retreating back down the way I came offered some degree of shelter, the wind was still blowing down from over the top, but not nearly as fiercely. While descending in the waning daylight, I marked an alternate spot to shoot from that offered a good view, then headed down to the truck for a bit of a rest and to wait for others to arrive. Reemerging at 1 AM found a sky that had mostly cleared. It was cold, in the 20's, with gusts of wind driving the wind chill even lower, but returning to my marked spot brought us a great view of the night sky all around. The panorama below was captured here. I was surprised at the amount of light from Denver that reaches all the way up here, but there is still a lot to see in the night sky at this spot. Another of my photos from this night also found it's way into my 2020 calendar.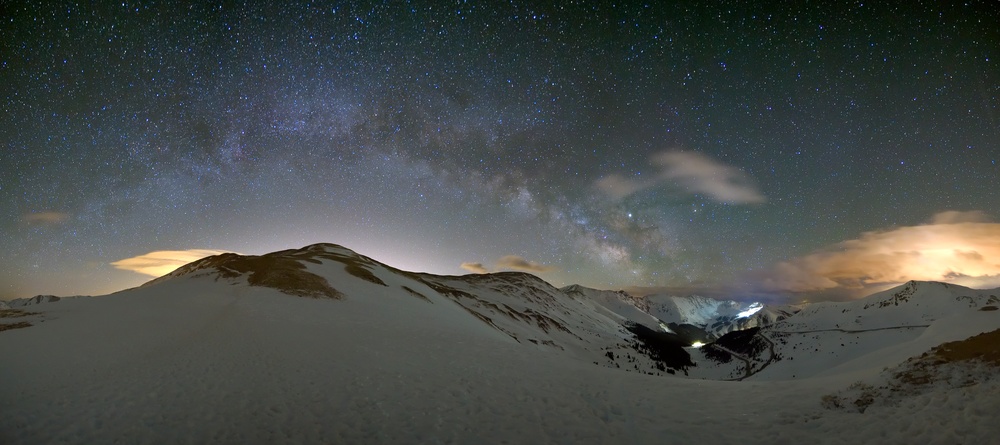 I had targeted the first weekend of May to visit another of Colorado's old mining camps in Mayflower Gulch. The forecast for this night was good, and it was also near the peak of a meteor shower. Alas, after snowshoeing into the gulch at 2 AM, I found a sky that was filled with clouds. Being in a place like this all alone in the middle of the night was honestly a bit nerve wracking. At various times during the hike in & out I could hear creatures moving in the trees, and the stillness of the snow filled gulch was almost too quiet. Nevertheless, I will return here again in 2020 as the cloud filled sky that night kept me from getting my shot. May continued to bring snow storms across the Colorado mountains, and as the traditional opening of Memorial Day weekend arrived, many of Colorado's iconic seasonal roads remained closed. Trail Ridge Road, Mount Evans, Independence Pass, all still closed. I had targeted that weekend to go up to Guanella Pass to try and shoot the MIlky Way over Mount Bierstadt, one of Colorado's 14ers, but Guanella is a seasonal road as well. As the weekend neared, I feared it would remain closed as well. That Friday I struggled to find a definitive answer. Some sources said it was still scheduled to open, others that it was still closed pending being plowed out from another snow that week. That Friday afternoon, I finally called the forest service office in Idaho Springs directly to get my answer. Amazingly, the pass did open that day, and I was able to take my group to the pass that Saturday night. A beautiful sunset greeted us there, and we were able to capture the night sky over the peak as well.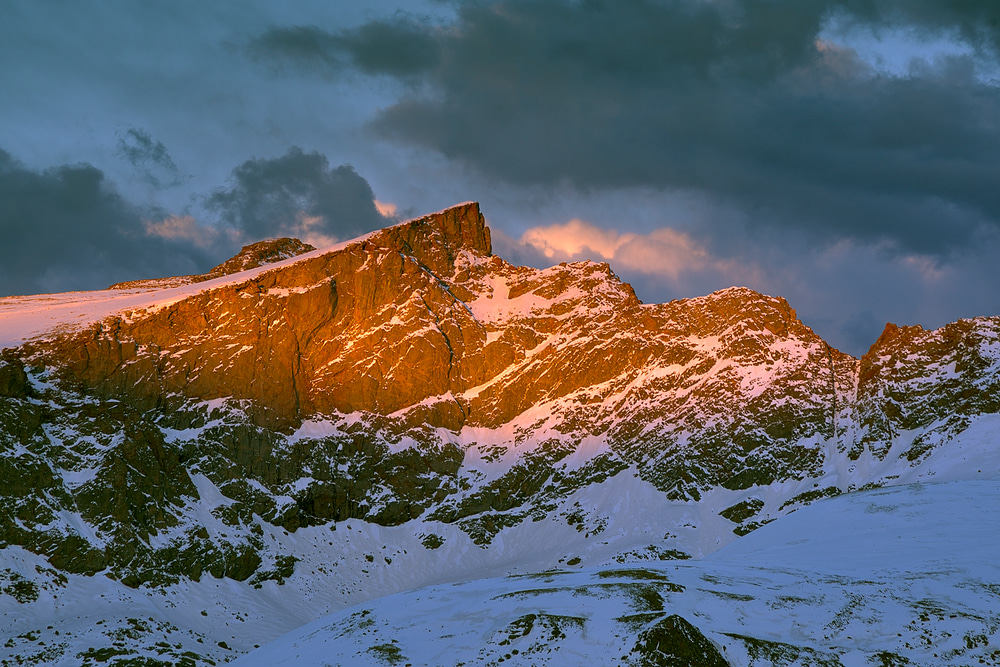 On the first weekend of June, I took a group back to one of my favorite night sky spots from 2018, at Cameron Pass north of Rocky Mountain National Park. At this very dark spot the year before we had seen some of the strongest airglow I had ever experienced, but this time it was even stronger and more dramatic. Streaks of green & pink arced across the sky, bringing wows from everyone who was there. The previous year our night had been cut short by clouds moving in, but this year we had hours of clear skies to soak it all in and capture many different compositions. This night was truly unforgettable.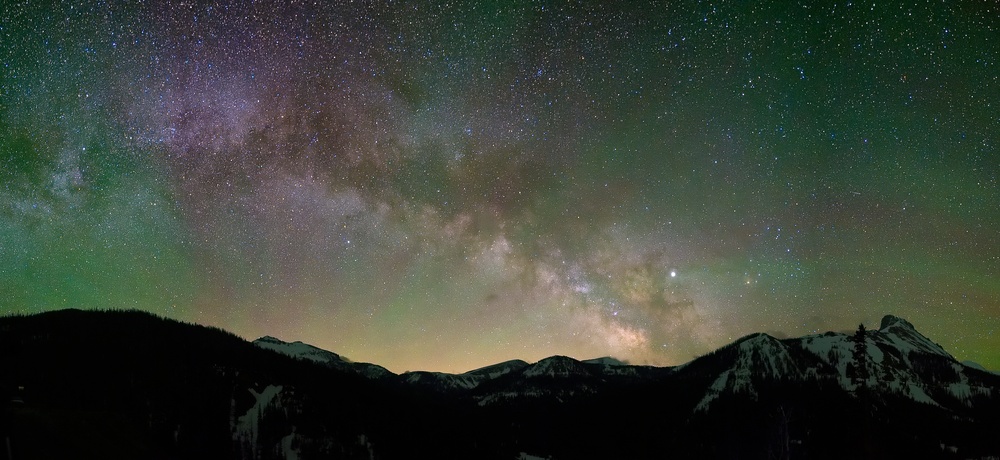 A family vacation at the end of June offered me an opportunity to visit another location that I hadn't been to before, also with a very dark night sky. Devils Tower National Monument in northeast Wyoming is kind of far away from anywhere, and the darkness of the night here reflects that. As I had never been there before, I tried to plan a spot to shoot from in advance, but arriving to the spot in the dark I wasn't truly prepared for the immensity of the tower itself and the boulder field that surrounds it. After some wandering in the dark to find the most advantageous spot, I set up to shoot and try and take it all in. While I am happy with what I as able to capture, this is also definitely a spot to return to to explore more further. This is another location where the sky is so dark that it is really amazing how much detail you can capture, even in the "dimmer" areas of the galaxy. Because it took me a bit to set up, the galactic center didn't even fit into this photo, yet the galaxy is still clearly visible among all the stars.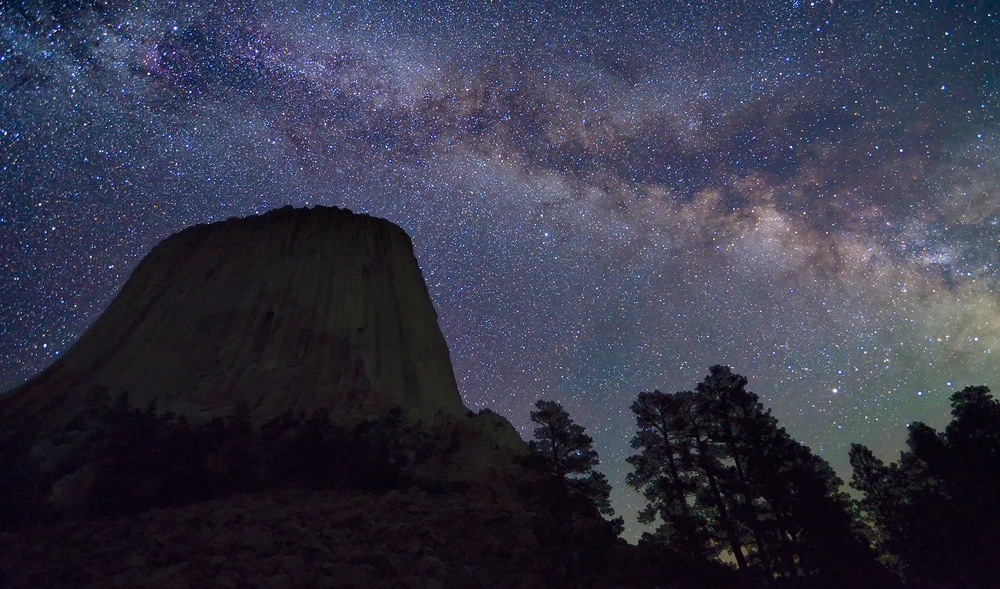 Midsummer brought a bout with pneumonia to my house, hitting everyone in my family, and leaving me in a compromised state for nearly a month. From mid-July to late August, I was either too ill or too respiratorily compromised to go into the mountains, and I spent most of that time recovering from my battle with the illness. By late August my recovery had reached the point where I was ready to get back to it, and another location that had stymied me in 2018 was my target. Lake Irene is a small lake high up on Trail Ridge Road in Rocky Mountain National Park, only accessible for about 4 months out of the year. But in late summer, the Milky Way alignment here is just about perfect. On my 2018 visit with a group, we had the place all to ourselves but the sky was completely blocked out by clouds. Now it was time to return. After photographing the crescent moon at sunset, I arrived again with a group this year to find the parking lot nearly full, there was just enough parking spots left to accommodate us. This would be a different experience for sure, but one that was worth our while. We had to share the space with a large group of people, but the sky was completely clear and the night was perfectly still. The Milky Way and stars reflected perfectly in the waters of this little lake, and this was one of the most satisfying nights of the year.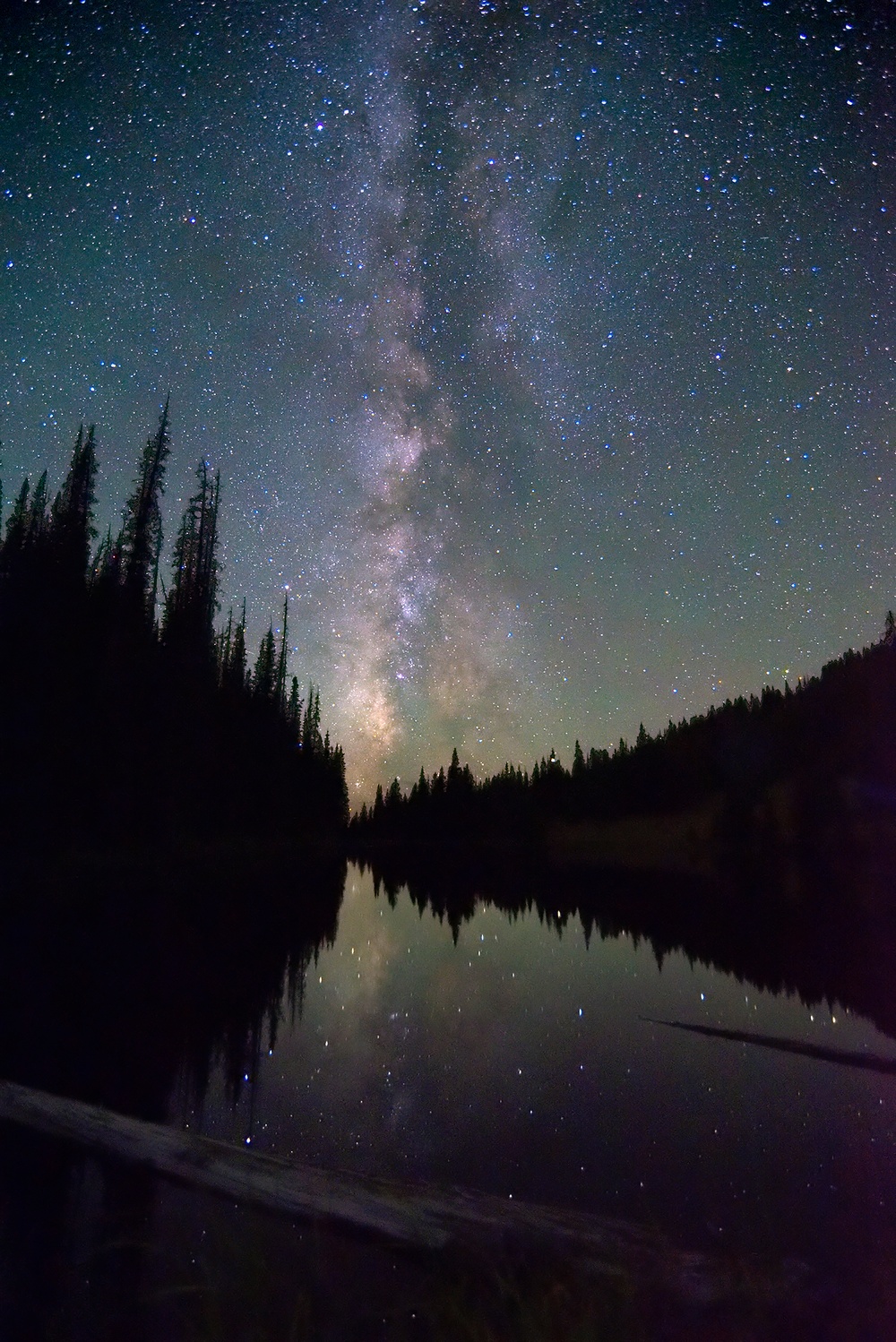 As the calendar turns to September, the windows of opportunity to see the Milky Way's galactic center get shorter and farther between. After Labor Day weekend another opportunity didn't come around until the last weekend of the month. I determined to try a spot that I had been to many times before, but never for night photography. Lily Lake is just south of Estes Park, on the edge of Rocky Mountain National Park and right next to the Peak to Peak Highway. While not necessarily a super dark spot, the direction you're facing to shoot the Milky Way this late in the year is favorable, and the galaxy rises straight up into the night sky over our local 14er, Longs Peak. Passing cars on the highway in the late evening were problematic at times, especially the ones who would pull into the parking light and leave their headlights on for an extended period of time. Nevertheless, the evening was mild and still, with not a cloud in the sky and more perfect reflections on the surface of the lake. The airglow that night was also strong enough that even in this spot without super dark skies it was still very noticeable. This was one of my favorite evenings of the year for the good group of friends that joined me and the great images we were able to capture. It's quickly becoming a new favorite in my collection.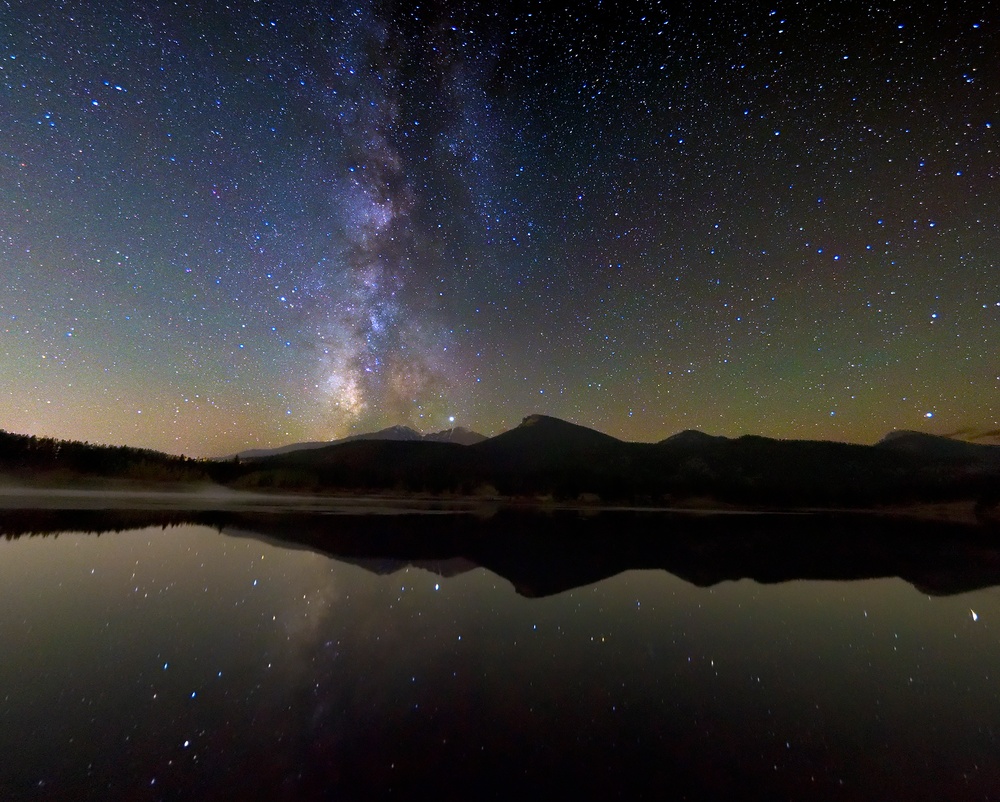 That night at Lily Lake would have been a worthy end to the Milky Way season, but there was another short window at the end of October that I wanted to try and take advantage of. In the last week of the month, I made a quick run up to Moraine Park in Rocky Mountain National Park on an evening where the weather looked mostly favorable. There were a few clouds here and there, but a mostly clear sky was welcome to view the stars over the snow-capped peaks ringing this high valley. An odd reddish airglow tinted the sky on this night, adding a different mood to the photos, but as I said goodbye to the brightest parts of our galaxy for the year I was able to capture some interesting photos on this evening as well. I am blessed to live less than an hour from the entrance to Rocky Mountain, affording me the opportunity for quick evening or morning runs like this when the opportunity is right.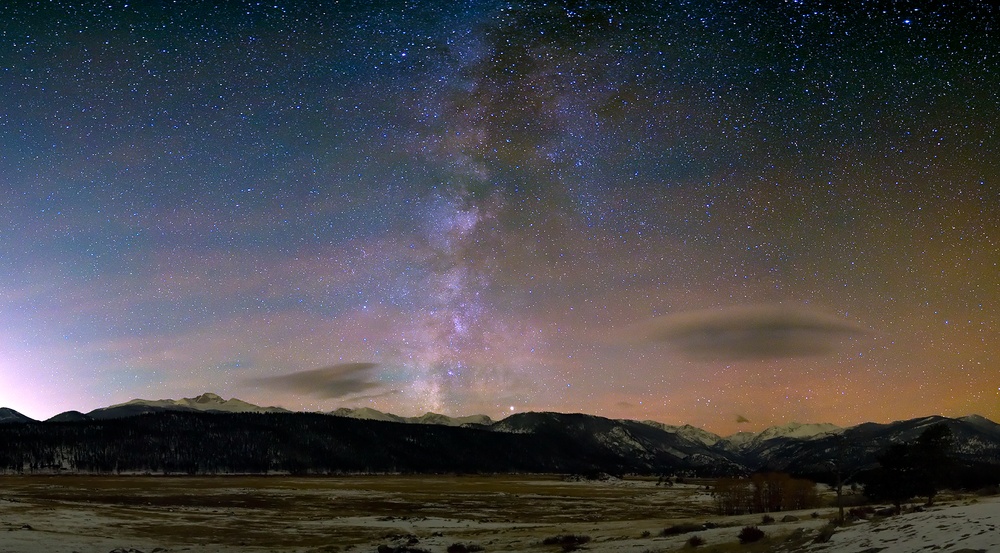 As I look ahead to 2020, I'm looking forward to expanding ever further in my photography of the night sky, and continue chasing unique views and perspectives. If you want to purchase a print of one of these photos, just click on them and you'll be taken to them in my print store where you can complete your purchase. Still looking for a last minute Christmas gift? Don't forget to check out my 2020 calendar while you're there, featuring images from throughout the year from my home state of Colorado. If you haven't signed up for my email list yet, you can do that by entering your email address in the subscribe box right here. You'll receive a new customer discount code as a thank you for signing up. If email isn't your thing, you can also sign up to receive my updates via Facebook Messenger. Just click that link, and you'll get a discount offer there as well. If you're enjoying following my posts here on my blog, don't forget to follow me on Facebook & Instagram too. You'll often see my newest photos there first. Please leave a your questions or comments below and I'll be happy respond.Thanks for following along!