A Colorado Fall Color Tour
Oct 07, 2017
Every year in late September, Colorado's quaking aspens turn blazing yellow. While in previous years I had explored the Front Range, I hadn't yet ventured up into the high mountains to see the locations with larger groves. This year I set out to change that. After doing some research, looking for the best locations within a day trip from the Denver area, I chose to string together three locations into a loop through the central Colorado mountains. Even with challenging weather, things worked out as well as I had hoped.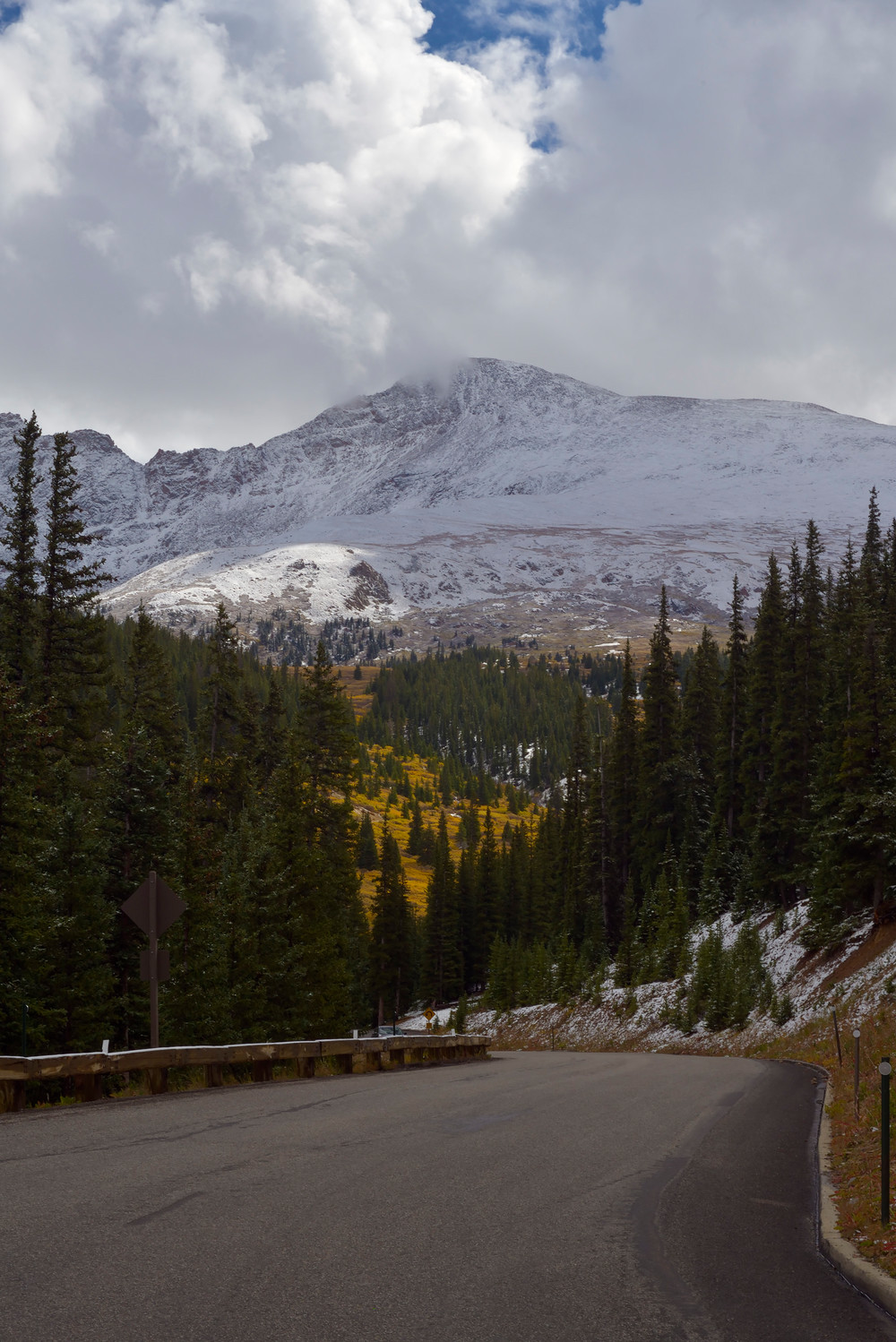 The day began with a drive up I-70 to Georgetown. While it rained most of the way up, as we were getting off the interstate the sun began to poke through the clouds and continued going in and out of the clouds throughout the day. From there began our first planned destination of the day, traveling south over Guanella Pass on its namesake road. Climbing out of Georgetown, it doesn't take long to come upon some scenic.locations. Aspen groves intermittently light up the hillsides as you climb towards the pass, and often the most beautiful spots are in places where there's nowhere to pull off the road.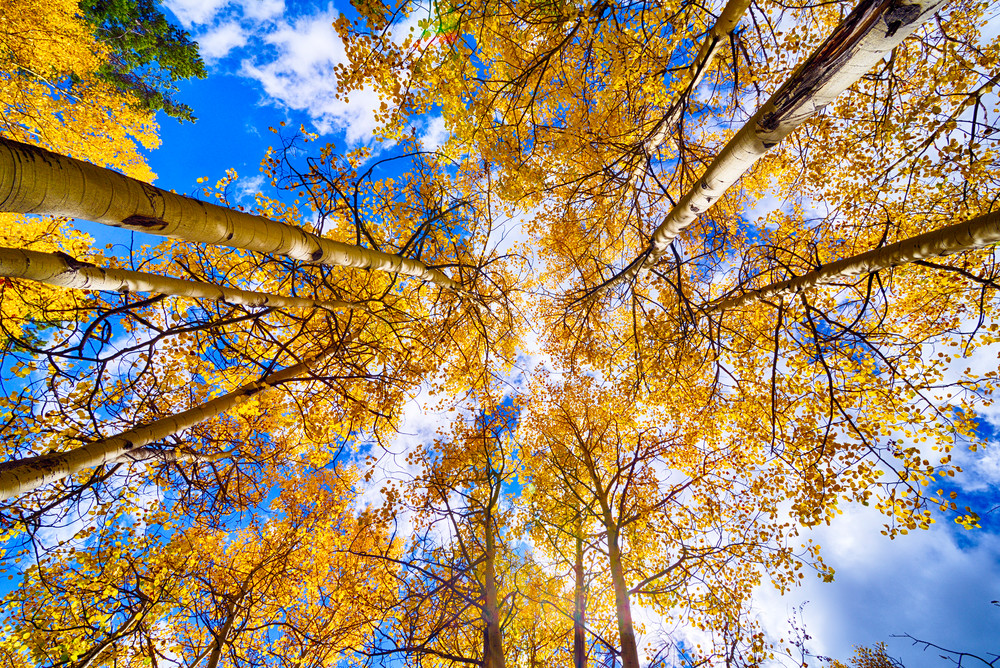 As you near the pass, Mount Bierstadt takes over the view, and we climbed out of the trees and up to the pass into a world of fresh snow. The rain down below had been snow up here at 11,670 feet. Going back down the south side the colorful aspens return, and when you arrive at the Burning Bear & Abyss trailheads there is quite a large aspen grove that is worth getting out and exploring. This is such a scenic drive that a photographer could easily spend the better part of a day just traveling this road. Continuing on you arrive at the small town of Grant where you reach US 285.
Here, we headed west on 285 to reach our second destination, Kenosha Pass. This is one of the most popular destinations for leaf peepers traveling up from the Denver area, as it is very accessible for pretty much anyone.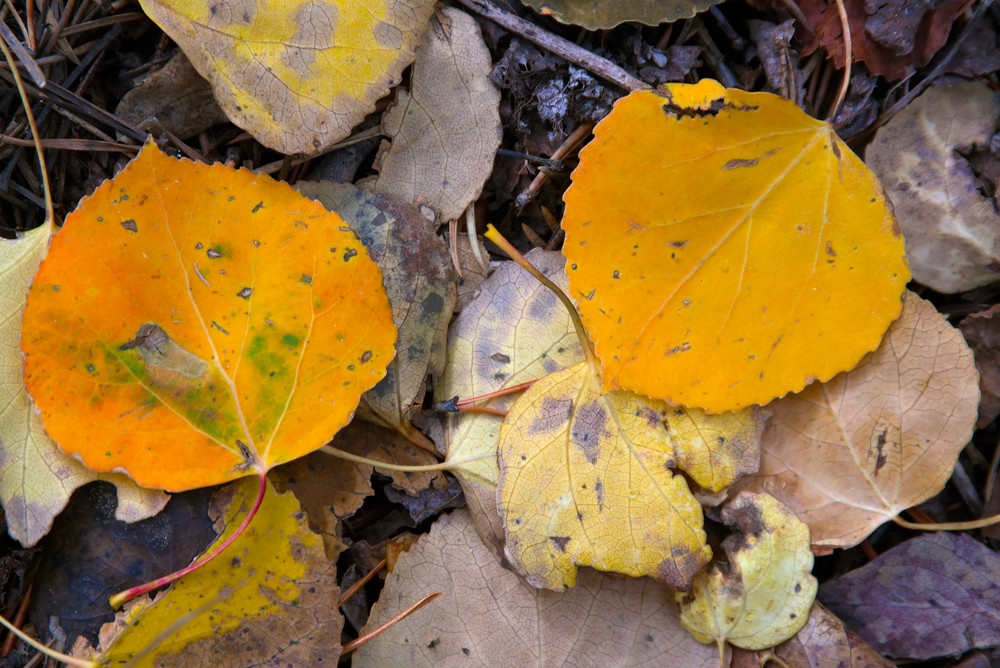 This can often be a very crowded place in the fall, but fortunately for us the wet forecast had kept things somewhat in check. The area to the east of the pass has some quite impressive aspen groves, and this is another great place to get out and explore. Big views of aspens covering the hillside can be found here, but so can more intimate scenes as well. Many leaves had already fallen here, covering the ground with a layer of colorful leaves.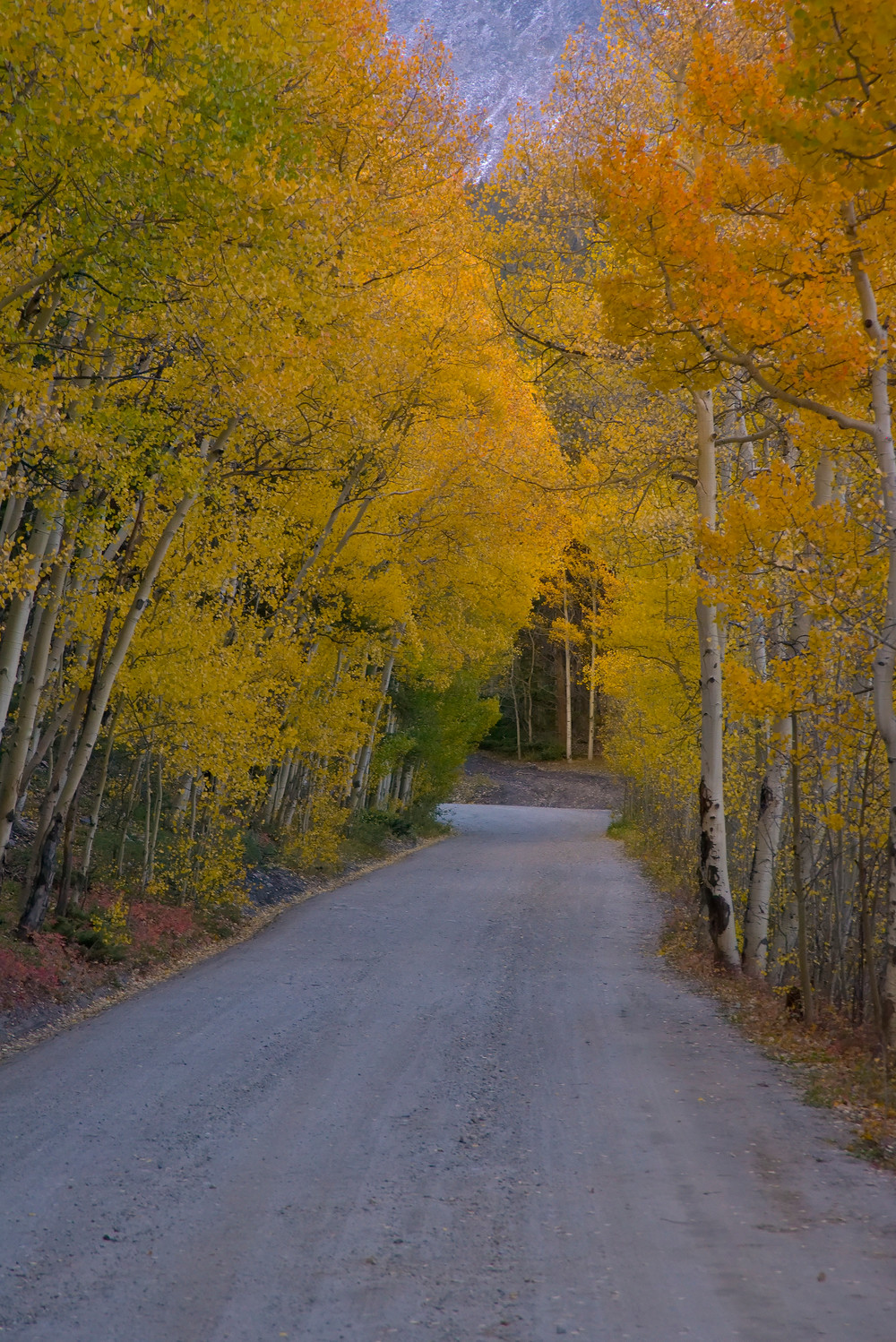 Continuing west, GPS is helpful to watch for the turnoff onto Boreas Pass Road at the little town of Como. This dot on the map is pretty much just a couple blocks square, but it is the southern gateway to this special forest road that travels north up to Breckenridge. This road quickly climbs up, with great views back down into the extensive high mountain valley that is South Park. Along the way, you'll come across many more aspens as well as great views of Mount Silverheels and Hoosier Ridge. There are a few buildings at the pass at just short of 11,500 feet, and on the north side of the pass excellent panoramas of the Tenmile Range (including Quandary Peak), come into view. Nearing Breckenridge you pass through one more aspen tunnel, and one last view looking out over Goose Pasture Tarn and down over the town. From here you drop quickly into Breckenridge and the end of an excellent fall color tour. If you follow in our path, you'll probably be ready for supper here to close the day just as we were. From here you can continue north to rejoin I-70 and return back home.
While these areas we passed through are now most likely covered with snow, this is an excellent route for a fall color day trip from the Denver area. While the weather was not perfect, a day like this can and did make for some dramatic light and has the advantage of slimming the crowds in popular places like Kenosha Pass. Definitely keep these spots in mind for next year, when for a couple of weeks the hillsides turn to gold. It's a shame it all goes so fast.
For a limited time I'm still offering all of my autumn images at 25% off, including new photos I have added from this trip, so visit my special autumn seasonal gallery and choose some special fall season artwork before this special discount runs out. If you're enjoying following my posts here on my blog, don't forget to follow me on Facebook & Instagram as well. You'll often see my newest photos there first. Thanks for following along!