Chasing the Silver River from an Island in the Sky
Mar 13, 2022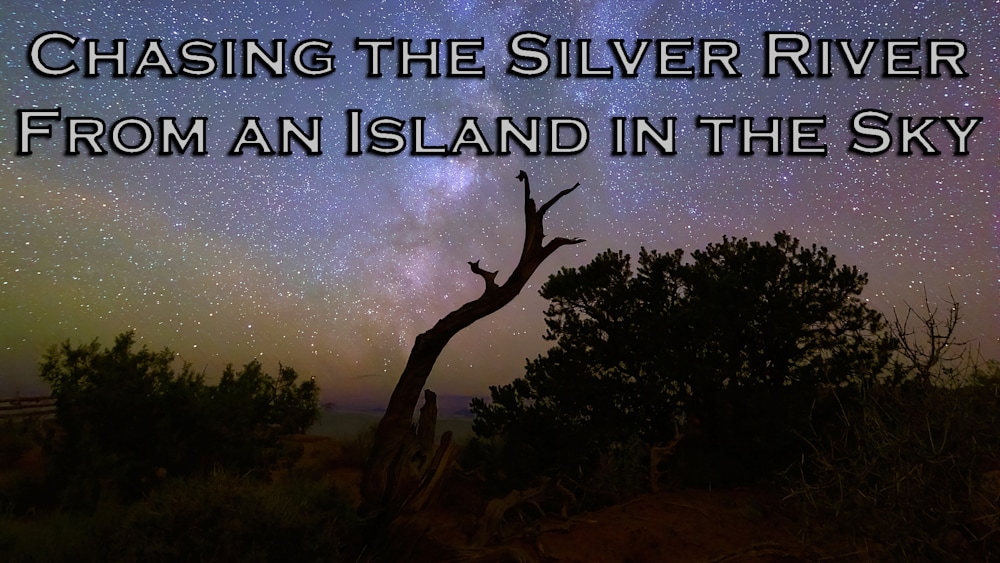 While we are into the middle of March now in 2022, I can't close the book on 2021 without sharing one last story. The area around Moab, Utah is one of my favorite places and has given me many great moments to capture with my photography over the years. But there has been one particular composition of the night sky that I have had my eye on for a couple years that has continued to elude me.
Coming up to the first weekend of October I was watching the weather and noticed that while the forecast for the weekend along the Front Range was looking pretty cloudy, across the mountains in Utah things were looking very clear. I decided the time was right to make a quick run for it and see if I could bring one more of my ideas to reality in 2021.
Arriving in Moab that evening I found the clear skies that I was hoping for. I made a quick stop in town to get a bit of a boost to the state of charge of my Nissan Leaf, then headed out towards Canyonlands National Park. I found the location at the Green River Overlook just as dark and peaceful as I had hoped for. Only one pickup truck was there when I arrived, and soon after that they departed. This overlook is one of my favorite views in Canyonlands even during the daylight, potentially a great spot at sunrise or sunset depending on the conditions. The fingers of Stillwater Canyon reach out towards you from the path of the river below, with the Turks Head formation rising out of a bend in the river. Beyond are the wild canyons of the Maze district, and farther out in the distance mountains rise up from the desert. There's barely a hint of civilization in sight, and the darkness of the night sky here is special. After doing some test shots, I found the composition with my Tamron 35mm prime lens to be preferred, as I expected, and that photo is shown below.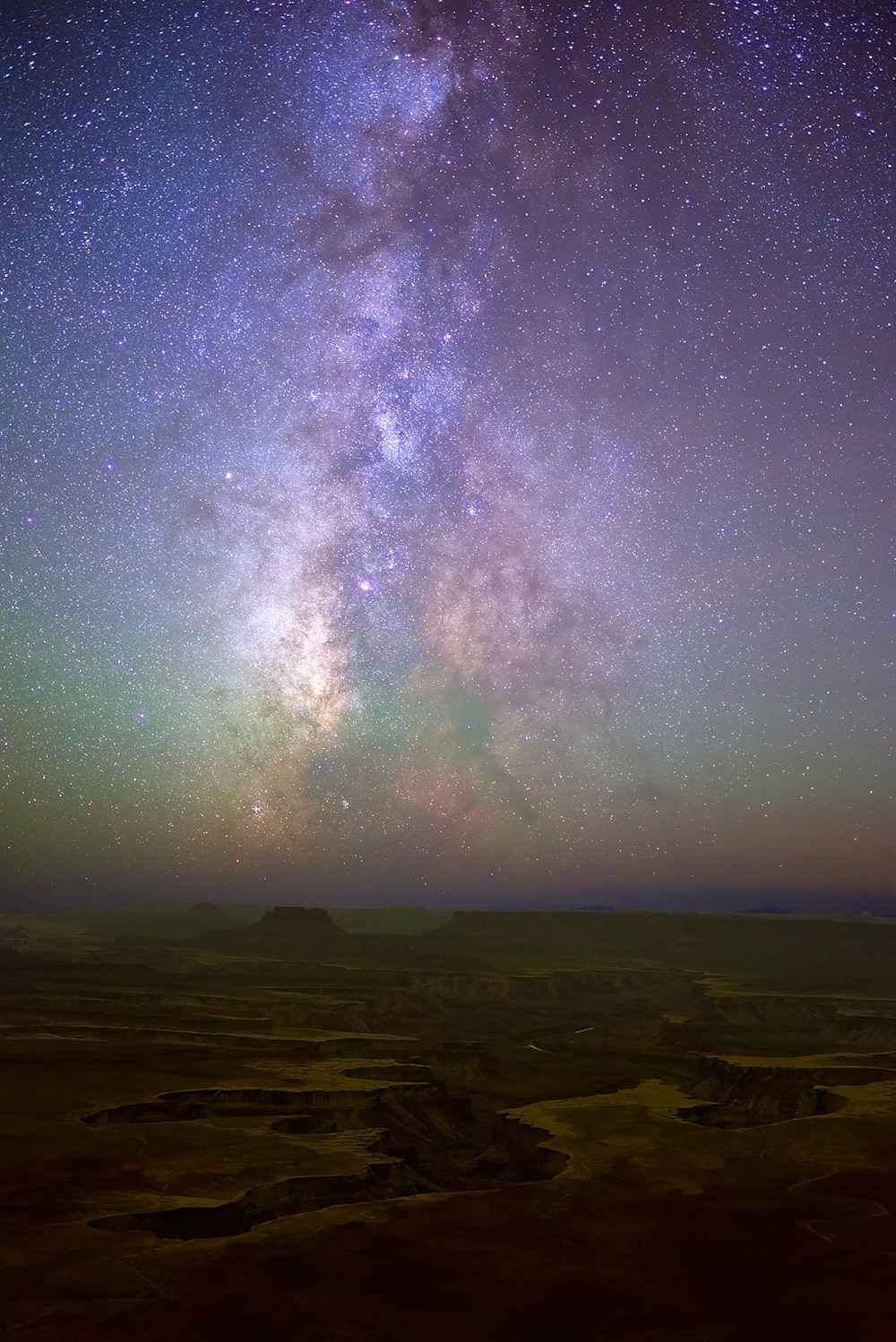 The beauty of our galaxy is on full display here, with hints of pink & green airglow as well. It was everything that I had hoped it would be. In situations like this where I made a long trip out for a certain location, I try and make the most of it as much as I can. In this case I wanted to try a few different focal lengths to see how they would affect my composition. I next pulled out my Tokina 16-28 ultrawide lens that had been my companion for astrophotography for 4 1/2 years. While I had started to notice some odd behavior from the lens over the last 12 months, it had never yet failed me. I didn't realize that night that that time had come. Upon arriving home I found the stars in the upper third of the frame to be badly stretched out while the stars in the rest of the frame looked as expected. Likely some optical misalignment inside was manifesting itself, and Tokina wants way too much money to fix it. Due to that, it has now been replaced in my camera bag with a Sigma 14-24 Art lens which has so far given very promising results.
After trying the wider shot, and with the core of the galaxy slipping away, I decided to try one more experiment. I put my Tamron 24-70 lens on and zoomed it in to 50mm, tighter than any Milky Way shot I had tried before. The result was definitely interesting, although limited by the light gathering ability of the f/2.8 maximum aperture and necessarily shorter shutter speed due to the fact that I don't use a tracker for my night photography. It did inspire me to pick up a 50mm f/1.8 prime lens that I am excited to test this year. Here is that tighter composition.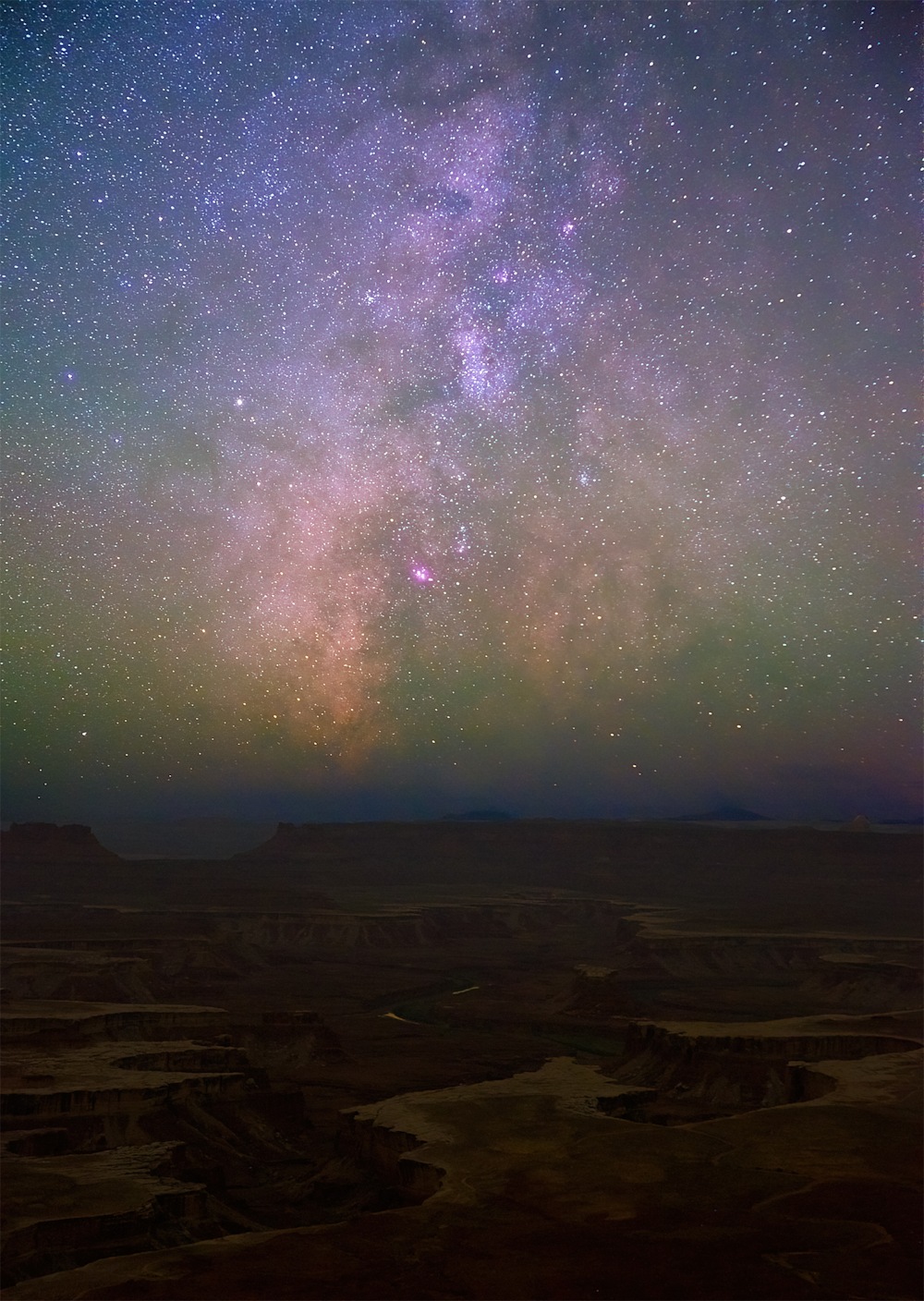 At that point I experimented with some night mode shots on my iPhone 12 Pro Max, because I'm always curious to try and see what it can capture after I'm done with the shots from my main camera. Then I packed up my gear and headed back towards the car. As I was walking down the path, I noticed some of those twisted trees that are ever present in that area and decided it might be interesting to try and line one up with the Milky Way going up into the sky. After a little bit of work lining things up right, I ended up liking it a lot.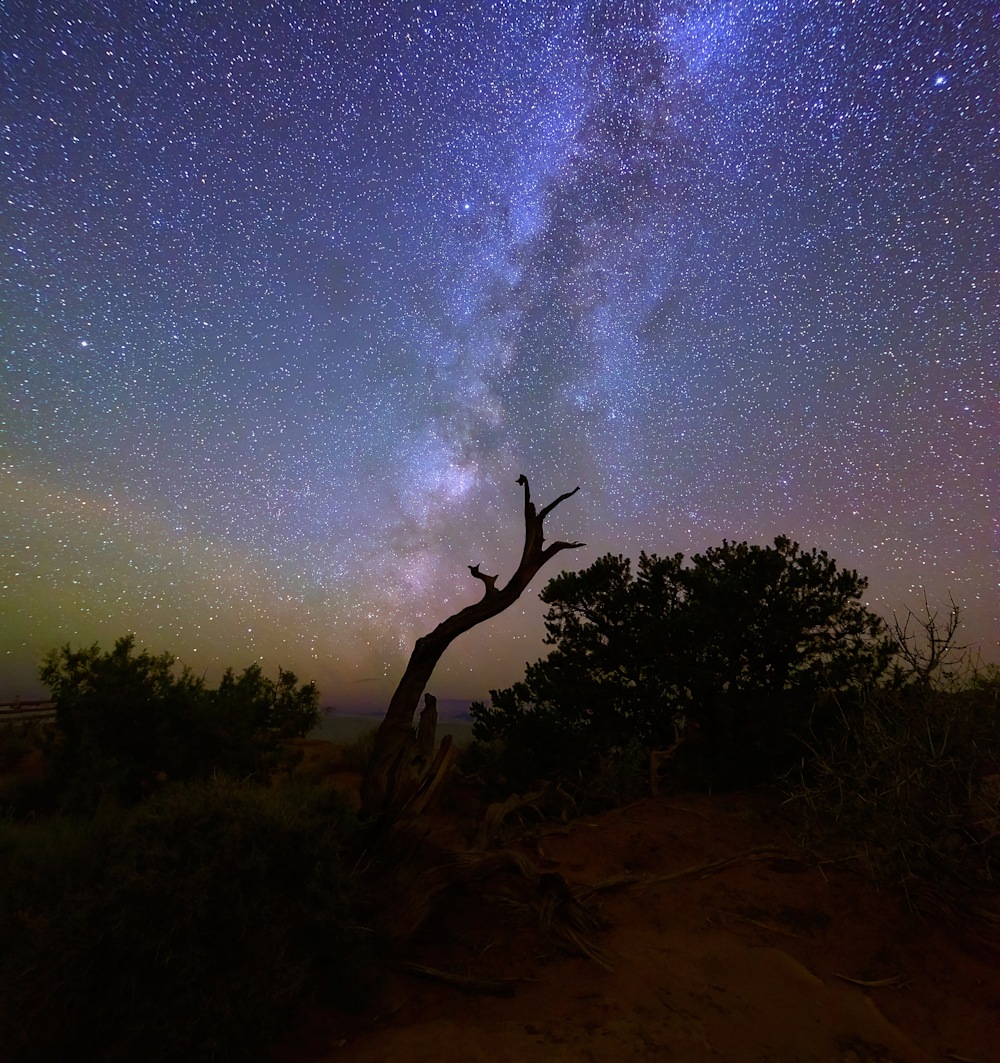 After that it was time to pack it in and head back to town to recharge and find a place to camp for the night. The campgrounds along the Colorado River were fuller than I expected, but I eventually I did find a spot to set up my tent and catch a few hours of sleep before heading back over the mountains towards home.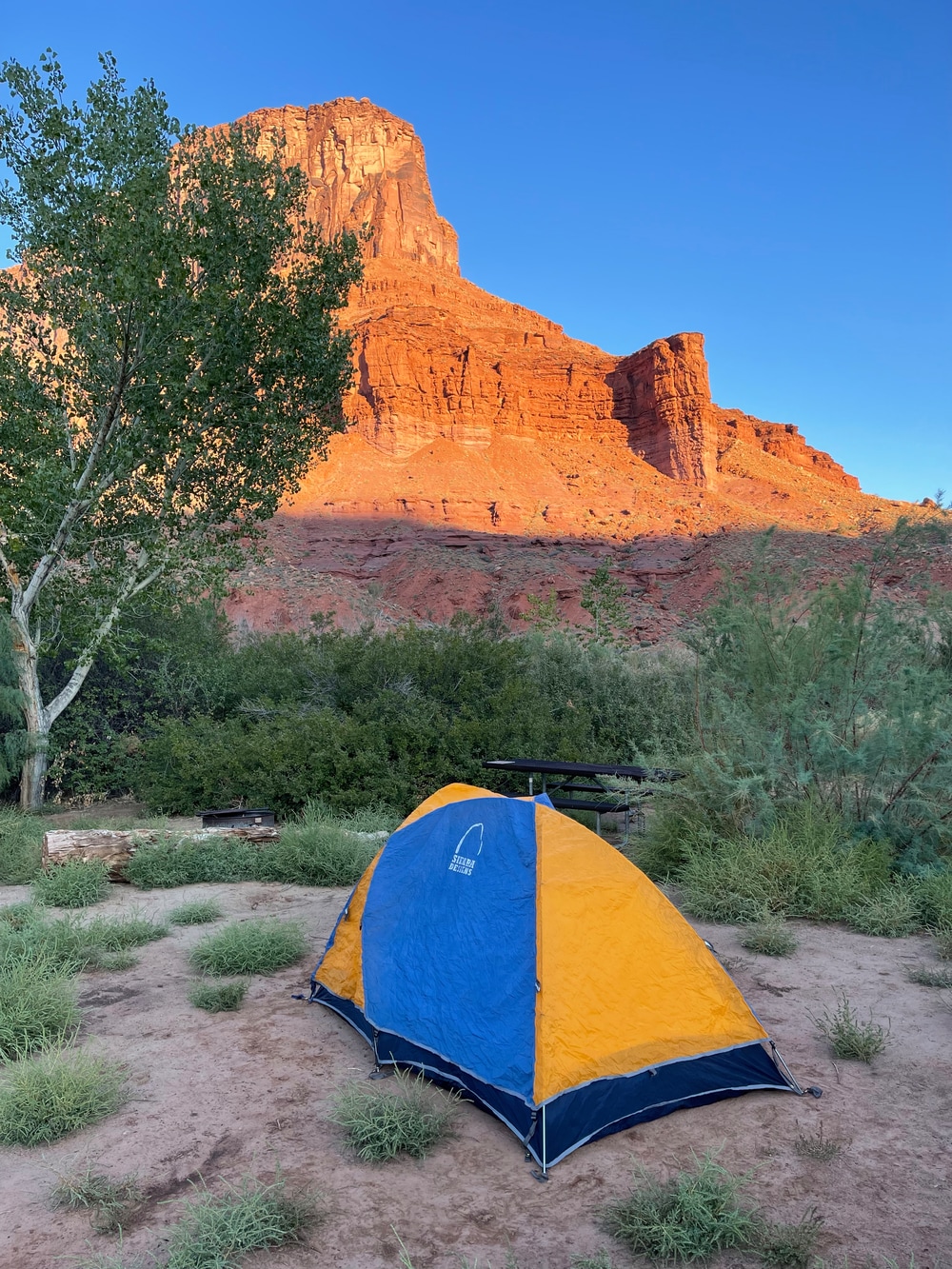 This adventure is also the subject of my latest YouTube video, which I will embed below for those of you interested in seeing the story from that style as well. If you enjoy watching it I hope you'll subscribe to my channel so you don't miss all the great experiences I have coming up to share soon. If you enjoy sharing in the experiences of adventures like these, I hope you'll sign up for my email newsletter if you haven't already. You can subscribe right here on this blog post, or click my newsletter signup link at the top. New subscribers get a new customer discount coupon as a thank you for signing up. Don't forget to follow me on Facebook & Instagram too. Thanks for checking out what I do, and I hope you'll keep following along!