Another Journey to Lake Haiyaha
Jan 21, 2020

I've had a history with Lake Haiyaha, and it has not been rewarding. Many times I had attempted to reach this lake in past years, and in all instances I struggled to reach it or conditions deprived me of the opportunity to see it at its best. After a winter storm blanketed the area in fresh snow in December, I decided to give it another try.
The normal route to reach this lake in Rocky Mountain National Park is to hike from the Bear Lake trailhead up to Dream Lake, and then hike over and around the ridge that separates the Tyndall Gorge from Chaos Canyon to reach the lake. On my first attempt at the end of February in 2016, I was turned back on the steep slope up from Dream Lake by deep drifted snow that I struggled in even with my snowshoes. Back at the trailhead, I asked a ranger how to get to the lake in winter. They mentioned that most people go from the Glacier Gorge side in winter because of avalanche hazards traveling from Dream Lake into Chaos Canyon.
That same year, after a spring blizzard dumped 2 feet of snow in the park, I decided to try the other route with some friends of mine. We started from the Glacier Gorge trailhead, and made our way into the gorge and then branched off up towards the lake. The last of the storm was still winding down, and by the time we had climbed up to the lake, we found ourselves surrounded in fog. The snow was so deep I didn't realize the terrain underneath it was hiding, but we could tell we had reached the lake only by the cloudy void in front of us when we arrived. Lake Haiyaha kept its secrets this time.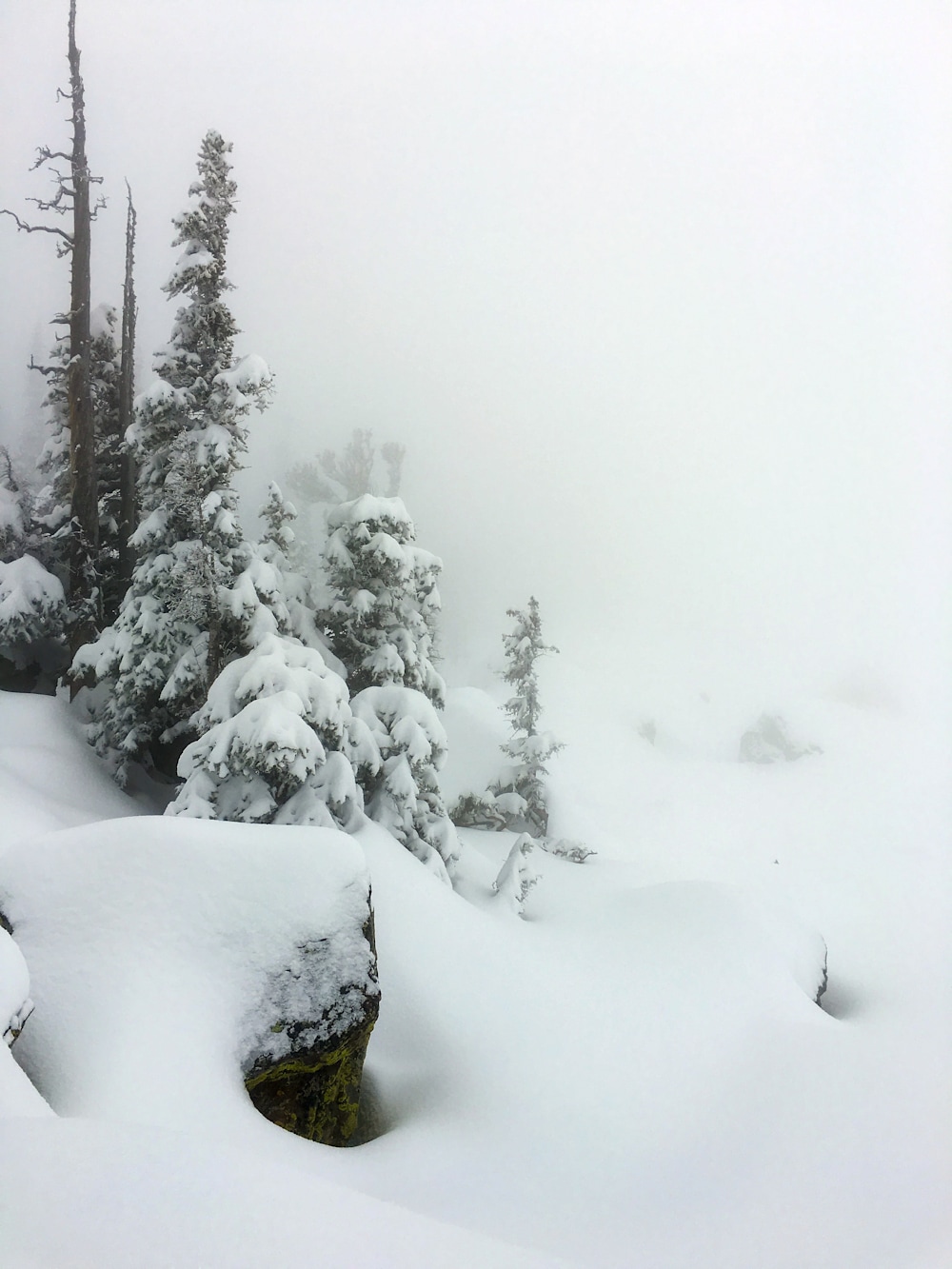 One weekend in August of 2018, I was looking for a place to go for sunrise, and decided it was time for a return to Haiyaha. Since it was summer, a hike up the standard route was in order. I was about to learn what gives this lake its name. On arriving back at the lake, I discovered what had been hiding under all that snow, likely 10-15 feet deep, two years before. The shoreline of the lake, as well as a large area on the south side, was covered in huge boulders that must be scrambled through to actually reach the lake. I'd always thought this lake had a funny name, like something you might say while doing a karate chop. An internet search revealed that Haiyaha is actually a Native American term, meaning big rocks. It all makes sense now. Sitting in Chaos Canyon, this place had earned its name. This was much easier when they were buried under the snow. Disappointing as well was the fact that the weather once again was not cooperating. Instead of a nice sunrise, clouds had sunk down on top of me once again. This time I could at least see some of the mountain walls around the lake, but it was still hiding some of its secrets among the clouds. As it started to rain, I retreated back to the trail, and back home. On the bright side, at least I gained some knowledge of the correct route up from Dream Lake, which would come in handy in the future.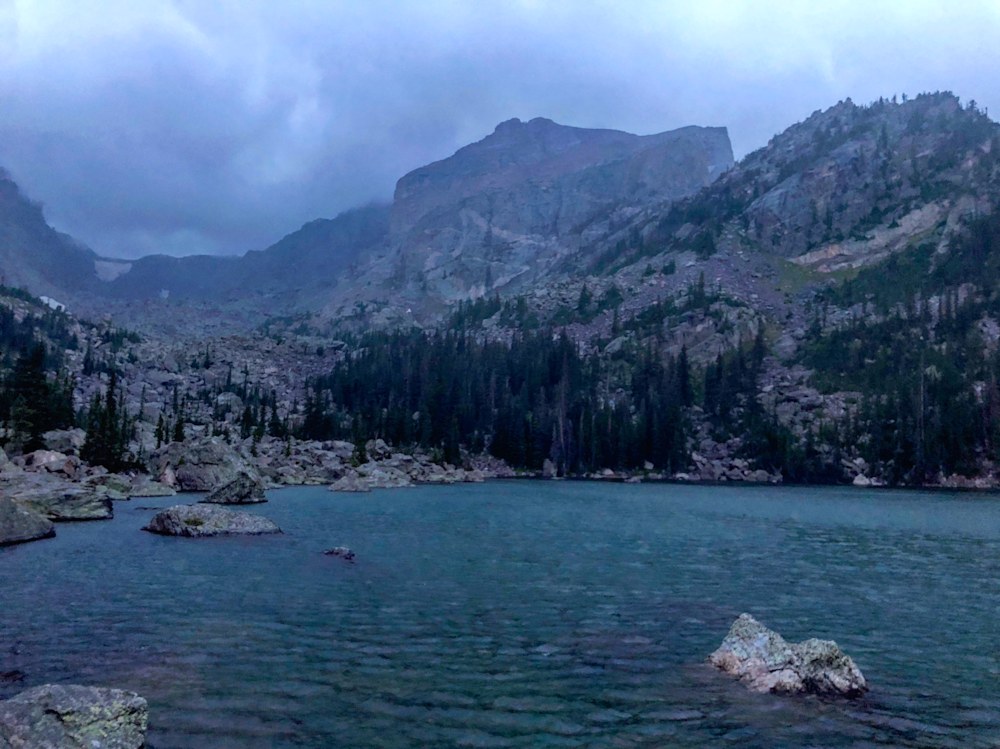 This brings me back around to last month's adventure. With fresh snow in the park, and craving an adventure, I decided another attempt on Lake Haiyaha was due. With it being earlier in the winter than on my previous attempts, and armed with better knowledge of the route from experience, I decided to give the standard route up from Dream Lake another try. I found myself in a familiar situation, pushing my way up a steep section of trail with deep fresh snow, but this time I was able to make the ascent and continue on. That being said, I could see where the ranger's words of caution on that day 3 years ago made sense. There are multiple areas on this route between the lakes where there is a concerning amount of exposure if you were to have an unfortunate fall, or if the snow beneath you would give way, one could be in trouble. This is probably not a good idea for the inexperienced winter hiker. While the other route through Glacier Gorge is longer and with more elevation gain, the hazards this time of year are greatly reduced. I never felt in danger on this day, but I could see the risks on a day where the trail was only beginning to be tracked out again in the fresh snow. It was a beautiful morning, and on my arrival to the lake I finally found all the beauty I had been hunting for here for all these years. The wind that regularly blows across these alpine lakes in the winter had made such interesting shapes in the snow, and it was largely undisturbed as only one party of skiers had been to the lake before me. I found that for many of my photos on this trip a conversion to black & white really focused attention on the textures and tones that show the best of what I saw. The colors of winter can often have a tendency to be monochromatic anyway, so by letting them fall away into shades of gray I was actually adding to what I had captured.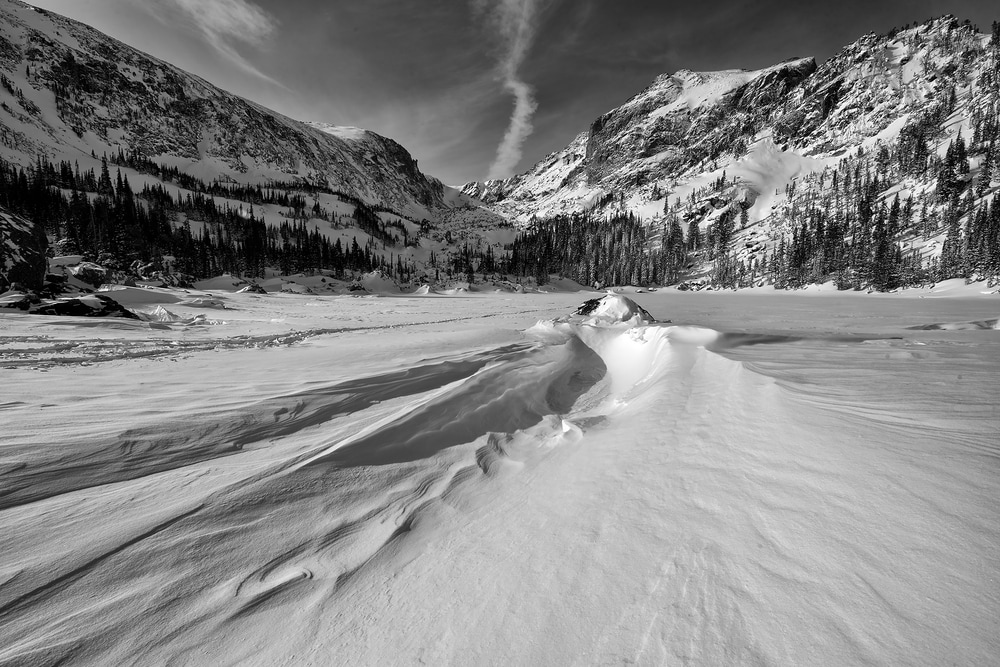 I've mentioned that this route passes Dream Lake, which has become one of the most popular and iconic spots in Rocky Mountain National Park. The view here of Hallett Peak rising up from the lake is spectacular, and in the right time of year a sunrise here can be magnificent. There's so many pictures out there of it though that when I pass through the area now I'm always looking for a composition that's different from the most well known. On this adventure I found just such an opportunity. A slim line of prints through the snow offers some perspective, as well as the pines filling the foreground. Hallett Peak and the spires of Flattop Mountain still grab your attention. I have a feeling this might become one of my most popular photos from here going forward.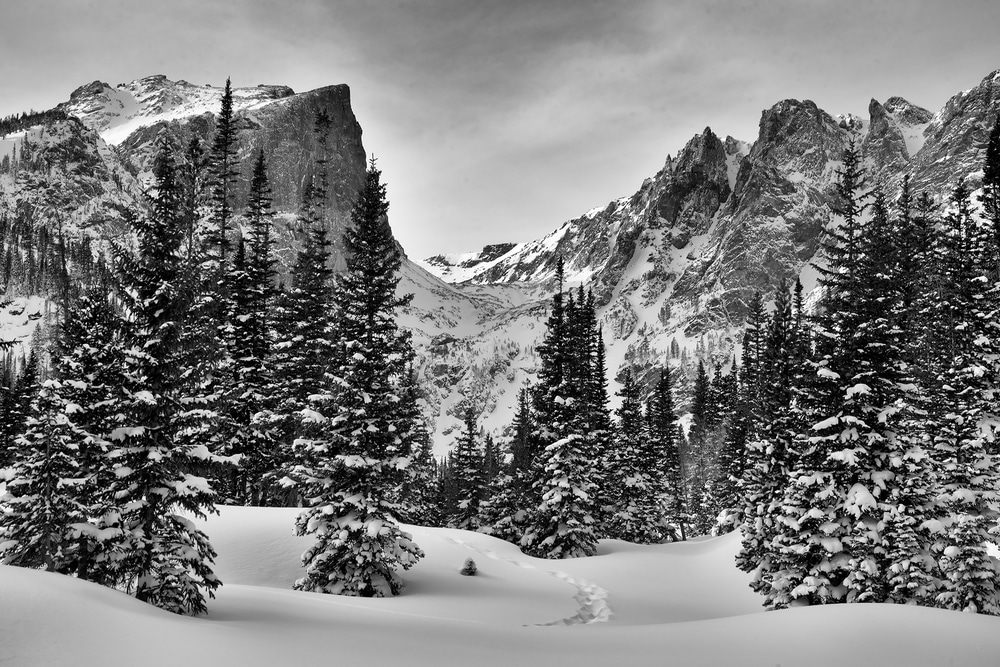 If you want to purchase a print of one of these photos, just click on them and you'll be taken to them in my print store where you can complete your purchase. Still looking for a last minute Christmas gift? If you haven't signed up for my email list yet, you can do that by entering your email address in the subscribe box right here. You'll receive a new customer discount code as a thank you for signing up. If email isn't your thing, you can also sign up to receive my updates via Facebook Messenger. Just click that link, and you'll get a discount offer there as well. If you're enjoying following my posts here on my blog, don't forget to follow me on Facebook & Instagram too. You'll often see my newest photos there first. Please leave a your questions or comments below and I'll be happy respond.Thanks for following along!