An Evening at Hoosier Pass
Jan 25, 2021
While 2020 was definitely a year that had its challenges for my photography, the fall season was a productive time. My trips to Rocky Mountain National Park for the elk rut were very productive, and I was hoping to fit in one more good Milky Way trip as the season neared its end. In the fall of 2019, I had spent a bit of time looking at a possible location just above Hoosier Pass south of Breckenridge. Circumstances at that time didn't work out, but as a prime weekend in October neared with a good Milky Way window, the weather looked favorable and I decided to go for it this time.
My research told me that there was a potentially rough forest road that ascended west from the pass above tree line, and the location I wanted to shoot from was at a large bend in this road at nearly 12,000 feet where there would be a wide open view of Mount Bross, Mount Lincoln, and the other surrounding mountains as well. I didn't know if we would be able to drive up, so I allowed enough time to hike up and still be there in time for sunset, but as it turned out 2 of the vehicles of my friends were just able to make it, and fortunately the road was still open. This allowed us the opportunity to bring up as much gear as we wanted and have the cars nearby if it got cold. When we arrived it was quite cloudy, but the weather forecast had been that the clouds would start to clear out around sunset and continue to clear into the night, so I was hopeful. It turned out I had nothing to worry about.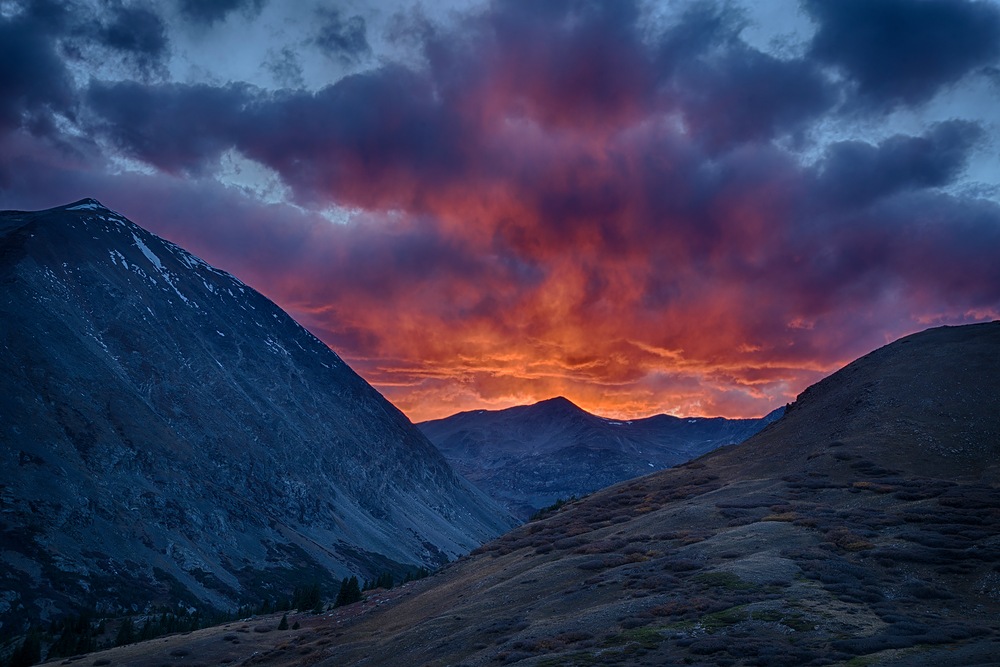 As you can see in the video, as the sun was going down there were bits of color here and there, but nothing too spectacular. Then I started to see just a hint of color in the clouds above Traver Peak just after the sun had disappeared. Literally the thought crossed my mind "I wish that would just light up and set those clouds on fire...." And then it did! It happened very fast, and lasted for only a few minutes, but wow was it brilliant. It had been awhile since I had seen a sunset light the sky on fire like that, and the composition over the mountains was very special. I was very happy we had arrived in time.
After the color faded, we packed up and repositioned our gear, got some snacks, and waited for it to get dark hoping those clouds would now clear out as forecast so we could get our Milky Way photos too. It turned out this was one of those rare nights when everything just comes together. Sure enough, most of those clouds did move along to give us some great views of the night sky.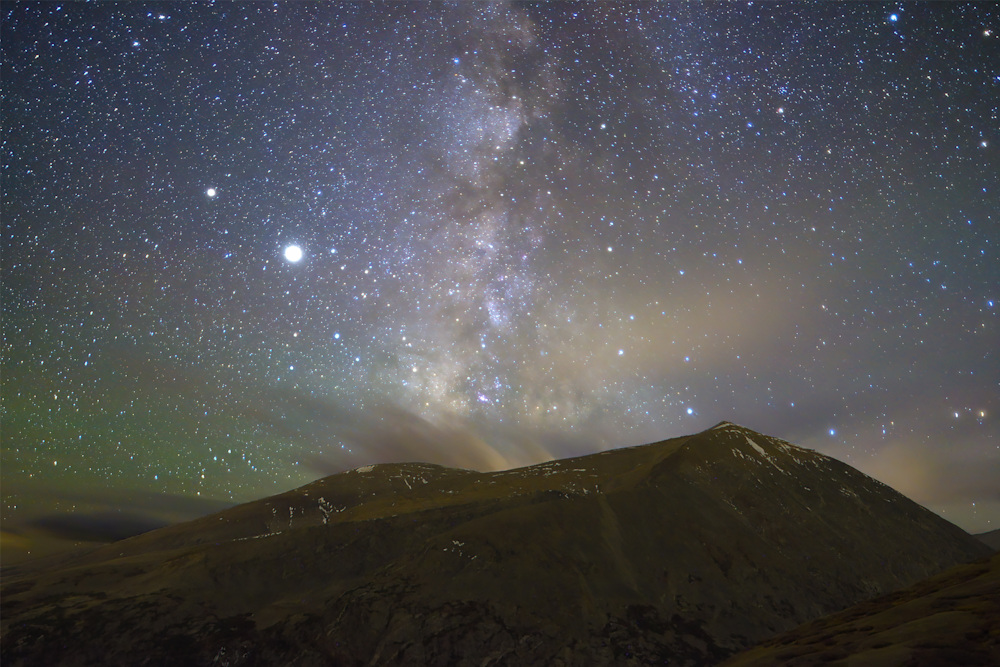 Due to my advanced planning, I had already had this composition in mind. While I tried it with both a horizontal and a vertical orientation, this is the version that turned out the best. This is an exposure blend of 12 shots of the sky stacked for noise reduction and to increase detail, and a 10 1/2 minute exposure of the foreground for a cleaner more detailed look. I really like the way it turned out. The Milky Way rises into the night sky between the peaks of Mount Bross & Mount Lincoln, with Jupiter & Saturn shining brightly to the left. While this was taken a little over 2 months before December's Great Conjunction, they were still pretty close together in the night sky even at this point. The clouds weren't completely gone, but in this case I feel like they add an accent to the scene rather than take away from it.
If you want to see more of the behind the scenes experience of this night, make sure and watch the YouTube video up at the top of this post. I think it relays the excitement of the experience well, as well as sharing more of the details of how I shot these photos that are already becoming very popular.
If you enjoy reading about my experiences, I hope you'll sign up for my email newsletter if you haven't already. You can subscribe right here on this blog post, or click my newsletter signup link at the top. New subscribers get a new customer discount coupon as a thank you for signing up. Don't forget to follow me on Facebook & Instagram too. If behind the scenes content like this is something you want even more of, you'll want to subscribe to my YouTube channel too. I'd love your support as I work hard to get my channel up and running. Thanks for checking out what I do, and I hope you'll keep following along!